What might be the cheapest adventure helmet out there? Well, there are a bunch of them, each with a very affordable price and quality that is good enough for the price it comes. The 1Storm Hf802 might be the one if you are looking for an entry-level helmet with some functional features of the best budget dual-sport helmet.
The 1Storm Hf802 is a budget entry-level helmet with some basic dual-sport helmet features. This one might be good for your secondary helmet or a passenger helmet or even a helmet for commuting, touring, and stuff. This helmet won't be as good as or as safe as the best motorcycle helmet but it's DOT rated at least. And it's like you are getting exactly what you are paying for, a dual-sport helmet at a very reasonable price.
Well, let's find out what this super budget 1Storm Hf802 helmet got in its sleaves and also find out it's worth spending money on or not.
"All journeys have secret destinations of which the traveler is unaware." –Martin Buber
1Storm Dual Sport Helmet Review
It's a dual-sport or adventure helmet, so you get the basic idea about how this thing looks, right! This helmet got a peak on the top, aggressive styling, and the shape is narrower from the front like an off-road helmet.
And like most of the adventure helmet you'll find, the peak is easily removable and you won't need any tool to do that. There are screws on both sides and the top of the peak and those are super easy to unscrew, you'll able to do that with gloves on. If it gives you a hard time, there comes a flat screw or a coin to rescue, that'll help. This is a cool feature of this helmet and this one comes in handy as you might want to remove or replace the peak any time you want.
However, one nitpick about this helmet is the peak might get damaged or broken easily. That's a complaint you might often hear about this helmet. But at the price this helmet comes, that's kind of expected, right? This isn't a Shoei. 
There are actually a bunch of graphics and solid options for this 1Storm Hf802 helmet. And they look cool and at the price this helmet comes, that's like a bonus.
As for the ventilation, this is good enough, and ventilation is like one thing you need on an adventure helmet. Like on a tour on the countryside road or even a day-to-day commute. If it's a hot summer day, a well-ventilated helmet is like the best thing since sliced bread.
And with this helmet, you get a whole bunch of them, there's a large chin vent, and two over that large one. There are the jaw vents too, and there are also vents on the top. And all these vents intake a decent amount of air inside considering the price.
Yes, it's a super budget helmet, so it won't be fair if you expect this helmet to be something like the Arai XD4. Arai is a premium one, even the HJC DS-X1 got superb ventilation despite being a budget-friendly helmet.
Another thing about all the adventure helmets including this one, they are a bit noisy and create lift when you ride at speed. Some of the premium dual-sport helmets such as the premium Shoei Hornet X2 solved the problem with better aerodynamics though.
Frankly speaking, for heavy use, I wouldn't recommend this helmet, like on the highways and busy roads and areas like that. This helmet will do just fine as a backup helmet or for a chill ride down the mountain and stuff.
The shell of this budget helmet is made of thermoplastic alloy, which is good enough according to the price. And for the fastening mechanism, this helmet comes with a quick-release chin strap, which's good enough. However, everyone doesn't like that, if you are not cool with this chin strap, you can get a Double D-ring strap and attach it to the helmet, it's super easy.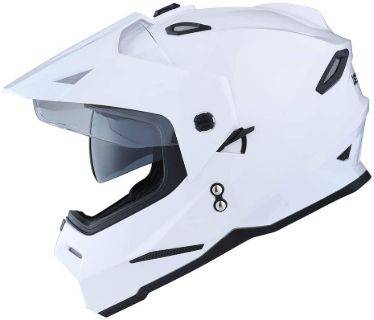 However, if you go a little bit up with the price, there are better helmets available. Take O'Neal Sierra II or Bell MX-9 Adventure MIPS for example. I can't say either that this helmet is no good, it's DOT approved after all. And that means you can surely ride your motorcycle on the road of the US, but the question is, is this helmet safe enough?
As I said, it's okay, but you should take a better helmet with you if you are riding somewhere crowded or super busy road.
Now for the visibility, this 1Storm got a nice and wide viewport, like all the other dual-sport helmets. This not only allows you to wear goggles on a dirt bike ride but also you get a wider view even on the street ride.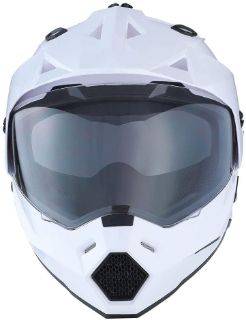 For the face shield, this helmet comes equipped with a nice and clear shield. Surely it's not gonna be as good as the Bell MX-9 but this one is also not too shabby. There isn't much room to complain, but I must say it might fog up pretty easily as there isn't any anti-fog coating or the shield isn't Pinlock ready either. And there's a smoked inner sun visor included in this helmet, which is pretty rare, to be honest at the price this helmet comes.
There's a lever at the left corner of the peak and that controls the drop-down visor. You get an integrated sun visor that's good but this is also a nitpick of this helmet. When you ride with the sun visor down and the shield closed, it kind of limits your visibility, which isn't that good.
The interior of a helmet needs to be comfortable, even if it's an entry-level helmet. Because as an adventure helmet, you might keep wearing this helmet for quite some time.
And this 1Storm helmet got a decent interior, it's removable and washable. It won't be as good as the premium Bell Race Star, but it'll get you through the day if you find out the perfect size for you.
When you talk about the sizing of this helmet, it reportedly runs small. This means if you are an L size, the perfect size for you may be the XL size. And you'll get this 1Storm helmet from size S (53-54 cm) to size XXL (61-62 cm).
Take your time, find out first what size will fit you better, and then select the helmet you are looking for.
Great value for the money
Inner Sun Visor included
DOT approved
Reasonably comfortable
Reasonably lightweight
A bunch of color variant available
Not so good build quality
Not so good sun shield
Not very safe for heavy use
So, the 1Storm Hf802 helmet, it's a great value for the money dual-sport helmet. The best thing about this helmet is probably the price this helmet comes at, super affordable. And this helmet actually gives you fairly what you are paying for. So, it won't be so fair to expect too much from this entry-level helmet.
The biggest nitpicks of this helmet is the quality of this helmet, definitely, it won't be as good as some of the expensive helmets. But if you are looking for a backup helmet or an extremely tight budget helmet, this one might get a chance here.
And you might like some of the other helmets with around the same budget and features. Such as the ILM 606v, GDM DK-650, or Fly Racing Dirt Trekker.
Well, have a great day all the ADV lovers out there!