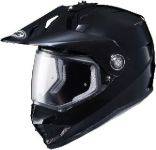 Well, what we got on the table, one of our best budget dual-sport helmets from a Korean company. That is known for making quality helmets at a very reasonable price. The HJC DS-X1 is one of the entry-level helmets that is equipped with some of the useful features of the best motorcycle helmet. 
As this DS-X1 is from HJC, I expect it will give you enough features and quality performance. At least as much as an entry-level dual-sport helmet should. And this helmet doesn't disappoint at all being a budget adventure helmet, and that will help you keep rocking both off-road and highways.
For the price this helmet comes, it's definitely a bang for the buck. And also doesn't cost you a pretty penny like the premium helmets usually do. Let's find out what this HJCDS-X1 helmet got in the bag, both pros and cons.
"Adventure is worthwhile in itself." -Amelia Earhart
It's an adventure helmet, and it's designed in a way that you can use it as a motocross helmet and also as a low profile full-face helmet. And most likely you'll often use this helmet as a street helmet than a dirt bike one. And HJC made this helmet much aerodynamically suitable that you can use it as an everyday use street helmet and also can take it to an off-road ride.
One of the important features of any off-road or adventure helmet is the peak you can see on the top of the helmet. This DS-X1 helmet got an adjustable peak, which is great and pretty much rare to find in an entry-level helmet. Although, there are other budget ADV helmets with an adjustable peak like Fly Racing Dirt Trekker, AFX FX-41 DS, and this one from HJC.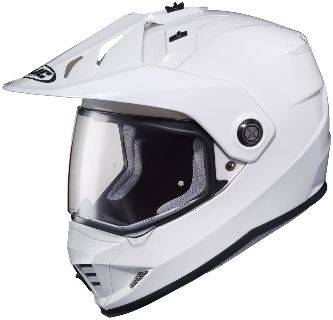 The peak removal mechanism is easy enough, but you'll need a Phillips screwdriver or a coin will also do the trick. And when you do that, this helmet pretty much turns into a street helmet. You might even think it's a street helmet at a first glimpse when the peak is off of the helmet. And it even performs like a street helmet when you do that, so if you want to make a street helmet out of this DS-X1 helmet.
Well, you need to watch out for the ventilation of the helmet you are paying for unless you want a cooker over your head instead of a helmet. Ventilation is connected to airflow and airflow is linked to drag and lift. So, let me mention one thing bout the peak real quick.
The peak of this helmet has air channels in it, the air simply passes through the peak instead of creating additional drag and lift. Another thing we loved about the peak is, the peak is made of strong materials and the joints of the peak are metal made. This keeps the peak steady even at speed, unlike some of the cheap helmet peaks, which just trembles when you ride at speed. However, don't expect this entry-level helmet to be as good as the premium AGV AX9, that would be asking too much from this one.
Don't freak out we'll also mention the ventilation structure in this ventilation titled area. So, the ventilation structure of this helmet is called Advanced Channeling Ventilation System. This something you might see in other premium HJC helmets like the HJC RPHA 11 pro and the RPHA 70 ST.
And this ventilation system of HJC's consists of 5 intake vents and 4 exhaust rear vents. These intakes enough air through both chin and upper vents and pass it through the exhausts. And this makes your interior cool and perfect for a tough adventure ride.
A helmet is like a protective shield for your head, the main job of this helmet is to protect your head from any possible impact. So, a helmet needs to be good enough to do so, unless it's just another piece of plastic.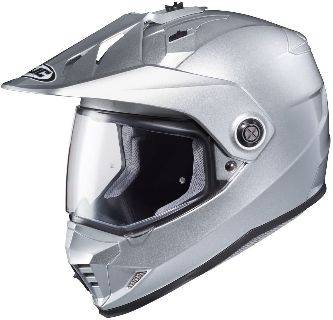 Luckily this HJC DS-X1 is a DOT FMVSS 218 certified helmet, which means it's safe. This helmet is safe enough that it's legal to wear this helmet on any street in the US. No matter what type of ride you take, always, like always try to have at least a DOT certified helmet on your head. You never know what's coming for you once you start your engine after all.
This helmet comes with a Polycarbonate composite shell, which is pretty much expected from a budget helmet. And it's good enough, good enough for an entry-level helmet, the same as many of the helmets at this price range. Such as Bell MX-9 Adventure MIPS, which costs a bit higher than this HJC helmet but comes with basically the same material made shell.
However, as a budget helmet, you shouldn't be expecting the same safety as a premium Klim Krios helmet might give you. So, there's that and overall, this HJC helmet is enough safe helmet within the budget.
A face shield is important even for an adventure helmet. After all, this is most likely what makes a dual-sport helmet apart from a dirt bike helmet. And like I said earlier, you can turn this thing into a street helmet. And you'll need a decent face shield if you do that.
This DS-X1 helmet has that kind of decent helmet that will help it even on highways. It comes with a Pinlock ready HJ-27 face shield. It's a clear face shield and Pinlock ready means that you can install Pinlock antifog insert lens on this face shield. It's great, this thing works like a charm when it comes to preventing fogging up.
And the shield changing mechanism of this HJC helmet is also quick enough. It's connected with the peak and you'll have to unscrew the bolts on the peak to remove the peak as well as the face shield.
What's a bad helmet? A helmet without a decent interior or inner material. And what's a decent interior? An interior that is good enough to keep you comfortable, cool, and sweat-free. It doesn't have to be premium stuff like the Pista GP RR has. For a budget helmet, an interior that doesn't make you uncomfortable is good enough.
And this HJC DS-X1 helmet has just the thing it needs, and they call it Supercool interior. It's made of silver anti-microbial fabric, which is moisture-wicking and keeps the rider cool even on a hot summer day. The air channeling ventilation structure also helps in this process. Also, HJC used advanced CAD technology to give this helmet greater fit and comfort.
Another thing comes in handy for the adventure riders out there, it's a glasses friendly helmet. That means you can wear your Optical glasses or your fancy sunglasses without breaking a sweat. One thing that many of the other cheaper helmets don't have is the speaker pockets. But this helmet got them, which will allow you to fin in your com unit inside this budget helmet.
Like I said a little earlier, a better fit helmet will be more comfortable. So, when you are buying a helmet, not only for this one, for any helmet, try to find out your head size first. And then proceed with the selection process, unless you might end up with an unfit helmet.
And for this Dual-Sport helmet, it comes from XS (53-54 cm) to 2XL (63-64 cm) sizes. I guess it's the average size chart out there and for the inner shape of the helmet, it's an Intermediate Oval. And lastly, this HJC DS-X1 helmet got a Double-D ring fastener, which is the most common default fastener you'll find.
Great value for the money
Pinlock ready Face shield
Adjustable peak visor
Comfortable Supercool Interior
Glasses-friendly design
Advanced channeling ventilation system
Speaker pockets included
Loud at speed
The fitting might be a little tight
So, this is an entry-level dual-sport helmet, it got some cool and useful features with it. This helmet is made by the HJC after all, the company is well-known for better helmets at a low price. And this helmet is undoubtedly one of those bangs for the buck helmets and it does its job nicely.
Obviously, the more you pay the better helmet you'll get. This helmet has some drawbacks too, like the noise level for example. But overall, this is not too bad of a deal as a budget dual sport helmet. And there are other helmets like this too, such as O'Neal Sierra II, LS2 Helmets Blaze, or Scorpion EXO-AT950.
So, if you want an adventure helmet within a budget, this HJC DS-X1 might be the one you are looking for. Ride safe and keep your two wheels rolling.