A next-level premium helmet SHOEI RF-1200 has what it takes to be the perfect shield for the Citizens and the Weekend Warriors. It is light weighted, solid, and efficient like its RF precursors full-face motorcycle helmets. It's even further updated.
The main job of a helmet is to protect your skull from potential impact, it also protects your face from wind, cold, bugs, and stuff. The RF-1200 fulfills its role in tip-top shape with its innovative shell and high-performance face shield.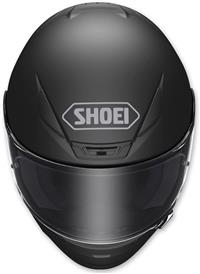 And also ensures the top-class comfort of its owner, so we select this one as best low profile full face motorcycle helmet.  There's so much to talk about this beauty from the Japanese company SHOEI, so let's get started without further ado.
SHOEI RF 1200 Helmet Review
Aerodynamic Design and Balanced Ventilation
This RF-1200 has its own fan base because of the design and the lightweight of the motorcycle helmet. You'll see it yourself if you pick up this helmet and this might surprise you. And this one is the lightest Snell approved helmet Shoei currently offers.
Not only the weight, but its aerodynamic shell was developed using the wind tunnel. Along with the aerodynamic design, the liner materials are also specially made to reduce road noises. Don't worry if you are picky about the color and design, you'll get several options to choose from.
Like the aerodynamic shape of the helmet, the ventilation of this helmet is also wind tunnel-improved. There are 4 air ingestions and 4 exhaust vents designed according to the wind tunnel tests in this RF-1200. These vents provide exclusive stability between the flow of air and the silence. And these also provide an intake of cool air and ejection of hot air.
Helmets are meant to save your head, I mean that's the reason they are made in the first place. And the safety this RF-1200 helmet provides is flawless, both the EPS liner and shell are the best things since sliced bread you could say.
It might look like a regular Shoei helmet, but you shouldn't judge a book by its cover. It's the lightest, utmost flexible, toughest shell the company provides. A six-layer AIM+ branded technology is used in the construction of the shell of this helmet.
What's more, the layers of fiberglass are actually connected handmade with resin and biological fibers. And for the internal safety department, you get a double-coat multi-thickness EPS lining.
While we are talking about the safety topic, let me ensure you that it's certified by Snell M2015 and also approved by DOT. That means this helmet is completely legal to wear while riding on the streets of the United States.
The shield Shoei offers is quite impressive, both the QR-E and the CWR-1 shield makes it unique and effective. And the shield structure of this helmet offers immense visibility, which is really a plus point.
Now, the CWR-1 shield is made with 3D injection-molding and it lets you have a distortion-free sight all over the field of visibility. The helmet's shield locking system is quite enhanced and it's fog-resistant, thanks to the Pinlock® EVO system. Don't hesitate to go ride in the sun, because this shield protects your face from 99% ultraviolet rays.
The QR-E technology confirms a complete seal from wind and water and it also confirms smooth and fast shield change. With the help of 5 step base plate tuning, you can easily control the rigidity of the shield against your eye-port.
Well, this helmet was made to be a perfect comfortable helmet and Shoei did it completely right. It is 3-dimensionally designed to fit the outlines of the user's head. And the Max-Dry System II lining components absorb and dispel the sweat super fast, and that takes half the time a typical nylon ane takes.
Don't sweat it if you sweat too much in the helmet and made it dirty, it's completely detachable, washable, and you can replace it at any time. And for the cheek pads, you'll get multi-layer ones and they are presented in several sizes to confirm better-quality comfort.
This helmet has a lifesaving feature called Emergency Quick Release System. In case of an emergency, this E.Q.R.S. technology allows the medical staff to take away the cheek pads securely without any trouble. Also, it helps the rescuer to gently remove the helmet from a hurt biker's head with minimum pressure passible on the neck.
Choosing the right size is the main key when you buy a helmet, you know. Eventually, you can't compare an apple with an orange, so you have to look for the right shaped one. And this helmet is Intermediate shaped so find out what shape you need first.
And for the sizes of the helmet, Shoei offers a variety of sizes from XS to all the way to XXL. Remember that's the interior size of the helmet but you also can pick from 4 shell sizes of this helmet. So, if you want a small or large looking helmet, you can choose from here.
Fairly light-weighted

Diversity of sizes and graphic options

Aerodynamic ventilation
Comfortable and super absorbent Interior liner
Four shell sizes
Multiple cheek pads variation
Extra-wide face shield with Pinlock System
E.Q.R.S. technology included
A bit expensive
Reportedly loud
'Not so good' chin strap
The RF-1200 Helmet is indeed a popular choice because of its magnificent features. The Japanese brand produces good quality helmets over a few decades and this helmet also doesn't disappoint the riders out there.
It's a fine helmet that ensures the perfect fitting and comfort of the user. Though it's reported a bit loud and you might hear some noises while riding this one but other than that, it's indeed a good choice.
Try to prioritize comfort over the graphics and I hope you'll find the perfect helmet you are looking for.