Like the flagship helmet from Bell the Race Star, the Qualifier DLX MIPS is also another awesome helmet. It comes with many of the exceptional features of the Race Star line up, however, this helmet won't cost an arm and a leg. It's more like the lite version of the Race Star you can say.
"Price ain't merely about numbers. It's a satisfying sacrifice."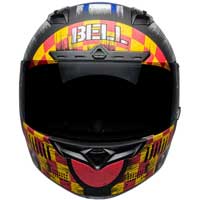 Well, you'll have to sacrifice some of the qualities if you want to get an affordable helmet. But let me clear one thing, you really shouldn't judge a book by its cover, this Qualifier helmet has what it takes to be a perfect everyday use helmet.
Its frequent ventilation, aggressive looks, a detachable and washable lining makes the helmet peas in a pod for rough use. That's not all, there are MIPS energy management system, padded collar, anti-scratch Photochromic visor, and many more.
And here, I'm gonna break down every single detail of this Bell Qualifier DLX MIPS Helmet. So folks, let's dive right into the helmet review without any delay.
Bell Qualifier DLX MIPS Helmet Review
The Qualifier is a budget street helmet that was designed to be an entry-level helmet. It looks like the Bell Race Star or the Bell Flex but comes at a much lower price. The aerodynamic shape of this helmet helps to reduce knocking and lift created by the wind flow. It's a helmet that you would like to use for everyday use or rough use you could say.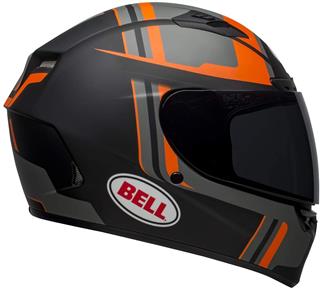 The MIPS addition of this helmet is another cool feature that also makes this a budget track helmet. The thing that I found really cool about this helmet is its impressive ventilation. It's something they call Velocity Flow Ventilation system with FlowAdjust.
You'll find a bunch of vents on this helmet shell and that's pretty uncommon for a budget helmet like this one. 
The vents on the chin area keep the airflow continuous and that's gonna help you cool down in hot weather. And the chin vents can be controlled by a single switch so you can keep the vents shut in cold weather.
Just over the visor, there are 4 vents and those allow direct airflow to your head especially the forehead area. And these are also controlled by a single switch like the chin vents. What's more, there are 2 crown vents and there's a slider at the back of each vent to control the airflow. Not to mention the four rear exhaust vents that are open all the time.
Overall, it's an amazing ventilation-friendly helmet that will make you comfortable in both hot and cold weather.
The main task for a helmet is to provide safety to the rider wearing it. So, a 'perfect' helmet has to be like a coconut, hard from the outside but soft from the inside. By the hard outside, I mean the shell of a helmet. And the shell of this helmet is made of lightweight polycarbonate. This shell construction indeed makes the helmet light but it also makes the helmet 'not the safest' helmet out there.
But It doesn't mean that this helmet is total crap, it's completely legal to wear while riding in the US. It's DOT and ECE approved but it performed a little bit down of the SHARP safety test that's all. But still, the Qualifier DLX MIPS will do just fine if you are looking for an everyday use helmet.
However, the shell is not the only thing that's going to save your head, there's a secret weapon in this helmet, the MIPS you can see in its name. The MIPS or Multi-Directional Impact Protection System they call it.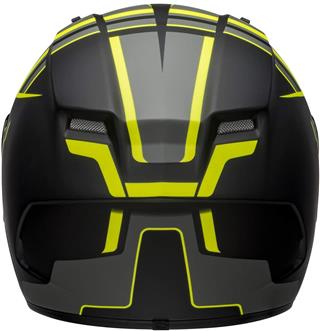 What it does is, it manages the energy that's created in an impact, it reduces the force of any rotational impact, if I put it simply. So, I'll say the Qualifier DLX MIPS is not the safest helmet out there but I think it's good enough.
If you are a bell fan, and looking for a helmet for your next tour, I suggest you to check our top bell helmet for long rides selection on the other post.
Another plus point of this helmet is its visor, it comes with a photochromic reactive face shield. It's quite rare to find a budget helmet with this type of helmet.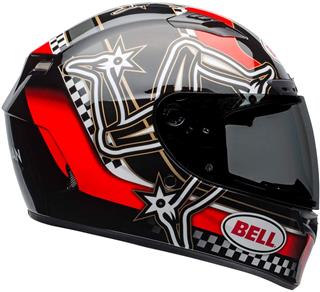 I mean you can buy a cheaper helmet but they usually come with a clear shield. And you'll have to spend an extra $150 or so if you want a good photochromic adaptive visor.
On the other hand, this Qualifier helmet comes with a default photochromic visor and I think that's overall good enough for this helmet.
So basically, what this visor does is, it changes its color according to the amount of sunlight it faces. When it's sunny out there it'll be a dark color and it'll get clearer if it faces less amount of sunlight. And that'll save you the time what it would take to change a visor or wearing a sunglass inside the helmet.
The most amazing fact about this is, the visor comes as a unit with the helmet and at a quite affordable price.
Unfortunately, this face shield doesn't come with a Pinlock insert. Instead, it has NutraFogII coating, that also does the job but it might be not the same quality as the Pinlock, so keep that in mind.
Not to mention it features Bell's ClickRelease face shield mechanism and this makes it super easy to change the shield without any tools.
This helmet is pretty comfortable, reasonably comfortable I would like to say. Indeed, the interior of this helmet is not as premium as any of those $700 or $800 lids, you can't compare an orange with an apple after all.
However, it's not too shabby, this helmet will feel just fine if you get a perfect fit. No need to worry about the dirty and sweaty helmet, its interior is completely removable, washable, and anti-bacterial.
There are also the Contoured cheek pads that'll confirm greater fitting and comfort.
And for the chin-strap, you'll get a padded D-ring chin strap with the Qualifier DLX.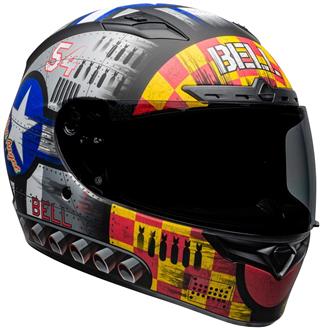 Nevertheless, watch out for the plastic poppers that secure the liner right on your forehead. These might make you feel a bit uncomfortable after you ride for a while.
Fitting is a really important thing to check out when you buy a helmet. You should find out your head size first and then start finding helmets accordingly.
This Bell Qualifier helmet has interior sizes starting from (53-54) cm all the way to (65-66) cm. Also, the helmet comes in 3 shell sizes, so it'll be no big deal to pick the right interior and shell size if you look for it.
And it's an Intermediate Oval shaped helmet and it's really light weighted, only about 1.61 kg or 3.57 lbs. And, if you are looking for a 3/4 bell helmet, you can check out our other post.
Great value for money
MIPS energy management system
Photochromic Adaptive Visor
Padded wind collar for noise reduction
Removable/Washable anti-bacterial interior
Superior Ventilation
3 Shell sizes
Lightweight polycarbonate made shell
5 years warranty
ECE and DOT approved
Pinlock insert is not included

The substantial press studs might be a bit uncomfortable on the forehead area
This is a decent helmet overall, the Bell Qualifier DLX MIPS gives you both safety and comfort while at an affordable price. It's more like an everyday use street helmet that you'll use to get to work or like touring or something.
Its MIPS technology keeps it ahead of lots of other helmets. And also, the Photochromic Adaptive Visor, it's another cool feature of this helmet.
However, it also has some disadvantages to watch out, the interior and no Pinlock insert for example. It's not like the best of the best budget helmet out there or something but it's not that bad either.
So, if you are looking for an everyday-use, affordable helmet, you might give it a try.
Good day!