A best seller helmet from the Italian company AGV, the K3 SV is an amazing helmet. The design of this helmet was influenced by the premium level Pista GP, Corsa R, and GT Veloce while also maintaining a trace of its ancestor the K3.
What's more, they added an internal sun visor in it.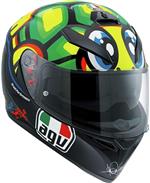 Unlike the Pista GP and Corsa R, it doesn't cost an arm and a leg but it indeed has a couple of cool features. Aerodynamic performance inspired by its big brothers, thermoplastic construction shell, expended visibility. Overall when you look at the price, the K3 SV seems like an excellent value for the money to me.
A helmet is your best friend and lifesaver on the road, everyone agrees with the fact, even the American actor Taylor Lautner.
"I'm not the biggest motorcycle fan – they're cool and a lot of fun, but they're scary as well!" he once said.
Yes, motorcycle riding can be scary if you don't have a helmet protecting your head. And this can take that responsibility, so let's find out the awesome qualities of this 'not too expensive' helmet.
Like I mentioned earlier, the shape of this helmet was designed inspired by the Pista GP and Corsa. While maintaining the basic shape of its ancestor the K3. So naturally, it looks like something between those helmets. And that looks pretty cool and the aerodynamics is also impressive considering the price of this helmet.
The aerodynamic shape of the shell is designed to ensure aggressive vibes and enhanced stability. The helmet has a compact and effective rear spoiler that decreases turbulence. And the updated narrow chin bar allows the helmet to cut through the airflow at speed providing improved stability.
The ventilation of this helmet is pretty impressive, considering its price at least. It got four adjustable front vents and two back extractors. And these do their job pretty well providing a fair amount of airflow on your face. Like the shell design, the Ventilation structure of this helmet was also modified by wind tunnel testing.
Another thing, this K3 SV features a detachable breath deflector that prevents the visor to fog up. Usually, I prefer one color helmets but the thing that caught my eyes was the cool graphics options of this helmet. Especially the ones with K3 SV Valentino Rossi finishes.
The main purpose of putting a helmet on is safety, it protects your head from any impact and also from the wind blow that directly hit on your face. This budget helmet does its job fair enough. Yes, its shell is not made of expensive materials but it's not that bad after all.
Its shell is made out of High Resistance Thermoplastic Resin, they call it HIR-TH, pretty much expected from a $200 helmet. Still, it's ECE 2205 and DOT approved. That proves that the helmet is capable enough to protect your head.
And for inner protection, it's equipped with, multi-density EPS liner that comes within 4 sizes, not too shabby.
The base of this helmet was designed to reduce any injuries related to collar bone. And it's light-weighted compared to the other budget helmets, it weights 1.590 (+/- 50g) kg if it's the first shell size.
The Detachable chin strap is also another cool feature and it's windproof. Not to mention, the AGV K3 SV helmet comes with a Double-D ring chin strap.
As its name says, the K3 SV features an Integrated drop-down Sun Visor or ISV in short. This makes the helmet an aggressive street and ultimate touring helmet. What's more, the sun visor is scratch-resistant and it's super easy to replace without any help of special tools.
The face shield of this helmet includes 100% Max Vision Pinlock® 70 that prevents fogging up. The shield structure provides a perfect seal and enhanced protection against wind noise and drafts. Thanks to the PVS (Perimetrical Visor Seal) that takes care of the noise, as a result, it's a pretty quiet helmet.
The shield removing system or Micro-opening system they call it. It works with the help of a Quick-Action Button which is located on the chin bar. Another thing is the X-tra Quick Release System or XQRS in short, it's a tool-free visor removing mechanism. That helps you replace the visor in a matter of seconds.
This K3 SV is one of the budget helmets that has a decent interior, way better than the others at the same price. The interior of this helmet is made out of Dry-Comfort fabric, which is enough comfortable.
And it's completely removable and washable, so whenever it gets dirty and smelly, you can just wash it clean. The cheek pads are sanitized and these are also made with the same material as the interior. That ensures the overall comfort of the user.
There are also the breath deflector and the windproof chin protector, which are pretty impressive. And it's no big deal to remove them or put them back. I mentioned it earlier, the helmet features a 4-layer EPS liner and that comes in 4 sizes.
Another cool feature that AGV added to this helmet is its communication-ready speaker pockets. These are designed to reduce the pressure on your ears that was caused by the Bluetooth speakers.
Lots of people might have already told you that fitting is important when you are buying a helmet. It's indeed true, a perfect fitting helmet is a must when you are riding. That's why you need to measure your head shape and size first and choose the helmet accordingly.
The inner shape of this helmet is Round Oval and it comes with 7 inner sizes, from XS, all the way to XXL. However, you get to choose from 2 shell sizes, which you'll rarely see in the helmets at the same budget. Also the EPS liner of this helmet, which comes in 4 sizes.
Best Value For Money
High Resistance Thermoplastic Resin Construction Shell
GT4 Scratch-Resistant Visor
XQRS (X-Tra Quick Release System) Visor Replacement Mechanism
Integrated Drop-Down Sun Visor (ISV) Included
Designed To Reduce Collar Bone Injury Risks
Superior Ventilation
2 Shell Sizes
4 EPS Sizes
Cold Weather Fogging Problem
Same Liner For All Sizes
Well, this is a great deal if you ask me, I mean an AGV helmet in just around $200, it's like bang for your buck. Yes, it's not the kind of helmet you'll take to a race track, but it is indeed a good helmet for everyday use.
It got great ventilation, a good visor with awesome visualization, cool aggressive aerodynamics. What else you want from a budget helmet. At the very least I'll say if you want an awesome budget helmet, you can ho with this K3 SV.
Wish you have a good day and a good buy!