The AGV Corsa R, a premium helmet that you would like to take on a track-ride. To be honest, it's made for those people who usually love to ride at high speed. And when you ride at high speed, you need something trusted on your head, to protect your skull. And this helmet offers exactly what you need, protection with absolute comfort.
You'll get tons of remarkable features with this helmet and that might fulfill most of the experienced rider's demands. We select this helmet as your low profile full face motorcycle helmet.
There's the aerodynamic shape, comfortable interior, effective visor, and much more cool stuff. So let's get into the details and split the tea with you and discuss best motorcycle helmet.
AGV Corsa R Helmet Review
Like I said before, the Corsa R is a track helmet and it's designed while keeping that in mind. Its aerodynamic shape and ventilation were inspired by the trademark of AGV, the Pista GP Carbon. The helmet also reflects some awesome features of the Pista. And that was developed considering racing track and extreme conditions.
The shell structure and the ventilation of this helmet smoothly combine with the race suit while you're riding at high speed. Its IVS technology or Integrated Ventilation System to be specific, allows the airflow straight into the shell. The vents are variable and the central vent ensures a greater flow of air. An aerodynamic spoiler is also included with this helmet for better track results.
While riding at high speed, the last thing you wanna do is wearing an unsecured helmet. A trustworthy helmet can save your life even if you happen to be in an accident. And this Corsa R helmet is well worthy of your trust, it was made for high speed riding after all.
The shell design of the Corsa is the same as the Pista Carbon. However, it's made of a similarly solid and exclusive combination of carbon, aramid, and fiberglass; CAAF shell in short.
For the interior, you get an adjustable crown comfort lining, which ensures safety as well as comfort. And the interior was precisely designed to reduce the chances of collarbone injuries.
Not to mention, for the chin strap, it's equipped with a Double D-ring, which is a dime a dozen for track helmets. And for the certification, the Corsa R is DOT and ECE 2205 approved.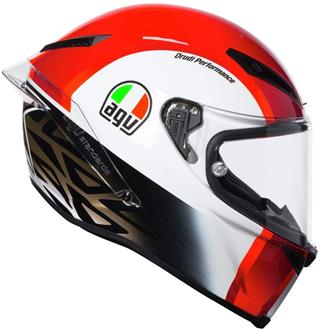 When riding at speed, a visor protects your face from the cold, wind, and the other stuff comes with it like dirt or bugs. And luckily the face shield of the Corsa R is a 5mm thick optical class 1 visor, which is basically the same as the Pista GP. And when we say class 1 or optically-correct visor, that means it's formed to reduce distraction so that you can have a clear and wide-angle vision. To keep the helmet perfectly seeled with the shell, this helmet features a swivel system. 
Also, the double purpose visor locking system eliminates the possibility of accidentally opening at high speed. Not to mention, the Pinlock 120 lens insert. That's supposed to create an anti-fog environment balancing the temperature inside the helmet.
It's indeed a comfortable helmet, the liner, padding, and the internal shape will make you feel good. Especially the innovative reversible crown lining, it's designed to make the rider feel comfortable at any weather. If it's cold outside, turn the warmer side, which is made of Shalimar fabric it'll give you a mild and soft touch. And for the cooler side, you get Ritmo fabric for a refreshing fit.
Another handy thing about this helmet is it's interior is completely detachable and washable. The nose guard is also removable, which is pretty cool. And for the neck roll, it's made of water-resistant Nabuk and Shalimar fabric. One impressive thing about the interior is it got 5-density EPS liner and it comes in 4 different sizes.
When you talk about comfortable inner fitting, cheek pads play a vital role, a perfect pair of cheek pads might give you a comfortable fitting.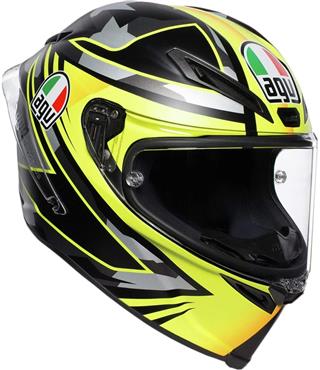 And this one is as right as rain, it's made of fluid and fresh Ritmo fabric, also, it got a safety release mechanism that will be useful in an emergency.
I said it before and I'll say it again, perfect fitting is important for a helmet, so you gotta pick the right size when you choose one. Like maximum helmets on the market, the internal shape of this helmet is Intermediate Oval. And it comes with 7 sizes, from XS all the way to XXL, you also get the options to pick the shell sizes, which comes in four shell sizes.
It's a super light helmet, you'll notice when you pick it up, it's only about 3.63 lbs! (more or less) Not as light as the Pista or other full carbon made helmets but it's light enough.
Integrated Ventilation System
Four shell sizes
Carbon, Aramidic, Fiberglass made shell
Extra Quick Release System
Max Vision Pinlock Insert Lens
Optical class 1 shield
Multi-density EPS
Expensive
Parts are more likely overpriced
The Chinstrap might be a little tight
Amisano Gino Valenza or AGV (in short), an Italian helmet manufacturer company. That is producing awesome helmets over the decades. The helmets this company provides are both comfortable and safe, no surprise it is used vastly on the race tracks and so. The Corsa R is no different, it has awesome features like aerodynamic shape, comfortable interior, cristal clear visor, and more.
Although it's a bit pricy, the quality the helmet has I think it's worth it. It's an affordable version of the Pista GP you could say. If you are looking for a premium, comfortable helmet for track use or so, you can consider this one.
So guys, Guida Spesso, Guida Sicura (Ride often, Ride safe).