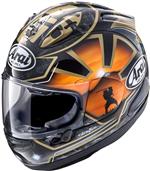 Arai is a helmet manufacturing company that is producing quality helmets for decades and still, they are on it. The Arai Corsair X is one of Arai's premium helmets that both confirms safety and absolute comfort. 
Well, this Corsair X is actually a racing helmet that is also suitable for your day-to-day riding.
This multitasking ability makes it a favorite among those riders who ride on the track and also are a street rider. Also, it's an FIM Homologated helmet, which means this helmet is a safety standard helmet that is allowed in any competitive race like Moto GP. Same as the Pista GP RR and Bell Pro Star helmets.
You can say that this Corsair helmet is one of the best motorcycle racing helmets. And also, it made it in our list of Best Motorcycle Helmets as a premium racing helmet.
Another thing might be a bit confusing that this same helmet is known as Arai RX-7V in the European market. And Arai RX-7X in the Japanese market. So, no need to get jumbled, they are all the same.
"To achieve anything in this game you must be prepared to dabble in the boundary of disaster." — Sterling Moss
Let's push it to our limits and let this helmet deal with the safety against disasters.
Anyway, let's dig right into the detailed review of the Arai Corsair X helmet and find out what the helmet got in its bag.
Arai Corsair X Helmet Review
This R75 is also called the organic shape, and it's made by Arai helmet experts. These people exactly understand what they are making, a compact yet convenient helmet shape. And this is also aerodynamically suitable and there's a Pull-Down Chin Spoiler at the bottom of the chin bar. It prevents some of the wind noises and also deflects the debris from your neck area.
Another convenient addition to this helmet is the chin curtain, which improves the Free Flow System. Also, there are speaker cut-outs in the helmet, it will allow the riders to fit any com device inside the helmet.
Ventilation and Noise Level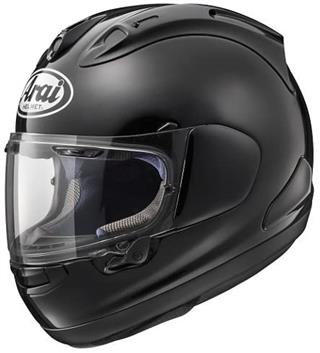 The ventilation structure of this Corsair X helmet is innovative and it improved from the previous version of the helmet. The new IC Duct-5 intake vent you can see at the top of the helmet, it lets 11% more air inside the helmet than the former one. And the Type 12 diffusers on the top intake 19% more airflow.
And what upgraded most is the switches of these vents are three positioned and these are much bigger than its predecessor. That makes it super easy to close or open even with gloves on. And when you fully close the vents, it actually blends with the aerodynamics of the helmet. It doesn't let the air and water inside, also reduces the noise level that makes it suitable for street riding.
The chin vent on the other hand remained the same, three positioned chin vent lets col air inside the helmet. Also, there are Brow vents on the top of the visor, these vents intake air straight to the forehead area. And the Eye-port Air channel drains some of this air through the side ducts, which overall improves the ventilation process. Also helps in reducing the noise level.
To let all the hot air from inside there is the Neck exhaust vent. And the Side exhaust vents and the rear vents work effectively resulting in better and enhanced ventilation and a quiet interior.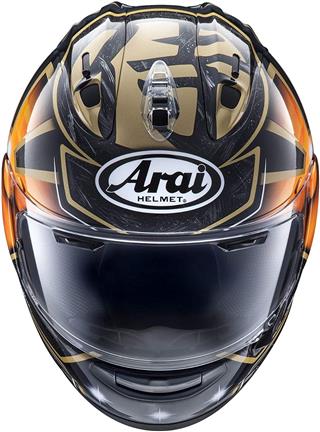 When you are riding on a track or street, safety is a must. The combination of a hard outer shell and soft inner shell of this helmet protects your head from potential impact. Also, the Glancing-off ability of this helmet minimizes the damage drastically by letting the helmet slide. Instead of facing a direct impact that might cause several injuries.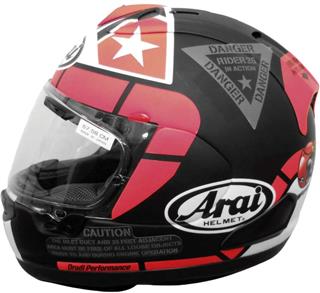 The outer shell of this Corsair X helmet is a Peripherally Belted Structural Net Composite or PB-SNC2 shell. This shell composite shell is made of a strong fiber called Super Fiber and some other synthetic fibers. And finally, to secure these materials together, Arai helmet Experts use a specially made resin. It makes the helmet shell much stronger and lighter at the same time.
There's also the new Emergency Cheek Pads removal mechanism. That allows the medical staff to easily find the emergency pulling strap and securely remove the pads and helmet from the rider's head.
On the other hand, this Arai Corsair X helmet comes with a Snell 2020 and DOT certification. And as I mentioned earlier, the European (RX-7V) and the Japanese version (RX-7X) of the helmet are FIM Homologated. This means you get safety as much as a MotoGP level helmet. And it doesn't put a heavy burden on your pocket as the AGV Pista GP RR does. And of course, it got a 5-Star rating on the SHARP Safety test.
Checking out visibility is another crucial factor when it comes to selecting a helmet. And when you are paying for a premium helmet, good visibility is a must. And this Corsair X helmet has what it takes, a clear shield and an awesome shield mechanism.
The visor of this helmet is called the VAS MAX Vision shield. No matter what the season is or what kind of riding you are doing, it'll give you great visibility. And to take care of the fogging-up, there's a Pinlock insert lens included with this helmet.
The shield changing system of this helmet actually improved from the previous version. The VAS or Variable Axis System operates smoothly and the shield changing mechanism is much improved than earlier.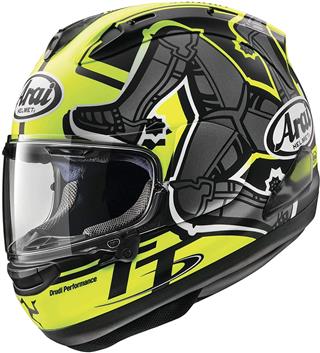 There is a dual-function lever on both sides of the helmet and you can release the pods by pressing the lever. Unlike the previous version, the pods or the covers don't completely separate from the main helmet body. Instead, it stays attached even when you change the shield. Also, the shield pin allows easy visor removal.
The shield latch system is now improved and kind of dual step locking mechanism. It holds the visor securely and prevents any unexpected opening during high speed (which is extremely dangerous). However, this very mechanism might be a pain for some of the users. But once get the hang of it, the opening and closing of the shield should be a piece of cake.
What does a premium helmet require the most? A premium interior and very few helmet manufacturers pay more attention to the comfort of their helmet as Arai does. They'll even give you a custom made interior if you get it from an authentic Arai store.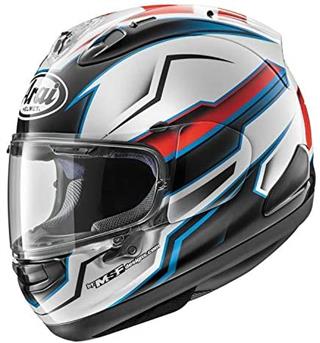 The internal of this Corsair helmet is made of Eco-Pure material, which is soft and durable at the same time. It's an anti-microbial interior and also helps to keep a neutral acidity level inside the helmet.
There are various price range of this model. If you need a economical one, check now.
Not to mention it's a fully removable and washable interior, so you can pull it out and clean it whenever it gets dirty. The inner padding of this helmet is thinner now, which results in a more comfortable fitting for street riding. There's also a well-functioning breath guard included. It not only directs the hot breath air down but also lets the air from the chin vent inside of the helmet.
Overall, the fine inner materials and superior ventilation result in a comfortable interior. And Arai calls All-day comfort.
Well, fitting relates to comfort, an unfit helmet is more likely anything but comfortable. So, first, find out what size fits you better and then look for the helmet accordingly. If you are looking for small size you can defiantly choose small version of this one.
For this Arai Corsair X helmet, it comes from XS (53-54 cm) to XXL (65-66 cm) sizes. And there are 5mm Peel-Away Cheek Pads and Temple pad available, which means you can modify the interior. And make the perfect fitting according to your head shape.
And the inner shape of the helmet is Intermediate Oval, which is the average head shape of western riders (most of the time).
Premium helmet for both track and street use
R75 Organic Shape
Glancing Off Ability
PB SNC2 handmade Shell
VAS Shield System
Eco-Pure material liner
Superior Ventilation
Pinlock lens included
Snell 2020, DOT and FIM certified
The Shield Latch system might be a little hard to master
A bit Expensive
Well, this Arai Corsair X is a premium helmet that's for sure. And almost every user of this helmet recommended it as a nice and comfortable helmet. Arai actually paid attention to the comfort and the safety of the helmet more than anything. It's meant to be a racing helmet and it also does fair enough in day-to-day use.
So, if you want a premium helmet that you can take to track and also on a tour or normal use, this helmet might be the perfect one.
While we are looking at a helmet at this price range, you might also take a look at some of the similar helmets. Such as Bell Race Star Flex DLX, Shoei RF-1200, HJC RPHA 11 Pro, or AGV Corsa R.
Hope you find just the perfect helmet you are looking for, Good Day!