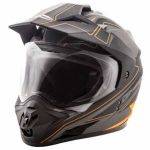 Finding a helmet for off-road riding on the weekend? Also, want a helmet for your day-to-day commute? You don't want to invest too much for that helmet either?
We've got you covered; we brought our top budget dual-sport helmets just for you. And this GMax GM11D is one of them.
The GMax GM11D is an entry-level dual-sport or adventure helmet, whatever you name it. The 'D' at the end of the helmet's name stands for Dual-Sport and this helmet surely got the basic features of a dual-sport helmet. That will get you through both off-road trails along with asphalt highways with efficiency. Also, this is an entry-level helmet, which means you can go for this helmet without losing a pretty penny.
The thing about the budget adventure helmets is they have at least the basic quality of the top motorcycle helmets. Also, these don't cost too much; like this helmet, and you can get the best out of these if it meets your requirements.
So, let's find out what this GMax GM11D helmet got in its sleeves in our detailed overview.
"This land may be profitable to those that will adventure it."-Henry Hudson.
This GM11D helmet looks exactly like a dual-sport or adventure helmet should look. A peak on the top, narrow and long chin area like a dirt bike helmet. Also, a face shield and inner comfort liner like what you'll see in a low-profile full-face helmet.
The peak here is not adjustable, which can be an issue for some of the rides out there who like to adjust it a little bit. Although, there are other budget helmets with adjustable peaks, like AFX FX-41 DS or HJC DS-X1.
But you can turn this helmet into a street helmet anytime you want, you'll need a Phillips screwdriver for that. It would be so nice if you could just detach the peak without any tools, like the helmets I mentioned before. However, this GMax helmet is an entry-level helmet, that's acceptable, I guess.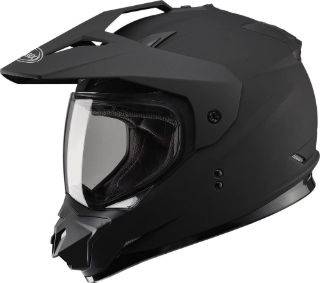 However, you'll get side shield plate covers out of the box with this helmet. These will make the helmet a little bit more aerodynamically stable when you switch it into a street helmet profile. By the way, these won't make the helmet as stable as the premium Corsa R or something like that, just you can keep that noted.
When it comes to ventilation, these adventure helmets have an upper hand over your everyday-use full-face helmets. These ADV helmets are also designed for off-roading after all. And Off-road or dirt bike helmets need tons of airflow to keep the rider cool and comfortable.
This GM11D helmet is no different, it got lots of intake and exhaust vents to keep the rider cool even on a hot summer day. There are 6 intake vents, the chin vent, and the top vents can be easily controlled even with gloves on. All the intake vents, including the chin, jaw, and upper vent intakes tons of air inside the helmet.
And to pull all the hot air from inside you'll have a total of 4 rear exhaust vents. 2 of them are active or adjustable and the other 2 are passive or always open vents. There are also some vents looking decorative at the rear bottom of the helmet but these do not take part in the ventilation though.
Your safety on the road is one vital thing, which you should never compromise. And whatever helmet you are wearing, just make sure that is at least DOT approved.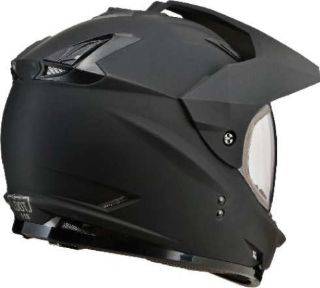 And this GM11 helmet is actually a DOT certified helmet, which means you can wear this helmet on the roads of the United States, as an entry-level helmet. It's not like, the helmet is made of carbon fiber or fiberglass material like what you might see on the premium helmets, such as the Arai XD4.
The shell of this entry-level helmet is made of thermo-plastic alloy materials. It's definitely not the best one out there but so many budget helmets along with this one got this type of shell, and that's just fine. If you want a bit safer helmets, then you can spend a few more bucks and get something like Bell MX-9 MIPS, Scorpion EXO-AT950.
Lastly, this helmet got a padded Double D-ring chin strap, which is pretty convenient.
Another thing about these adventure helmets that they usually have a large viewport. And this GMax helmet also has a large viewport that allows you to wear large goggles when you are off-roading. And even when you are riding street profile, you get wide sight, which is great.
And the shield of this helmet is a plastic shield and there's also a double anti-fog clear lens shield included with the helmet. The shield can be fully opened even when you have the peak on. And the 3-step shield locking mechanism is there if you like to open the shield a little bit when you are riding.
There's a kind of gap between the gasket and the shield that allows you to close the face shield even when you are wearing your goggles. However, the same feature might cause you a headache as these will make the helmet loud when you are riding at speed.
The interior of this helmet is decent enough, at least at the price this helmet comes. You'll get a CoolMax interior and it well channeled with the ventilation structure of the helmet. It will keep you cool and comfortable enough for a street ride along with off-road riding.
Not to mention the inner liner and the cheek pads of this helmet are completely detachable and washable. And this will eventually let this helmet last longer even as an entry-level helmet.
There are speaker pockets included inside the helmet and that will allow you to get a com unit installed in the helmet.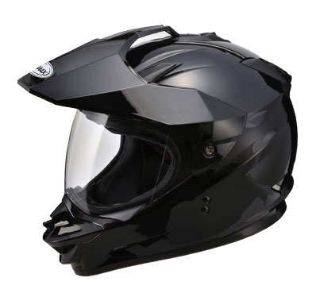 Another thing is there is a cold-climate set available for this helmet. This set includes a breath deflector, chin curtain, and the dual-lens face shield. Overall, this helmet is packed with a bunch of features that you might need in an adventure helmet, and that's not too shabby for an entry-level helmet.
Figuring out what size you fit in is very important when you are going to buy a helmet. It'll not only save you tons of time but also you'll get to pick the right size that you feel comfortable with. So, measure what size fits you better, and then go for a helmet.
This GMax GM11D helmet has a Round Oval inner shape, which isn't the average head shape out there. But this is like a blessing to some of the people who are finding a Round Oval helmet. And for the sizing of this helmet, it comes from XS to 2XL size. However, the sizing of this helmet is reportedly off the chart sometimes, so double check here.
Great value for the money
Removable peak
Large viewport for large goggles
Adjustable vents
Gloves friendly vent sliders
3-step face shield mechanism
Padded Double D-ring chin strap
COOLMAX interior
A bit heavy
A bit loud
Non-adjustable peak visor
Well, this is an entry-level adventure helmet that will give you some of the basic features that you'll need touring out there. The GMax GM11D is kind of bang for the buck when you see the price point and the features this helmet offers.
Of course, this won't be as good as some of the premium helmets out there, but this one is just fine for a budget helmet. If you are looking for something like this and also don't want to spend much, this GM11D helmet is something perfect for you.
If you are looking for a helmet within this budget, you might also take a look at some of the other dual-sport helmets. Such as AFX FX-41 DS, LS2 Helmets Blaze, or NENKI NK-310.
So, all the riders out there, happy riding!