The Pista GP RR, which is the top of the order full-face helmet from the Italian company AGV. It's a premium helmet that you'll see pro riders wearing in competitive races, like MotoGP and so. There are no doubts that this one is a top-class racing helmet but it'll also cost you a pretty penny.
So, this luxury helmet was made for MotoGP and now it's available for every motorcycle user. Not to mention, now you can actually buy an FIM certified helmet, which is the certification allowed in most of the racing events.
And one of the other reasons that people are interested in this helmet is the MotoGP Star Valentino Rossi wore the Pista GP R helmet. And this Pista GP RR replaces that one in AGV's top helmet line-up. There are also a bunch of Rossi helmet graphics available for this helmet.
Putting that aside, this helmet is a safe, comfortable premium helmet that might be a little costly. But if you are looking for a decent, top of the line helmet, this might be the one for you. Also, this helmet made it to our best motorcycle helmet list as a quality luxury helmet.
So, let's start unboxing the premium features of this Pista GP RR helmet without any further ado.
"Quality is more important than quantity. One home run is much better than two doubles."
– Steve Jobs
AGV Pista GP RR Helmet Review
Like I said before, it's a premium racing helmet. Obviously, the aerodynamics of the helmet will be top of the class, suitable for any extreme conditions. The vent structure, as well as the shell shape of the helmet, is designed using a wind tunnel and AGV expert riders. If you need a low profile motorcycle helmet to fit on, you can grab its small size, and it may fit you perfectly.
Also, the removable rear PRO Spoiler effectively reduces drag and lifts. This spoiler perfectly blends with race suites and provides stability at speed even in street riding. This aerodynamic profile helps the rider to easily glide through the road. And overall. The helmet design is much balanced and the lightweight of the helmet will make you feel like you have nothing on your head.
The same goes for the ventilation structure, the metal air-vents fluently pass through the air and make the interior cool. There are 5 front vents, the top vents can be closed using rubberized covers and the chin vent can be controlled from inside. And for letting the hot air from inside out, there 2 rear vents over the spoiler which works pretty well.
Another thing is this is ready for any hydration pack. If you have a hydration pack installed in your race suit, you can have that option. It's an additional feature that keeps the riders hydrated and helps them focus on the turns and curves of the race.
Well, it's a racing standard helmet, and this helmet was made to protect the head of MotoGP riders in that extreme condition. So, you can have an idea that how safe this Pista GP RR helmet is.
For the helmet construction, this helmet has a 100% carbon fiber shell. And under the shell, there is a five-layered EPS liner. These building materials not only absorb the impact energy. But the whole structure of the shell and EPS are designed to minimize rotational impact energy.
And this is one of the few helmets that come with an FIM certification. Like I mentioned earlier, this FIM is the safety standard that any competitive motorcycle racing helmet requires. Besides this Pista GP RR helmet has DOT and ECE certifications that are American and European road safety standards.
There's also the cheek pads safety removal mechanism. That allows the EMT (Emergency Medical Team) to pull out the pads without any further damage to the rider. And the shape and structure of the helmet were designed to maintain the Collarbone Safety Profile.
And for the fastening process, it has a Titanium Double D-ring chin strap.
Visibility is one of the very important things that you should definitely check out while choosing a helmet. And for this AGV trademark helmet, it comes equipped with an Optic class 1 Pinlock ready face shield. This 5mm thick visor is an anti-scratch visor and it confirms clear visibility throughout the entire field of view.
The viewport of this helmet is wide enough. Eventually, it is helpful because you don't need to move your head too much to see your surroundings. The viewport has a 190° parallel view and 85° upright view, hopefully, that's wide enough. Also, this helmet comes with a 120 Max Vision Pinlock out of the box, which is great for preventing fogging-up.
And the patented shield locking mechanism is also pretty impressive. It effectively prevents accidental opening. Also, the metal shield mechanism works just fine and it somehow works better. And there's the Extra Quick Visor Release System, which is tool-free and super easy to operate.
Of course, a premium helmet requires a premium interior and AGV did a great job here. The interior of the Pista GP RR is comfortable enough and it's made with superior materials such as Shalimar fabrics.
And the manufacturer really paid attention to the comfort of the rider, they even avoided stitches in any sensitive areas. The helmet got the premium skin comfort feature, which they call Microsense. The interior has instant sweat absorbing ability called 2Dry, it keeps the sweats away. Also, the interior is completely detachable and washable, like any of the other helmets.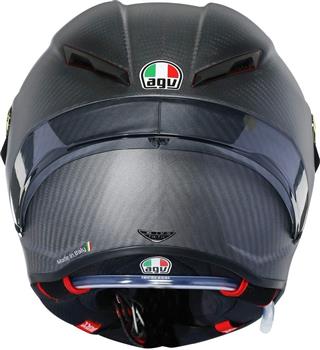 The neck roll you get with this helmet is made of breathable material and it's also waterproof and elastic. Of course, the cheek pads are made with premium quality Shalimar fabric. This soft material gives you snug and comfortable fitting even if you are at speed.
The crown pads you got here is also made of breathable and elastic microfiber. And the crown pads can be customized, there are rear pad and top crown pads included in the box, which will help you adjust the fitting a little bit.
Overall, this helmet indeed has a nice and comfortable interior, as expected from a helmet with this price tag.
Fitting is one thing you shouldn't ignore; an expensive helmet might not feel comfortable if it doesn't fit properly. So, always measure your head shape and size first and then look for a helmet.
For this AGV Pista GP RR helmet, it comes from XS (53-54 cm) to XXL (63-64 cm) sizes. And there are 4 shell sizes available for this helmet, the same goes for the EPS liner, multi-density liner in 4 sizes. So, hopefully, you won't face any problem finding the perfect size. And the inner shape of this helmet is Round Oval, but you can customize the interior a little bit using the extra crown pads.
And this helmet is super light, the first shell size helmet weighs only about 3.20 Lbs. As expected from the top of the line helmet from the Italian company AGV.
100% Carbon Fiber Shell
Light Weight
Low Noise level
FIM certified helmet
Class Optic 1 Face Shield
Max Vision Pinlock Included
Comfortable Inner Liner
Metal Intake and Exhaust Vents
Collarbone Safe Profile
So, here we are, the Pista GP RR is a premium helmet from AGV, which confirms both quality and comfort. This is kind of a dream helmet; you get lots of luxury features and also safety better than almost any helmets available in the market.
Of course, if money isn't a fact to you, this helmet is definitely worth giving a shot. However, one's favorite thing can be an eyesore for another, this applies to all, even for this helmet. There might be some features that you don't like and that's completely fine, there's always a second option.
You might also take a look at some of the other helmets similar to this one. Such as Bell Race Star Flex DLX, Shoei RF-1200, Arai Corsair X, or AGV Corsa R (which looks similar to this helmet).
So, overall, this AGV Pista GP RR is a top of the line helmet from its manufacturer. It has some decent and cool features and also it comes at a higher price. If you are looking for a luxury helmet for track or street racing or use you can check this out.
And Good luck with the helmet hunt, Good Day!!