There's one annoying situation that many half helmet lovers might face, and that is mushroom head. And if you ever wondered if there's any half helmet no mushroom head, then the answer is yes! There are some brain buckets available that will provide you with proper safety and also look good!
People love half helmets, but they don't like the mushroom head that comes with them. The problem is that most half head buckets are made with extra paddings and inner layers. And that's what causes the issue we are talking about, a helmet that looks like a mushroom.
In this article, you will learn about the three best brands and models of half helmets without mushroom heads (and also how to choose one). If you are curious about taking a detailed look at these products, then check out our review section. In the end, there's a guide where we share all the essential tips about what you should look for in a brain bucket!
Three Best Half Helmets - No More Mushroom Head Motorcycle Helmets!
No one wants a mushroom head while riding a motorcycle. But, unfortunately, there aren't enough half helmets out there that are safe and don't look too weird. And the Scorpion Covert we've got here is undoubtedly one of those safe and cool-looking helmets.
This helmet has an aggressive look, thanks to the front chin cover and the inner sun visor. You might feel like you are the SWAT elite member after you wear this helmet, just kidding! But this helmet looks fantastic, straight out of an action movie, there's no doubt. And that solves the mushroom head problem that you are worried about.
The Polycarbonate shell is safe enough as it is DOT approved. However, the front cover o mask does not provide any safety as it's not a part of the actual frame or shell. This is there to protect your face from wind and debris. And, of course, this looks aggressive and awesome!
So, your solution to the mushroom head, the Scorpion Covert half helmet.
Features
Adjustable dual-position shield
Flow-through ventilation structure
Micrometric quick release chin strap
Moisture-wicking, hypoallergenic interior
UV-resistant and Scratch resistance drop-down sun visor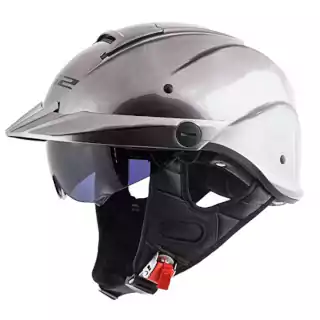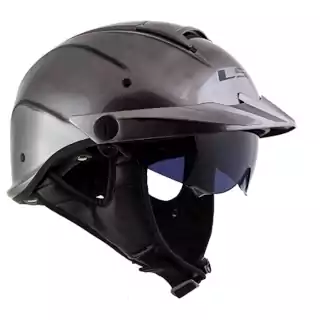 Specifications
Shape: Intermediate Oval
Weight: 2.08 lbs (approx.)
Shell Construction: Kinetic Polymer Alloy (KPA) shell
Sizes: XS (53-54 cm) to 3XL (65-66 cm)
Safety Standards: DOT certified
The LS2 Rebellion is another head bucket that will give you a stylish look and, of course, no mushroom head. Helmets from LS2 always have unique stylings and finishes, and this helmet is no different.
The streamlined design perfectly blends with the head shape and looks pretty good. Especially the back end of the helmet, it's a mix between a three-quarter helmet and a half helmet. And this unique shape of the helmet makes it look awesome. The graphics and the finishing are also pretty impressive.
Apart from the looks of this helmet, it also comes with some cool features. The flow-through ventilation structure is well made, and it keeps your head cool and dry. Safety is also good enough for the Kinetic Polymer Alloy shell as it comes with DOT approval.
So, the LS2 Rebellion is another quality half helmet that will meet your requirements.
This one is a budget option on our no-mushroom list, the VCOROS F02 half helmet. Another significant plus point for this helmet is the graphics options; this helmet has some pretty cool graphics and design!
Of course, this is a DOT-rated helmet that comes with an ABS half shell. Now, this might not be the safest material for a shell, but this is good enough. Most of the helmets around this or even higher budget comes with this kind of shell, and it's a safe option.
And this one comes with a drop-down sun visor, which is an excellent addition to a budget option. As for the comfort, the section did a great job as it's good enough despite having a lower price. What's more, the side straps are thick and comfortable, and so is the chin strap.
So, this VCOROS F02 is undoubtedly one of the best options for a great-looking brain bucket on a budget.
Best Non Mushroom Half Helmet Buying Guide
All the motorcycle helmet experts will tell you that safety should be your top priority while choosing a helmet. This is the most effective safety gear you'll most likely have when you ride a motorcycle.
So, getting a strong enough helmet is a must, and if you are planning on riding a motorcycle without a helmet, please don't! Get one of these half helmets instead; they'll do the job. These Half helmets might not be considered as safe as the full-face ones as they do not protect your chin area. But at least these are way better than riding without a helmet; they will protect your head in any unwanted situation like a crash.
Get a helmet that has at least a DOT certification. The minimum road safety requirement for riding a motorcycle and a helmet with this certification is good enough.
Another crucial thing to pay attention to when buying a helmet is fitting because a helmet should be comfortable. If it is too big, then it will slide over on your head (especially for a half helmet, as it might float in the air and slide to the backside of your head). And if it is too tight, then you might feel like your eyes are coming out. Neither situation is good, so you should make sure that the helmet fits well and is comfortable to wear.
For a half helmet, watch out for the quality of the inner materials and especially the straps. Always go for the lids that have better and comfortable straps. The low-quality ones might itch or scratch on the side of your face. And they might not be the most comfortable thing to wear over your head, so keep an eye on the straps and buckles.
When you buy a helmet, you will want to choose the right one for you and what style you like. Today's helmets have many amazing features. But, keeping safety ahead, it's okay to choose any design or graphics you want.
People love this type of helmet because they can find many available options. Take the Scorpion Covert for an example; the front face cover is not there to protect your chin from impact as a full-face helmet. It's there to shield you from wind blow and dust only. If you want complete safety around your head, the best bet will be the Best Low-profile Full-face Helmet.
Half helmets don't tend to cost too much like some modular or dual-sport helmets might cost. And you'll find some good half helmets under the $100 price point. But, of course, the price might get higher depending on the build quality and the helmet's features.
It's okay to look for a helmet within your comfortable budget, but price shouldn't be the top priority while getting a helmet.
Frequently Asked Questions
Yes, of course, half helmets are way better than not having a helmet over your head at all!
But is it better than a full-face helmet? Unfortunately not! As it only covers the upper part of your head and the chin area remains exposed. And in a straight crash, the chis area is most likely to be the most vulnerable part. Where a full-face or modular helmet covers that area with its front part, so it's safer. But a half helmet is indeed better than not wearing one.
A helmet "mushroom head" means when your head looks literally like a mushroom while you wear a half helmet. It's kind of relatable with the term "bubblehead" when you wear a full-face helmet that looks bigger on your head. This happens when helmets use too much padding and shells to meet DOT standards having a "mushroom" shape.
A low-profile helmet fits right in with the body and head shape of the wearer, even for a short person. This kind of helmet tends to be thin while being safe enough to wear on the streets. Most people refer to a half or three-quarters helmet as a low-profile one. But you can also find low-profile full-face helmets that are small in shape yet are safe.
No one wants a mushroom on the top of their head instead of a helmet; this happens especially when we talk about half helmets. But don't think of compromising your safety just because your helmet doesn't look good. There are a bunch of brain buckets available out there that are both safe and look good!
And we've done the digging for you; we've brought some of the half helmets with no mushroom head to you. And there's also a detailed buying guide about what to look for while buying one. I hope you find your desired half helmet and enjoy it!