A real vintage-looking helmet, a style that you might call "retro-future". The Bell Bullitt is a perfect mix of the '70s or '80s old-school style with modern comfort and safety.
Classic bikes and helmets are getting popular day by day and this helmet sure reflects the classic looks and style.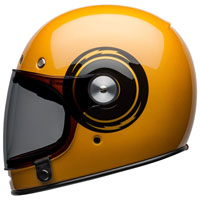 As Evel Knievel once said, "The older I get, the faster I was. There are old bikers and there are bold bikers, but there are no old, bold bikers." This helmet might be just like the one he was talking about, just kidding!
If you are switching to a full-face helmet from an open-face one, this helmet might be the best one for you. It'll perfectly match with your chopper replacing the ¾ helmet you might have. Not to mention it's safer at the same time.
However, the Bullitt is indeed a lit helmet with a bunch of drop-dead gorgeous features. Let's spill the beans with you.
Bell Bullitt Helmet Review: 2021-2022 Update
As I mentioned before, it's a retro helmet, it was designed to be a classic beauty. It was made for the classic lovers and also for those who are searching for a low profile helmet. It's not rare to see classic custom motorcycles ruling the road along with the modern ones. Those who love the classic motorbikes might like this retro style helmet.
However, you shouldn't expect too much from it for the aerodynamics department, you'll know it when you see it. Its design was inspired by the classic Bell Star after all. For being a round-shaped helmet, it'll push against the flow of wind at speed, like 100 or 120+ KM/H or so. And don't forget to put on the noise-canceling earbuds, because when you are at speed it's gonna be so much loud.
Despite being an aerodynamically unfriendly helmet, it's ventilation is pretty impressive. It's built-in 5 metal mesh incoming vents and one exhaust vent keep the flow of air continues. And so the inside of the helmet stays cool and fog-free.
The most effective one for the fog-free environment is the vent intake on the chin part. It's closable and you can shut the vent to control the airflow. The whole ventilation process of this helmet is actually pretty good, making it perfect for both cold and warm conditions. But, if you are looking for a bell helmet for long ride, you should check our best bell touring helmet selection.
Well, it's a full-face helmet and one of the few helmets that might really give you the feel of a ¾ ones and so. But there's no dought that it's way safer than an open-face helmet as it covers your whole head.
When you get an impact wearing a helmet, there are actually two layers that protect your head. One is the shell and the other is the padding or EPS liner. And the shell of the Bullitt is made of carbon fiber composite. The low-profile shell makes it easier to wear and take off.
Not to mention the helmet comes with a padded chin strap with a leather pull tab. And it's a stainless steel D-Ring chin strap. It's completely legal to ride wearing this Bell Bullitt helmet, it's ECE and DOT approved.
In order to get maximum visibility, you need a good quality visor. And this helmet ships with a flat face shield. You can also buy other cool visors like bubble shields or any other colored flat shield. Let me tell you the iridium visor looks sick on this helmet, especially the gold iridium one, totally lit.
As you can see by looking at this helmet, It's viewing range is quite wider than the typical helmets. So you'll get wide visibility while wearing this one. That'll help you a lot if you are shifting from an open-face helmet to a full-face one.
What's more, the helmet features a Magnefusion visor closing system. Magnets are used to keep the visor closed, and you might like this feature of this helmet.
I can't deny that this helmet lacks in aerodynamics and stuff but Bell really put some effort into building the interior. It's nice, comfortable and it looks great, the liner matches the color of the shell and you'll definitely get a true retro vibe in it.
The interior is made of luxurious real leather and it's anti-bacterial. You can totally remove the interior and wash it, the quick-drying feature is also very helpful. The cheek pads were designed to make you comfortable and those come with pockets for speaker.
There are a bunch of options to choose from when you talk about the interior. But two colors caught my eyes, they are the brown liner with a black helmet and black liner with matte black and white helmet. Those Bullitt helmets look so damn cool, totally vintage style while confirming ultimate comfort.
When choosing a helmet, fitting is also important along with style. The Bell Bullitt helmet comes with three shell sizes, small, medium, and large. You need to pick the perfect one that fits your head. And it has a Round Oval interior size, so double-check that when you choose.
The manufacturers tried to make it like the original Bell Star and so it's weight is unbelievably light. 
The helmet's weight is about approx. 3.24 lbs and it'll feel like there's nothing on your head. So, buckle up the helmet and hit the road to fulfill your old-school riding dreams.
Things we don't like about this helmet
I'll be honest about this, you should avoid this helmet if you usually ride at high speed. Or else you'll need god-level noise tolerance or something like that.
As it's a vintage-looking helmet, the designers didn't give a crap about the aerodynamics. So naturally, when you'll ride at high speed wearing this helmet, you'll hear nothing but whistle in your ear. What happens is people read all the sweet and positive reviews on the internet. And when they ride wearing it for the first time, they might be super pissed off, like Daenerys Targaryen from the TV series GOT, (Just kidding).
However, joking apart, if you are looking for a helmet with retro looks only, this is the one you are looking for.
Premium Retro Looking Helmet
Carbon Fiber Composite Shell
3 Shell Sizes
Five Metal Mesh Intake Vents
One Rear Exhaust Vent
Multi Thickness EPS lining
Anti-Bacterial and Washable Interior
Five-Years Warranty
Cheek Pads with Speaker Pockets
Too much loud

Not Aerodynamics Friendly
Like the song says,
" Yeah, I'm gonna take my horse to the old town road; I'm gonna ride 'til I can't no more."
No need to take the horse, take your motorcycle instead, with this Bell Bullitt beauty on your head. It'll give you the classic retro vibe you are looking for. Ride safe with a full-face helmet on, and store your open-face one.
This helmet is quite popular for its style and it is comfortable and safe at the same time.
Ride safe, ride with style.