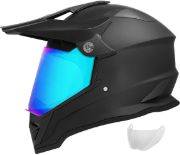 Yeah, I know right! It's not that easy to find a helmet for your adventure tour within a tight budget. Not to mention it might waste tons of your precious time googling about the best budget dual-sport helmet.
The GDM DK-650 is an affordable dual-sport helmet with a bunch of features that you might need on your adventure ride. Along with the functional ADV features, this entry-level helmet also got a pretty cool and aggressive styling. Overall, this helmet will give you the basic benefits of a dual-sport helmet at a very reasonable price, which is cool.
So, this is obviously a budget option that won't force you to go wild like 'Mr. Walter White'. Although, there are a bunch of options on our Best Motorcycle Helmets list if you want to find yourself in the TV show 'Breaking Bad'. Jokes apart let's just discuss all the functions of this DK-650 helmet and find out if it's the one you are looking for.
"Every man can transform the world from one of monotony and drabness to one of excitement and adventure."– Irving Wallace
GDM DK-650 Dual Sport Motorcycle Helmet Review
It's a dual-sport helmet, so I guess you have an idea about how this helmet should look. Aggressive styling, large viewport, and a removable peak visor on the top. And of course, you can use this thing both as an off-road helmet and a day-to-day street helmet.
Unlike some of the other helmets at a low budget range, the peak of this helmet is actually adjustable. That's a pretty cool feature and the peak is air channeled, so that'll reduce some of the drag and lift when you ride at speed.
To turn this helmet into a street profile, you need to detach the peak from the helmet. And it's actually quite easy to do that, all you'll need is a coin or something like that.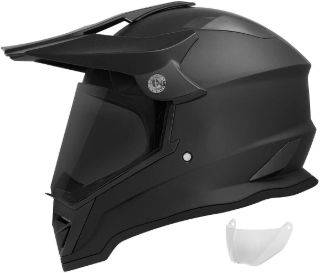 You'll see almost the same in the HJC DS-X1, and it's pretty convenient. So yes, it's a functional dual-aport helmet, which also looks pretty cool.
Now, ventilation is a thing that you'll need more or less whatever type of ride you are taking. Even the low profile full-face helmets also need a decent ventilation structure to keep you cool on a hot summer day.
And like the O'Neal Sierra 2, this helmet also got a decent vent structure. Not to mention you might not get the same performance as the Shoei Hornet X2 out of this helmet. This helmet got 5 points vent, which might not be something out of the world. But at the price this GDM helmet comes, it's not half bad.
At the price tag this helmet has, you might be worried about the safety level, and you should actually. Not only for this particular helmet but also for the other helmets you might get around this price range. Try to avoid the helmet that doesn't come with any safety certifications such as DOT or ECE.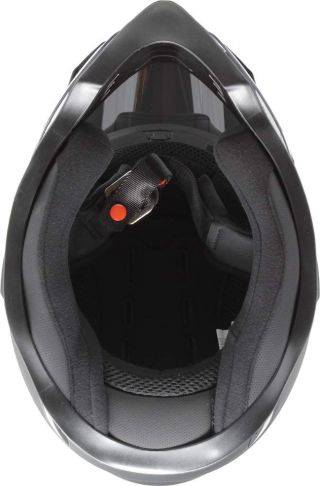 Well, when that's the case, you can rest assured, because this DK-650 helmet is DOT approved. That means this helmet has passed the criteria to be legal to wear on the streets of the United States.
And obviously, the shell build quality isn't gonna be as good as the fiberglass shell of Arai XD4. The shell here is a composite poly-alloy one, that is pretty much expected from an entry-level helmet such as this one. You might see a bunch of other helmets with the same material, take the Fly Racing Trekker for an example.
Well, the thing about these dual-sport helmets is they look almost like the Motocross or dirt bike helmet. Aggressive styling, huge viewpoint better ventilation, and stuff. Also, these have face shields, like what you might see on the street helmets.
And the face shield for this GDM DK-650 helmet is a compound-curved face shield. This is the shape of almost every other budget dual-sport helmets out there, such as the LS2 Blaze. The shield is a UV protected, scratch-resistant and there are three shield options available for this helmet.
As a dual-sport helmet, you'll probably use it as a dirt bike helmet.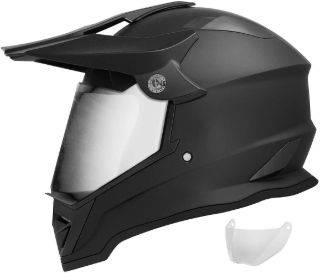 And the large viewport of this helmet allows the goggles to fit right into the helmet. Also, there should be no problem closing the shield with the goggles on.
The shield removal mechanism is also pretty simple and quick. It's basically the same thing you'll see on most of the other entry-level dual-sport helmets.
An adventure ride won't be a good experience if the inside of the helmet keeps itching or the interior doesn't feel that good on your head. Make sure the interior of the helmet is comfortable enough, not only for the adventure ride but also for other types of rides such as everyday rides.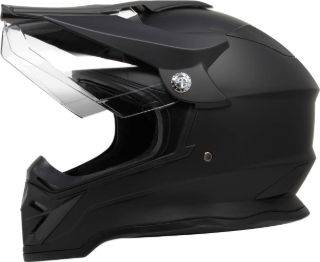 It's an entry-level dual-sport helmet, so it won't be so wise to expect something like Klim Krios out of this helmet. This DK-650 helmet comes equipped with anti-bacterial nylon made interior. And that fabric is also hypo-allergenic, which is a pretty good feature.
This is something you'll see in almost most of the budget dual-sport helmets out there. 
Also, you can detach and put the interior for a wash that comes in handy for sure. If you want a little better one then you can check out the Bell MX-9, you'll have to raise the budget a bit though.
Like I said about the interior if you want to enjoy your ride, you have to make sure the interior material is good enough the same goes for the sizing. You might find yourself stuck in a helmet that makes you feel like your eyes are gonna pop out any moment or a helmet that dances with the wind.
So, take your time and find out first what shape and size of the helmet fit you better and then go for a helmet. You'll get from the size Small (55-56 cm) to size XX-Large (63-64 cm) for this GDM DK-650 helmet. And for the head shape, it got the average western head shape, an Intermediate Oval.
Great value for the money
Aggressive styling
5 points of ventilation
Easy shield and peak removal
DOT approved
Build quality not too good
A bit loud
There are so many options available when you are looking for an adventure helmet in a competitive price range. However, not all of them are worth buying, unsafe, and uncomfortable. But if you look for a bit, you might find something like this GDM DK-650 dual-sport helmet.
Of course, this helmet doesn't have premium features like the Arai or Shoei helmets have. But it does offer you the basic features and functions that you might need on an adventure ride.
If you are looking for something like this, you might also take a peek at some similar helmets. Such as the Fly Racing Dirt Trekker, HJC DS X-1, or the O'neal Sierra 2.
Hope you find just the helmet you are looking for, Good Day!