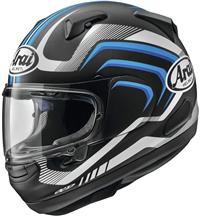 Arai is one of the top-level helmet manufacturing company that really pays attention to the comfort and fitting of the helmet on a rider's head. And that's exactly what the Signet-X does, this helmet is updated from its predecessor the Signet-Q.
This helmet has the best of both of the unique features of its previous model and updated additional features.
"Love is the Feeling You Get When You Like Something as Much as Your Motorcycle."
As Mr. Hunter S. Thompson said, you might love this helmet as much as your motorcycle if you fit in this long oval helmet.
Along with its comfortable interior, the helmet has a bunch of awesome features like VAS Shield, chin cover, upgraded liner, and many more. So, folks let's get started unraveling Arai Signet-X's amazing features without further ado. Also, we posted our best helmet selection earlier. You can take a look on that post before check this one's details.
Arai Signet-X Helmet Review
This helmet is kind of famous for its roundish outer shell design and it looks kinda cool. The shell of this helmet is smoother and that increases its capability to glance off objects. And it makes the fiberglass shell stronger, smoother, and rounder. Improving the helmet's aerodynamics ability.
The 75-degree -radius rule or R75 shape of Arai helps the helmet to smoothly slide down the road when you are at high speed.
And for the ventilation, this helmet offers more alteration airflow improving its performance. The upper duct ventilation features QVF & QVR for a better flow of air. The additional exhaust vents allow the heat to pass by and keep the interior cool along with your head.
Not to mention this helmet along with the other helmets of Arai is frequently used by pro racers in extreme racing conditions like MotoGP or so. And you can understand that even pros like and trust this helmet.
The main reason why you wear a helmet is to protect your head and the Signet-X does the job without a dought. No wonder why it's been through the rough racing conditions protecting the pro racers' heads and their trust. If the racers trust this helmet on the track, there's no reason that you can't, right?
Arai made this shell out of PB-SCLC or Peripherally Belted – Super Complex Laminate Construction to be specific. This shell design combines perfectly cut individual materials and techniques. And these shells are handmade by Arai Shell Experts who are specially trained and specialists at their work.
The fiberglass Arai uses is stronger than the typical fiberglass, about 30% stronger and Arai calls it Super Fiber. Not only it's super strong it also resists from cracks having superb flexibility. And this quality makes this super fiberglass 6 times extra expensive than similar fiberglass.
For the inner safety, this helmet features a one-piece multi-density inner EPS liner that is completely handmade. And these liners are well-tuned to absorb impact energy from all over the helmet being as much compact as possible.
So, there's particularly no doughts about the safety this helmet provides, it's like almost shatterproof. And to back it up, its got DOT and Snell 2015 approval, isn't that good enough!
Face Shield is another important part of a helmet that lets the rider see clearly when riding. And the Signet-X has a VAS or Variable Axis System visor mechanism that improves and blends with the round shape of the helmet.
All the helmets of Arai X-series models including the Signet-x feature an anti-fog Pinlock-120 lens cavity shield. And Arai calls it the Max Vision shield. What's more, this helmet has an eye-port opening that's 10mm-wider than the SAI shield system Arai used before.
And don't forget about the Improved VAS Shield Latch system everyone is talking about. The latch closes the shield and holds it securely to prevent any unpredicted opening. Not to mention the D-Mist latch system. When activated, it allows some air to pass by into the helmet to clear the fog on the shield. And this latch is super easy to operate once you get used to it.
This helmet got a really interesting shield detaching system, just open the shield, open the side pods, and replace it. Quick-release shield replacing they call it. As easy as it sounds, it's quick and it'll be a piece of cake after you try it for once or twice.
One of the best qualities of this Signet-X helmet, in fact, all helmets from Arai is they are comfortable. And the manufacturer really pays attention to the fitting of their helmets. No kidding, they even customize the fitting if you want.
You'll love the interior of this helmet if you happen to have a long oval head shape. The inner liner is made of Eco-Pure material and that is completely removable and washable. This material allows the liner to keep the acid level neutral to human body skin and it's also antibacterial.
What's more, the Emergency Cheek Pad Release System is pretty impressive. It allows the medical experts to remove the cheek pads as quickly as possible by pulling the orange tabs on the pads.
The cheek pads also slide out and make it easier for the rescuer to remove the helmet smoothly if you happen to be in an accident.
Another thing, the Signet-X features a water-resistant ES Chin cover. It blends with the round shape of the helmet, smooths the airflow, and that ultimately decreases a bit of wind noise that comes from the helmet base. And it's no big deal to install or remove considering the weather demands, warm or cold. You also get speaker pockets with this helmet while maintaining a comfortable fit.
When it comes to fittings, Arai hits the nail on the head, they offer several customized interior-fit according to the shapes and sizes of the rider. As I mentioned before, the Signet-X has a Long Oval helmet shape, so double check when you try this on.
If you have a bit rounder head shape like an intermediate oval, you can try the Arai Quantum-X, this one might help.
Another reason for the Signet-X to be famous is that it's light-weighted, it weights approx. 1.58 kgs or 3.53 lbs for the average one.
Simple And Fast Face Shield Removal
Enhanced Glance Off Ability
PB-SCLC Shell Construction
VAS Shield Latch System
VAS MAX Vision Visor
Pinlock insert Included
Eco-pure Lining
One-Piece Multi-Density EPS Liner
Emergency Release Tabs included Cheek pads
ES Chin cover
DOT and Snell 2015 Certified
The Visor Latch might be difficult to operate
The Vents might backfire
A little spendy considering the features
Well, it's a compact, safe and comfortable street helmet that is trusted by some of the pro racers. This Arai Signet-X helmet also proved its capabilities on the racing tracks like MotoGP and so. So that being said it indeed will protect your head on the streets ensuring your absolute comfort.
And yes, it might take a time to get used to the visor latch of this helmet but once you get a hang of it, it's a piece of cake.
As Mr. John Cooper Clarke said, "I love being on my bike, but I don't consider that a sport: it's too pleasant."
If you also find riding your motorcycle pleasant (I know! of course, you do.), you can take this helmet and hit the road with a bang!!