Are you considering getting a helmet suitable for both on and off-road riding styles? And a modular helmet with these abilities would be so nice, wouldn't it?
There are actually a bunch of options if you do want something like that. The Metro V3 from LS2 is surely one of them, along with some of the others like the popular Scorpion EXO AT-950. The LS2 Metro V3 is a mid-range, modular, dual-sport helmet. Yes, you've seen it right. It's a helmet that'll fit in both conditions of an off-road track and a fast highway. In addition to that, this helmet isn't going to cost you a fortune.
However, as a helmet stuffed with all these features, this one also got some drawbacks; take the noise level for an example. But overall, it's a pretty good deal when you compare the features it offers with the competitive price it comes. So, let's start right away with our detailed breakdown of this LS2 Metro V3 helmet.
LS2 Metro V3 Modular Helmet Review
Well, as you can see, it's an adventure helmet; there's a peak on the top of the helmet, a huge viewport, and a narrower chin area. And this is a modular helmet on the top of that, meaning you can actually flip up the chin-bar of the helmet and turn this thing into an open-face.
Something like this you'll also see on the low-profile full-face helmets, take the Shark EVO One 2 for an example.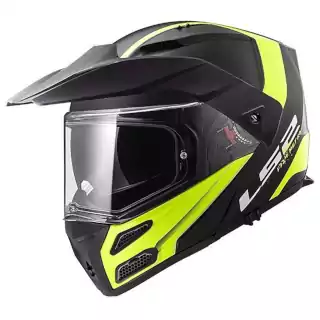 These are perfect for, you know, quick direction asking stuff kinda. Like you are going down the road or trail, and you need to ask the direction of someone. Or you can just chat with your tour partner or maybe have a little snack at a fuel station or somewhere. I'm trying to say that you can do whatever you want without taking your helmet off, which is cool.
There's a switch on the chin bar, which basically locks the chin bar when it is in full-face position. The switch is actually big enough; you shouldn't face any problems locking or unlocking the chin-bar.
Also, don't forget it's a dual-sport helmet, so you can remove the face shield and make it a dirt bike helmet. And take the peak visor off and turn this thing into a regular street helmet. Or you can hit the road with the peak on, but it's gonna be so loud if you go at high speed.
Whether you use your helmet on a dirt bike or on the street or highway, one thing you need to confirm on a summer day and that's a well-ventilated helmet. You won't like to ride with a zero-ventilation helmet on a hot summer day. So, always try to get a better ventilation structure helmet.
This LS2 helmet got a bunch of vents on it; there are the chin vents, top vents, and exhaust vents. The EPS is also air channeled, so the air can effectively pass through the helmet and make the interior cool and comfy.
There are also switches on the intake vents, but they seemed not so gloves friendly, especially the thick ones. But those vents are operational and shouldn't give you too much pain.
Though it's worth mentioning, the noise level of this helmet is a bit high. I mean, all the adventure helmets are more or less loud, but the sound this one was making wasn't too pleasant. However, if you want a budget ADV helmet with a comparatively less noise level, you can check out the HJC DS X1.
Well, a helmet is a helmet when it is a safe helmet. Even if the line sounds cheesy, that's not something you can just laugh off. Is there any point in wearing a 3-4 pounds helmet over your head that practically doesn't protect your head?
A helmet needs to be at least DOT-rated to be safe enough and legal to wear on the roads of the United States. And this helmet has that certification; it's a DOT and ECE-approved helmet. This helmet comes with a shell material called Kinetic Polymer Alloy, or KPA in short. This is the same shell material used in another adventure helmet from LS2, the LS2 Blaze.
This helmet comes with the Micrometric Buckle, which is a quick-release strap for the chin strap.
The thing about these dual-sport helmets is they have huge viewports. Obviously, you need a big viewport to fit the goggles if you want to take the helmet on a dirt bike ride. And this is why these helmets got a bigger viewpoint, which not only helps in off-road riding but also confirms better visibility as a street helmet.
This LS2 Metro V3 helmet is also the same; the goggles will fit right in without any trouble. The shield is a Class A Polycarbonate shield, and it's anti-scratch and UV resistant, which seemed fine. There's also the shield locking system; you can adjust or lock the shield in whichever position you want, halfway or fully closed.
Another thing pretty useful about this shield is it's Pinlock ready. Pinlock inserts also help to keep lenses clear of fog. There's also a breath deflector included with this helmet, which also helps here.
This helmet features a drop-down sun visor, which is also cool. It's a wired slider drop-down mechanism. So, there shouldn't be much problem here.
To enjoy an adventure ride or any kind of ride, the interior of a helmet needs to be comfortable. It's normal if you feel like, 'when I'm gonna get rid of this thing off my head?' when the helmet is not that comfy.
For this helmet, it seemed good enough; It's a laser-cut and breathable fabric they used for the interior. And of course, the interior is detachable and washable, which means you can put this for a wash if it gets dirty.
The inner material is hypoallergenic, so it should be fine even if you have some kind of allergy. It's also worth noting that the interior of this helmet isn't particularly accommodating to eyewear. So, if you wear prescribed glasses or want to wear sunglasses on this helmet, you're gonna have a hard time here.
Sizing is important, and an unfair helmet is good enough to ruin your mood for sure. So first, you should spend some time finding your head size or shape and then go for a helmet.
And for this helmet, the sizing is reportedly off; that's one of the nitpicks this helmet got. It is said to be a Long Oval sized helmet, but it's more of a neutral oval. That's a shape between the Long Oval and an Intermediate Oval. And for the usual size chart of it, this helmet comes from XS size (53-54 cm) to 3XL size (65-66 cm).
Also, like the LS2 Pioneer V2 Helmet, this Metro V3 helmet comes in 3 shell sizes and 3 EPS liner sizes.
Pinlock ready
Chin curtain included
Adjustable vent structure
Internal sun visor included
Dual-sport modular feature
Hypoallergenic inner material
Loud
Not eyewear compatible
Not so good built quality
Well, this LS2 Metro V3 is a helmet with a bunch of features stuffed in it. This is an adventure helmet and modular helmet, so the versatility here is on a different level. Some other features are pretty cool to have in this helmet.
However, some features of this helmet might not give as good a result as some of the premium helmets. The sizing and noise level are some of the downsides this helmet has. Other than that, this LS2 helmet seemed to be a nice adventure helmet.
Other helmets have similar types of features and pricing, such as the Scorpion EXO AT-950, HJC IS-MAX II, and O'Neal Sierra II.
Good Day riders! Have a great time!