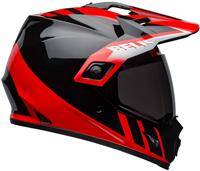 Like the Arai XD-4 helmet, this Bell MX-9 Adventure MIPS Helmet is also a dual-sport helmet. You can also use this helmet as a Motocross helmet, an ADV helmet, or as an everyday use street helmet. Just like the XD-4, however, this Bell MX-9 helmet doesn't cost you a pretty penny as that one does.
There's also the MIPS technology developed by Bell, which protects your head from rotational impact. And the styling of this helmet also has a nice and aggressive vibe in it. So, overall, this is a nice and safe adventuring/touring helmet with a bunch of awesome features.
So, if you are looking for a helmet for a tour or off-road purpose and also use it on a regular basis while not spending o lot on it. This Bell MX-9 helmet might be just the one you are looking for. Well then, let's find out what this helmet got in its pocket, like Bell says, it might get you anywhere you want safely and in style and we select this one as one of the best dual sports motorcycle helmet.
"Life is an adventure, not a package tour" – Eckhart Tolle.
Bell MX-9 Adventure MIPS Helmet Review
As you can see by looking at the helmet, it has aggressive styling and you can use it as an off-road helmet. You can easily flip-up the face shield or take it away completely and put on goggles to make this helmet suitable for Motocross.
However, the peak and the aerodynamics with the peak attached might cause you some issues. It might not be the same as the Arai helmet. So, you can easily remove it if you want to go at speed, above 60-70 mph or so.
Changing the visor and removing the peak is also a piece of cake. Just unscrew the thumb-operated bolts from each side and the top of the helmet and remove the peak or roast guard. Once you removed the roast guard, it becomes nice and ready to hit the road.
As for the ventilation structure of this helmet, it's called the Velocity-flow ventilation system. It takes care of the cooling of the interior and makes you comfortable. 
To do that, this helmet got a chin vent and two jaw vents at the chin-bar area. And two upper vents on the top or forehead area of the helmet. One thing to note though, there are no closing for the upper vents. So, if it rains, you are gonna find water dropping down from there.
And to let the air out of the helmet, it got four passive vents at the back. These intake and exhaust vents effectively flow tons of air through the helmet and keep the interior cool in the process.
Well, we wear a helmet for a reason, and that is to keep our head safe. And when you talk about off-road riding, it's not rare to see riders fall off from the motorcycle. So, safety is a must for off-road or Motocross riding, not just that safety should be the number one priority for all kinds of riding.
For the shell construction of the helmet, it got a Lightweight polycarbonate shell. That's definitely not the best shell available out there but it'll do just fine, considering the price at least. And there's the MIPS energy management system from Bell, it absorbs a bit of rotational energy to protect your head. It's a huge upgrade to the MX-9 Adventure Helmet, which you'll also see in some of the higher-end Bell helmets.
Anyway, if you want a bit better protection, you can consider spending a few more bucks. This helmet does a pretty good job overall if you look at the price. And for the safety certifications, this XD-4 helmet got both DOT and ECE approval.
For the visor, this helmet comes with a clear shield, looks like any other dual-sport helmets out there. One thing you might notice is the extra ridge on the bottom of the helmet. What it does is it helps the shield be flatter in spite of having that narrower shape from the front. And also, it helps in better seal against the helmet, which works just fine.
The visor mechanism itself is an adjustable dual positioned visor. Thich should work fine if you want to ride while keeping the shield slightly open. Another not so cool thing about this helmet is it doesn't come with Pinlock ready shield. So, you might have to spend a few more bucks purchasing those. However, there's an anti-fog, anti-scratch layer on the visor and that is called Nutrafog 2.
And like a dirt bike helmet, you'll be able to ride wearing goggles with this helmet. It works nicely and one thing lots of riders like to do is closing the shield while wearing the goggles. And you'll be able to do that just fine with this helmet, there is enough space to close the visor while wearing the helmet.
As for the inner parts of this helmet, you'll get an anti-microbial interior, which you'll find common in so many other helmets. But what Bell did well is building air channels through the interior. It's a 3D cut multi-density interior that'll get you tons of airflow.
And the cheek pads along with the whole interior are easily removable and washable, that's pretty much expected, I guess. But one thing might get on your nerves and that is, there are no speaker cut-outs. There are lots of guys who like to have a communication device installed in their helmet especially on a long tour. It might get too tight on your ear if you fit a com device in this helmet so keep that in mind.
Another thing is there is no emergency cheek pads removal system in this helmet yet. So, unless Bell adds that feature to this helmet the emergency medical team might work a bit harder to get this helmet out of your head. In case of an emergency of course. And you won't find any sunglasses or eyewear channels in this helmet so it might be a pain if you are a sunglass guy or wear glasses.
However, if you put these aside the overall comfort level of this helmet isn't too shabby. Great ventilation through the interior nice and comfortable material. And overall, reasonably comfortable if you overlook those.
Choosing the right size helmet is really important, a properly fit cheap helmet might feel better than an unfit expensive. There's no wonder in it, so find out your head shape first and then look for the helmet and it'll be a whole lot easier.
For this Bell helmet, it comes from XS (53-54 cm) to 3XL (65-66 cm) sizes. And there are 3 shell sizes available for this helmet, so, you shouldn't have too much trouble choosing the right size. Also, the inner shape of this helmet is an average western shape, Intermediate Oval shape.
And for the fastener, this MX-9 helmet has a padded Double-D Ring chin strap.
Multi-Directional Impact Protection System
Aggressive Styling
Great value for the money
Multi-purpose use
Well-designed ventilation
Comfortable Interior
Padded chin strap
Not so good Aerodynamics at speed
A bit noisy
Not so eyewear friendly
So, what about this Bell MX-9 Adventure MIPS Helmet? Is it good? Is it bad? I think it's a good choice if you are looking for an ADV helmet on a budget. Whether you are out for an on and off-road tour or only off-roading, this helmet shouldn't disappoint you, considering the price at least.
Although this helmet has some issues that might be too unbearable for you. But choosing a helmet is a kind of personal choice you know; someone might like a feature and others might not. So, it depends, and overall, I'll say once more, it's a good helmet on a budget.
While you are looking for a helmet like this, you might also like some of the other helmets. Such as Arai XD4, Scorpion EXO-AT950, Alpinestars Supertech M10, or AGV K3 SV.
Well, motorcycle lovers, Enjoy your ride and Ride Happy!