How to wear a helmet without messing up your hair? Imagine you are going to an event or going to work on your bike. You put on a nice hairstyle, ready to start your day smoothly and with style.
You reached the location, parked your bike, took off your helmet, looked at the mirror and you say, 'Crap! My hair is all messed up!' If you ride your bike on the way to your workplace or other places, I'm sure you also faced a similar situation.
Actually, it's as annoying as ever and your hair also gets damaged by it. Especially when you are using a low profile helmet, and modern days Bluetooth helmet with a communicator. As we all know, Motorcycle and helmets are like two peas in a pod. You can't leave the helmet for safety issues, Safety first!
However, there are some ways to protect your hair from messing up every time. So, hold on tight, I'm gonna show you just the trick you need to save your hair from getting messed up. It can also stop unexpected hair fall.
How to Wear a Helmet without Messing up Hair - Some Helpful Tips
Tip 1: Wear Scarf or Bandana
The next one is the most efficient, works like a magic trick, wearing a cloth or bandana under the helmet. It's like the best thing since sliced bread for the bikers who want to keep their hair perfect even after wearing a helmet. It's super easy, just put on a scarf or bandana before wearing the helmet. It will protect your hair and help you keep your hair nice and perfect.
A handkerchief will also do the job. Just fold it a bit and wear it over your head. Or you can use a cloth headband, they'll keep your hair in the right place. A Skull Cap is another good option. There are all these accessories but the idea is quite simple, you maintain the hair under the helmet.
Tip 2: Wash & Apply Shampoo Regularly
The first tip will be washing your hair regularly, with whatever hair washing product you use. It would be better if you apply a shampoo that has dandruff removal ability. It will clean your hair and wash away dandruff and sweat from your hair, which causes stickiness. It will be easier to make your hair after you take off your helmet. If you are looking for a suggestion you can try L'Oreal Paris Elvive Dream, TRESemmé, and/or Herbal Essences.
Tip 3: Use Wax or Hair Gel
Use light hair products. Whether you use wax or any hair gel to fix your hair, try to use a light one, you can try Got2b Ultra Glued Hair Gel or American Crew Wax. And the one with the ability to restyle or remake after some time. The heavy one will most likely stick your hair at the shape of your helmet and you'll be stuck with the messed up hair. It'll ruin your day for sure.
Tip 4: Carry a Pocket Hairbrush
Now make sure your hair looks exactly how you want them, perfect. You can carry a small hairbrush or comb with you. Take off your helmet and the cloth or hairband and brush your hair a little bit or you can do that with your hand. It shouldn't be an issue to fix the helmet hair. You can try out this small Hairbrush for a quick touch after the ride.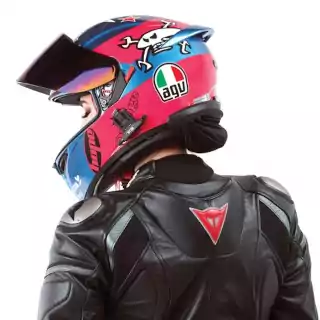 So, I came across this website called Hightail, and they got an awesome solution for the long hair riders out there. The idea is there's an attachment at the end of the helmet and that literally holds your hair and saves it from flapping around the wind.
Well, now you don't have to deal with messed-up hair every time you take off your helmet. These small tips should take care of that and with little effort, you can have a perfect hairstyle. Don't even think about riding a motorcycle without wearing a helmet because of messed-up hair. Safety rule number 1: Put on the helmet whenever you drive.
And to take care of the helmet hair, you know what to do by now! Follow our tips. And, we are eagerly waiting to know your helmet hair stories. Share it in the comment box below.
Good day! Stay Safe!