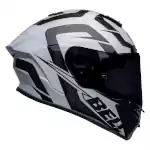 The Bell Race Star Flex DLX is a top-notch sports helmet with both safety and comfort. This helmet was upgraded and progressed over the years by Bell developers adding more and more advanced features. And it has been used by so many track racers and sports bike riders with trust.
There are a bunch of reasons that this Race Star helmet is still popular and rocking the racing tracks. Here is the details bell race star flex DLX helmet review, please take a look.
This helmet is capable enough to protect your head in any condition. And the safety certifications and safety features also looked pretty decent. I gotta say Bell did a great job keeping this helmet comfortable with superior materials. And, we select this one as one of our best helmet .
And there's a lot more of these amazing features of this Bell Race Star Flex DLX helmet, so let's start unboxing them one by one. Also, you can check out a color variant of this helmet, the Bell Race Star Sector.
Bell Race Star Flex DLX Helmet Review
This helmet has a superior aerodynamic shape that helps the rider glide through the track at high speed. It is put through its paces and fairly advanced with the suggestions and advice from pro riders on and off the track. The aerodynamics and ventilation are well-modified with the help of riding simulations along with a wind tunnel test.
The shell design, latch, and communication system actually changed from its ancestor. They improved those and the helmet is now even 10% lighter than the previous one. You'll get a Speaker cutout com system with the helmet. If you are gonna fit in the com device, make sure you remove the rubber pads first or it might feel a little uncomfortable.
The helmet comes with a magnetic latch along with the standard Double D ring strap, so putting this helmet on became a bit easier and faster like sports helmet.
The ventilation also seemed pretty decent, one large chin vent, 4 small forehead vents, one crown vent on the top. These all are controlled with switches and what makes it different is the active rear vent. Unlike most of the other helmets, you can actually control the airflow from the exhaust vent and that comes pretty handily. It helps you be comfortable in any weather, especially on a 90+ degree day or something around that. If you think it might not be good enough for long ride, you can check our best bell touring helmet selection on the other post.
Well, I shouldn't be surprised by the safety features of this helmet, I mean you are paying a decent amount of money for this one. However, this helmet is upgraded multiple times and with its latest update. You'll get some awesome changes while maintaining the same price tag.
As I mentioned earlier, the structure of this helmet is changed, so is the shell. This helmet comes with a 3k Carbon fiber shell, it made the helmet lighter and safer at the same time. This gained the trust of lots of pro racers overs and still doing its job without breaking a sweat.
The Flex impact liner an interesting addition to this full face helmet. This absorbs three types of impact energy with three different materials each with a different density. It can absorb energy from possible impact situations like high, mid, or low speed.
Also, the Multi-Directional Impact Protection System or MIPS is another remarkable safety technology. It protects your head from any rotational impact and effectively reduces the possibilities of heavy injury. And for the certifications, this Race Star Flex MIPS is Snell M2015 and DOT approved.
Visibility is another important thing that you should check out while picking a helmet. And this helmet did a great job in this matter, It has a wider viewpoint that is called Panovision viewport. It gives you an extensive range of visibility than an ordinary full-face helmet.
This Race Star helmet comes with a superb Photochromatic face shield, they call it ProTint. It activates to UV rays and the shield changes its colors according to the light conditions. Gives you a clear view at low light and also quickly darkens when in contact with bright light. This provides clear visibility anywhere, anytime.
And this is an Eyewear Adaptable helmet, so don't worry if you wear glasses. You'll find eyewear arm pockets in the liner, and that takes care of the extra pressure created by the eyewear.
A motorcycle helmet is anything but good if you don't feel comfortable wearing it. An uncomfortable helmet might bug you on the street and that can be extremely dangerous.
However, Bell did a great job in this interior section, the Virus CoolJade Mesh is an advanced liner. It was made to endure the hard and rough conditions such as extreme racing conditions or rigorous countryside. This CoolJade fabric helps the rider keep cool and takes care of the heat and sweat.
There's another cool and innovative addition of the latest update of this helmet. It's the multi-density Magnefusion Magnetic Cheek Pads. It's super easy to pull those out and put it in the right place because of the magnets. And it helps you adjust the pads perfectly according to your comfort zone, which is pretty impressive. And for the same magnetic mechanism, it becomes easier for the medical staff to pull out the cheek pads. It might be a lifesaving feature because it allows them to operate quickly in case of an emergency.
And these cheek pads along with the liner is completely removable and washable. So, don't sweat it if the inside of the helmet gets sweaty and smelly, just wash it clean.
As I mentioned before, an unfit and uncomfortable helmet might lead you to a dangerous situation. So while picking a helmet, take your time and choose the perfect one that actually fits you. And you get lots of options to choose from for this helmet. 5 sizes shell and 6 sizes EPS, you'll definitely find the one that fits you.
And the inner shape of this helmet is Intermediate Oval, that's the average helmet size available in the market. Like I said earlier, this helmet is 10% lighter than its predecessor, only 3.57 lbs.
Not to mention, you'll get a Zippered helmet bag with this Bell Race Star Flex DLX helmet to keep it protected from bugs and dirt.
Lightweight Helmet
Panovision Raceview
Includes Protint Photochromatic Visor
3K Carbon Fiber Shell Construction
Flex Energy Management Impact Liner
Virus Cooljade Anti-Bacterial Mesh Liner
Magnefusion Cheek Pads
5 Shell And 6 EPS Sizes
Speaker Pockets Included
A bit Expensive
Helmet fitting may vary from other helmets
Well, this Race Star helmet is indeed an awesome helmet that pleased the pro riders over the years and still doing so. No wonder so many people love this helmet.
And this helmet does exactly what it's supposed to do, protect your head while confirming absolute comfort. Yes, it's a bit expensive but the services it provides are quite impressive. If the price bugs you, you can check out the Bell Qualifier DLX MIPS Helmet or the BELL Star DLX MIPS, these will be a little budget-friendly.
Good Day!!