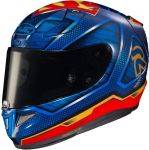 The RPHA 11 Pro is a premium helmet from HJC with some cool and upgraded features. It's an aggressive-looking track helmet that performs very well. Also, it doesn't cost a pretty penny like some of the premium helmets from AGV or Arai.
Mainly, the helmet is perfect for racing track use, lots of ventilation, better aerodynamics. And this helmet is unbelievably lightweight, which is a huge upgrade from the previous version RPHA 10 Pro. You might also use this helmet for commuting or touring but on the track, you'll use this at its jam-packed.
Ultimately this HJC RPHA 11 Pro is a helmet with top-notch ventilation, lightweight and safe at the same time. Perfect ready-made for racing, highway touring, or cross-country tour. The RPHA on the name of this helmet goes for Revolutionary Performance Helmet Advanced, in case you wanted to know.
"In three words I can sum up everything I've learned about life: it goes on." ― Robert Frost
Yes, that's right, life goes on and on, and on and on! And in this process, you will face some good and bad things. Let's see this HJC RPHA 11 Pro helmet go what it takes to be one of the good things.
HJC RPHA 11 Pro Helmet Review
Well, safety is one important factor to check when it comes to picking a helmet. It's the only trustworthy shield against the asphalt if you fell off the motorcycle. So, always try to go for the helmet with international safety certifications and a well-constructed shell and EPS liner.
This HJC helmet got a P.I.M. Plus or Premium Integrated Matrix Plus shell construction. This fiberglass shell is made of an advanced mixture of multi-layered fiberglass, carbon fiber, and aramid. And this composite construction makes the shell durable and amazingly lighter, only 3.2 lbs (approx.). And this RPHA 11 Pro helmet has both DOT and ECE certifications. However, it didn't do so well in the SHARP safety test, only 3 Stars out of 5. And HJC needs to take a look at this issue, I think.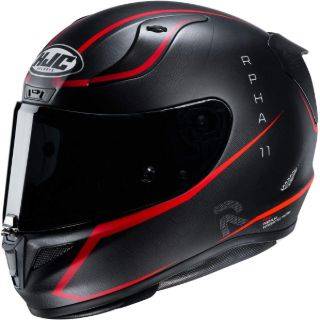 Not to mention there the Emergency quick-release cheek pads in the helmet, which is a common yet lifesaving feature. It lets the emergency medic team pull out the pads and helmet without causing any extra damage.
Whether you ride on a track or a tour, visibility is always important. And this helmet has a wide viewport and visor that confirm max peripheral visibility.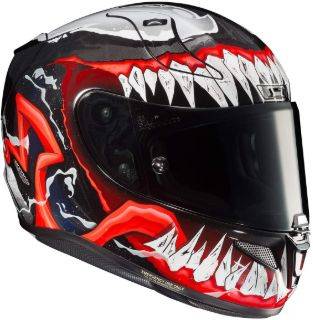 This helmet comes with a clear Pinlock ready 2D HJ-26 shield. It's optically clear, doesn't cause any destruction, and protects you from 95% UV rays. The most amazing thing is it comes with a Pinlock anti-fog insert out of the box, which works like a charm. What's more, you get both optically clear and dark smoke visors included with this helmet. That's an extra bonus from HJC to all the fans of this helmet.
The locking system on the other hand is spring-loaded and this center locking mechanism seems to work just fine. And the improved dual locking system helps to prevent accidental shield opening at high speed. Although the very same mechanism might be a bit of a pain for some of the users. The Rapidfire II Visor Replacing mechanism on the other hand is fast, tool-less, and super easy to do.
Comfort is another vital thing to check out. Well, a comfortable inner liner can be the difference between a good day and a ruined day. So, when you are picking a helmet, it's really important to check out if the helmet feels comfortable or not.
And this HJC helmet comes equipped with a MultiCool Interior. It's made with improved moisture-wicking, anti-microbial fabric. And it has a faster drying performance than the former helmets from HJC.
Also, there are some additional features worth mentioning. Such as In-built speaker pockets, chin curtain, and a breath deflector included with this helmet.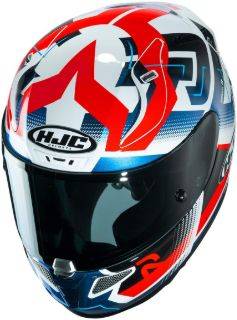 These smalls additions might seem no big of a deal but these have an important role in making the interior and overall performance better.
The interior and the cheek pads of this helmet are completely detachable and washable. That's the same as most of the helmet out there but indeed this feature comes in handy. Not to mention the dudes with glasses do not have to worry, the EPS liner and cheek pads shape is eyewear friendly.
Yet another important thing to watch out for is the fitting of the helmet. An unfit helmet will ruin your mood for sure. So, first, find out what size helmet fits you and look for the helmet accordingly and you'll find the perfect helmet without breaking a sweat.
For this RPHA 11 Pro helmet, it comes from XS (54-55 cm) to 3XL (64-66 cm) sizes. And for the inner shape, it got an Intermediate Oval shape, which is the average head shape of western riders.
And I don't know what HJC got in mind but one thing frequently confuses the customers about the newer helmet. That is these helmets are actually one size off, means if you are an MD size user, it might be tighter for you. And the LG size might be perfect for you, you get what I'm saying, right? So, keep an eye on this while ordering and order one size larger helmet and it should be alright.
Aggressive aerodynamic profile
Great Ventilation with ACS
MultiCool Interior Structure
Premium Integrated Matrix Plus Fiberglass shell
Wider eye-port with optimal visibility
Pinlock Insert Lens included
Rapidfire II Visor Replacing Mechanism
3-Star SHARP Rating
One Size off in the sizing chart
So, the HJC RPHA 11 Pro is a well-made full-face helmet. It offers some awesome features and also you don't have to break the bank to get this helmet. The superior ventilation, visibility, and the Pinlock lens are like a gift from HJC.
Although you might have a second thought after looking at the SHARP rating. The manufacturer might be prioritized the lightweight over superior safety. However, when you take a survey of the complete set this helmet offers, it's worth a deal.
While we are checking out a helmet at this budget, you might also take a look at some of the other helmets like this one. Such as AGV K6, Shoei RF-SR, Bell Qualifier DLX MIP, or HJC RPHA 70 ST.
Well, hope you find just the helmet you are looking for, have a good day!