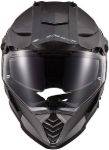 Is there any helmet that you can use both as a street helmet and also take it to the trails for a dirt bike ride while not spending too much for it?
Yes, there is, a whole bunch of them, which you might also call the best budget dual-sport helmet. 
These dual-sport or adventure helmets along with this LS2 Blaze have some quite useful features. And you might also see those features in the best motorcycle helmets. Also, these budget ADV helmets don't cost too much that might cost an arm and a leg.
The LS2 Blaze helmet is an aggressive looking helmet that you can use as a dirt bike helmet and also as a day-to-day helmet. It's a dual-sport or adventure helmet within a fair budget. And this helmet offers you the basic features that you'll probably need on an adventure tour as a budget or entry-level helmet.
Let's just get started with our detailed breakdown of this LS2 Blaze helmet and find out what this helmet got in its bag.
"It's a dangerous business, Frodo, going out your door. You step onto the road, and if you don't keep your feet, there's no knowing where you might be swept off to." –J.R.R Tolkien
Well, this is an adventure helmet, so it looks exactly how an adventure helmet should look. Peak on the top and much of an aggressive motocross type overview. And this helmet really looks cool and badass. And there are two peak screws on the top of this LS2 helmet, which makes it apart from most of the ADV you'll find on the market, especially the budget ones.
The peak of this helmet is an adjustable one, and just like I said there are two gloves friendly screws on the top. It's something you don't see every day in an entry-level dual-sport helmet. Although there are other helmets with an adjustable peak within the same budget range. Such as the AFX FX-41 DS and HJC DS-X1 for example.
The peak is also completely removable, there are two screws on the top and two on both sides of the peak. And unscrewing these is super easy, all you need here is a coin or something like that. And there's the best thing about these ADV or dual-sport helmets, you can also use them on the highways as a street helmet. Just take off the peak and it's most likely ready to go on the streets.
Ventilation is important, for this helmet and even for any low profile full-face helmet. A well-ventilated will keep you cool and keep the air pass through the helmet. And if not, God bless you on a hot summer day ride, it won't be a pleasant experience for sure. So, check out the ventilation along with other stuff of the helmet you are paying for.
In the case of this Blaze helmet, it got a chin vent, which can be controlled with a switch situated inside the helmet. If you notice the chin curtain area of this helmet, there is a small gap where you can slide your finger and get the switch.
There are also upper vents under the peak and at the side of the jaw area of the helmet. These all together intake enough air and the rear exhaust vents pull out the air from inside and keep you cool. Another thing is the jaw vents of this helmet not only contribute to the ventilation, but these also look dope.
Not to mention the chin curtain of this adventure helmet, it's extra-long considering the narrow and long chin area of the helmet. This reduces a little bit of wind noise, which is just fine. However, you shouldn't expect it to be something like the premium Shoei Hornet X2. This an entry-level adventure helmet after all.
Frankly speaking, you wear a helmet to safely reach your destination, this is the moral of the story. There's no point in having a helmet over your head that won't be enough to protect your head when you need it. So, always confirm that the helmet you are buying is good enough to give you the safety you need on the type of riding you are doing.
And for the safety standard, this LS2 Blaze got the DOT and ECE certification. That's safe enough, for a budget dual-sport helmet. And this helmet won't be as tough as some of the premium helmets out there such as the Corsa R or Bell Race Star.
Another thing this helmet has that many of the budget dual-sport helmets don't. And that is the Emergency Cheek Pads Release mechanism, it's undoubtedly a lifesaving feature. But this is something like a bonus I'll say, considering the price this helmet comes.
One good thing about these dual-sport helmets is, they gat a huge viewport. And a large viewport confirms better visibility, which is what you need on the road.
And this helmet comes with a Class A Polycarbonate face shield. It's an optically correct, anti-scratch shield and it's also a Pinlock ready shield. That means you can install a Pinlock insert lens on the visor, which is great when it comes to preventing fogging up.
Another thing that an adventure helmet needs, and that's an inner sun visor. And this LS2 helmet got one and that seemed just fine. Although there are some complaints about this SV mechanism, at the price this helmet comes, that's tolerable I guess.
The interior of an adventure helmet should be comfortable enough. Most likely you'll spend a good amount of time wearing this helmet on an adventure tour.
And this LS2 helmet got an interior that is decent enough, it's made of moisture-wicking materials. It keeps the sweat away from your skin and also keeps you cool when you are riding your motorcycle.
And the cheek pads here are made with the help of a 3d lesser cut, which is good enough. Overall, the inner materials might take a little bit of time to sit on your head perfectly, and eventually, it'll get comfortable over time.
Finding out the right size for you is also important. Sometimes even an unfit premium helmet like the Arai XD-4 might not feel as comfortable as a fit budget helmet. So, find out what size fits you better, and then choose your helmet accordingly.
For this LS2 helmet, this one got an Intermediate Oval inner shape, which is the average western head shape. And it comes from XS (53-54 cm) to 3XL (65-66 cm) sizes and also comes in 3 shell sizes. So, you can pick the perfect fitting helmet for you.
Lightweight shell
Includes in-built drop-down sun visor
Class A Polycarbonate shield
Multi-port adjustable ventilation structure
Emergency Release Cheek Pad System
Multi-layer EPS liner
Great value for the money
3 shell sizes
Drop-down SV might cause trouble
Loud noise level
Well, the LS2 Blaze helmet is a great value for money dual-sport helmet. It's a helmet that you might want to take on a motocross ride and when it comes to everyday street rides, it won't disappoint you either.
As an entry-level helmet, this helmet also got some drawbacks like any of the other helmets might have. The noise level is one of them and not only this helmet but other budget adventure helmets also have this issue. Other than that this LS2 Blaze helmet is a bang for the buck and you can surely go for this one if it meets your requirements.
You might also like some of the other helmets that have similar features and prices to this helmet. Such as Fly Racing Dirt Trekker, O'Neal Sierra II, NENKI NK-310.
All the adventure bikers out there, ride often, ride safe!