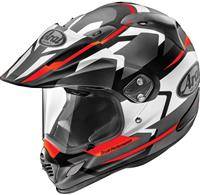 The Arai XD-4 has been one of the best adventurer helmets for a while and people love this helmet. And this might be one of the few helmets that you'll call an all-rounder.
It does a really good job as a Motocross helmet while still maintaining a performance good enough to be a street helmet. Lets drive deep on this Arai XD 4 helmet review!
More specifically, remove the peak visor and it's a street helmet. On the other hand, wear goggles removing the face Shield and you get an off-road helmet out of it. Not to mention, keep both attached and it's an ADV or adventurer helmet.
And of course, it's an Arai helmet so the interior along with the safety of this helmet will be top-notch. Not only that, but the ventilation structure also looks decent.
So, who is this helmet suitable for? It's probably perfect for the riders who go to off-road riding once in a while and also need a helmet for day-to-day use. Like a multitasking street helmet.
However, this one isn't the budget helmet out there though. But if you are searching for a helmet similar to that I mentioned above, it just might be a win-win situation for you. I mean this XD-4 helmet also made it in our list of the Best Motorcycle Helmet for a reason.
Well anyway, let's find out what other features this Arai XD-4 (also known as the Arai Tour X-4 in the European market) helmet got in the bag.
"If we were meant to stay in one place, we'd have roots instead of feet."
― Rachel Wolchin.
As I said, it's an adventurer or a dual-sport helmet. So, the overall shape of this helmet is kind of narrower from the front. Like what you'll see in a Motocross helmet, you can actually use it as an off-road helmet as well. All you need to do is remove the face shield and wear a pair of goggles and you are good to go.
In the same way, remove the peak visor by unscrewing the bolts on both sides, and you get a regular street helmet. And of course, it goes pretty well as an adventurer or touring helmet. These on and off-road compatibility makes it a very much all-rounder helmet.
But this might not be the same picture when you ride at high speed. The aerodynamics and the noise level might be a bit higher than a well-made street helmet; I mean it's a touring helmet after all.
However, you'll get a pull-down chin spoiler at the bottom of it, which you'll also see in some of the other Arai helmets. This chin spoiler makes the helmet a bit quieter and kind of blocks the road debris from your neck area.
Ventilation and Noise level
The ventilation structure of the helmet also seems quite good. The chin vents and the upper vents under the peak intake enough air inside the helmet. And the rear vents along with the lower side and neck roll vents lets the air pass through and keep the inside cool.
The dual vents on the top, make sure there is enough airflow inside the helmet and also reduces the noise level. And the chin vent you get here is a Three-position chin vent similar to some of Arai's other helmets. The chin vent shutter can be controlled from inside. The brow vents on the other hand intakes air directly to the forehead area and also help in the anti-fogging process.
For letting the hot and sweaty air out of the helmet, there are two rear vents with a Removable diffuser on each. A lower neckroll vent and two side exhaust vents on both sides of the helmet.
And overall, both these intake and exhaust vents do a pretty job maintaining fine airflow through the helmet. And keeping the helmet interior cool in the process.
Well, safety is a huge subject for the quality of a helmet. This is why you'll see the helmet manufacturing companies coming up with new safety tech every now and then. And make sure the helmet you are spending money on is safe enough to protect your head, even if it a bit more expensive.
For this Arai helmet, it comes equipped with a Complex Fiber Laminate or CFL in short. It's made with special layers of fiber and a mixture of unique resins. And these complex bond of fiber materials gives the shell strength and flexibility, which is a must for a safe motorcycle helmet.
You can actually compare the helmet is to coconut, the outer shell being strong and the inner shell being soft.
This works so well absorbing the impact energy while not letting your head getting hurt.
This XD4 helmet also has the Glancing Off ability of Arai. What it does is, it allows the helmet to slide on the hard surface instead of a direct hit, in case you fall from the motorcycle. Thanks to the R75 Organic shape Arai developed, it also helps the process.
And there's also the Emergency Cheek Pads Release System, for easier access while removing the helmet from a hurt user's head. This same kind of feature you might most of the good-quality helmet out there and it's indeed a lifesaving feature.
And as for the safety certifications, this Arai XD-4 helmet is approved by DOT and ECE. Also, it is certified by Snell M2020, which is great.
Well, the face shield of this helmet is shaped differently than your everyday street helmet. It's curved in the middle to blend with the shape of an off-road helmet. And for this helmet shape, you get a wider and bigger viewport, which helps a lot, even on a street ride. Also, the visor locking mechanism also seems just fine, locks in, and opens smoothly.
As a dual-sport helmet, the peak or roast guard does a pretty good job blocking the sunlight from roasting your face. And also, you can unscrew that like any other touring or AVD helmet and make it suitable for the street ride.
Fogging-up is probably the most annoying issue for a rider. But Arai gives you a solution to it, this helmet comes with a Pinlock Insert Included.
Also, the brow and chin vent should exhaust enough hot air from inside, which will eventually help to prevent fogging up.
However, this helmet reportedly has this fogging-up issue, especially in cold weather. If you buy this helmet for a snowmobile ride or a ride in frosty weather. You might hypothetically end up shouting "No God! Please No!!! Noooo!" from The Office TV show.
What does a decent helmet require? A soft and cozy interior. And this helmet is from Arai, they are well-known for producing comfortable helmets over the years. Kind of sane goes for this helmet, the interior of this helmet is made of Dry-Cool material. It soaks moisture and heat fast and conveniently, resulting in a better and comfy interior and this is what Arai calls All-day comfort.
The cheek pads of this XD-4 helmet are completely removable and washable; the same goes for the inner material. In addition to that, there's the FCS or Facial Contour System, which supports the cheek pads and gives you a nice fit. It makes the overall fitting snugger while not creating unnecessary pressure.
The fitting can be a huge pain if your head shape is kind of between two sizes. You might be like walking through the store or browsing the internet while having your head in the clouds. Hmm… Could there be a custom-made helmet interior without spending extra few bucks!
Don't sweat it, Arai heard you, they got the 5mm Peel-Away cheek pads and temple pad just for you. You can customize the fitting a little bit and make it a perfect fit for you without breaking a sweat.
And about the sizes this helmet comes, it got from 2XS (51 – 52 cm) to 3XL (65 – 66 cm) sizes. The inner shape of this Arai helmet is Intermediate Oval, which is the average. And for most helmet models, Arai provides 1 outer shell size for every two-helmet sizes. Meaning you have 4 shell sizes to choose from. So, finding a perfect fitting helmet is much easier for Arai than most of the helmet manufacturing companies, or so they claim.
So, I hope you won't have any trouble picking your perfect fitting helmet.
A real versatile helmet
Dry-Cool technology
Facial Contour Support cheek pad design
5mm Peel-Away layer cheek pads
Effective ventilation structure
DOT, ECE, and Snell M2020 certified
Fogging-up issue
The vent closing might be a bit troublesome
Well, a helmet that you can take to off-roading, tour, or adventurer, and at the end of the day, you can use it as a day-to-day street helmet. Yeah, that's Arai XD-4 for you. It's a versatile helmet for those people who use their helmet for their daily commute and also go for an off-road ride or tour once in a while.
So, if you are looking for a good-quality helmet with these features mentioned above, you can go with this helmet for sure.
While we are looking at something like this, you might also check out some other helmets similar to this one. Such as Bell MX9 Adventure MIPS, Alpinestars Supertech M10, AGV K6, or Scorpion EXO-AT950.
Hope you can find just the helmet you desire, see you again sometimes.