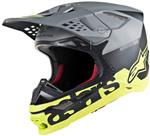 The Supertech M10 is a premium dirt helmet from Alpinestars and it's a helmet with a bunch of innovative features. This is not your day-to-day street helmet or touring helmet. Instead, this M10 helmet is made for hardcore Motocross audiences who like to push it to the limits.
As Alpinestars claims, this lid was developed over the years. And this is actually an advanced helmet as the manufacturer said. Better protection, better ventilation, and incredibly light weighted. Not to mention the fitting customization, you can make the interior any shape you want.
So, if you are looking for a premium, innovative, and safe Motocross helmet, this one is worth checking out. Well then, let's get started with the detailed review of this Alpinestars Supertech M10 helmet.
"Nothing behind me, everything ahead of me, as is ever so on the road."
— Jack Kerouac
Alpinestars Supertech M10 Helmet Review
It's a dirt bike helmet, so you get the idea of how it looks, right? Now it'll be so boring if I start describing how an off-road helmet looks. So, I'll skip on that and tell you how it's different from your typical motocross helmet. And what innovative features this helmet got in its sleaves.
The first thing you'll notice while picking up this helmet is the weight. This helmet is like super-light, It's about 2.8 lbs. for the medium size. And while riding off-road, in those bumpy roads and trails full of twists and turns you really need a light helmet. Or at the end of the day, your neck might give you a hard time moving it from side to side.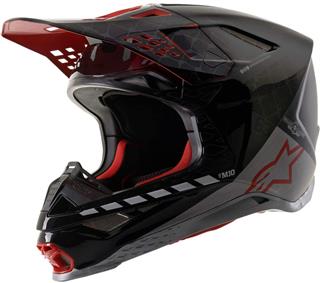 The peak isn't just for giving you shade; it directs the airflow to the vents resulting in better airflow inside the shell. And you don't have to bring your screwdriver or unscrew some nuts and bolts to remove the visor. It's a simple breakaway design with three mounted snaps on both sides and top of this helmet. It simply pops out when you pull this and this breakaway design pops off the helmet if you face an impact, which reduces the possibility of injuries. What's more, you'll have two peaks included with this helmet.
And overall, the shell structure of this Supertech M10 was designed with performance as its top priority. Also, a unique styling profile that identifies its deep-seated devotion to motocross.
Alpinestars developed this helmet with ventilation as its one of the key features. There are so many intake vents in this helmet that drifts a massive amount of airflow inside the helmet. These are developed using heat mapping technology that flows air from above as well as around your head.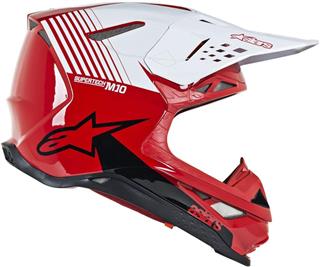 For the intakes, you'll find a bunch of vents in the chin area. The vent with Alpinestars logo on it also the jaw vents are covered with mesh, which blocks some of the dirt and pebbles while you are doing off-roading. However, the vents on the upper chin area, near the nose don't have any mesh or net in it, which might intake some of the dirt directly on your face.
And on the upper forehead area, there are also a bunch of intakes under the peak, on the brow, and on the top of the helmet. And each one is covered with mesh or net, like those we saw on the chin vents. These not only intake air inside the helmet but smoothly suck the hot air from inside of the helmet.
The innovative liner channeling lets the air effectively pass-through. And the exhaust vents pull out those air from inside and keep you cool.
On an off-road or motocross riding, you need something on your head to protect it. Something that will protect you even if you fall off the motorcycle on an off-road track or a trail full of pebbles and stones. Alpinestars's idea was to create something just like that, and the M10 is the result.
The shell of this helmet was made with a three-layer composite blend where carbon fiber is the core material. The outer layer is a high-density 3K carbon layer, which makes the shell stronger and distributes the energy flow throughout the shell. Also, there are a UD carbon fiber layer and an aramid fiber layer.
Another innovative feature of this helmet is the E-2 MIPS, this isn't the regular yellow MIPS you might see in some of the helmets. This MIPS E-2 is attached to the upper inner liner. This results in a better rotational energy managing system saving your head from direct rotational impact.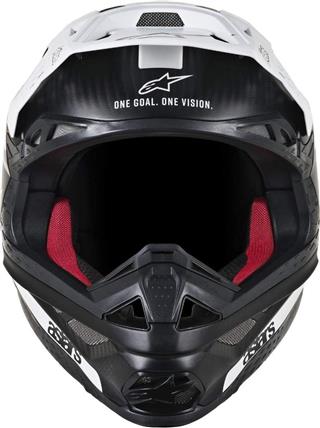 At the bottom of the helmet, you will see rubber gaskets on both sides. These give you Collarbone protection if you face an impact. The Emergency Cheek Pads Release mechanism also improved, the emergency straps are now pushed into the cheek pads. Not hanging over the pads, but it's also easily removable for the medical staff. Also, it's an E-Ject ready helmet. That means the medical personals can easily and smoothly remove the helmet from the rider's head without causing extra injury.
And for the safety certifications, this M10 helmet got both DOT and ECE approval.
What does a good helmet must require? A comfortable interior, a helmet is anything but a good one if it doesn't have a decent interior.
And Alpinestars did a great job here, the interior this helmet has is an aquaphobic anti-bacterial interior. It's a dual-layer interior that confirms better comfort as well as enhanced durability. The inner material is made of Cool-Max fabric and Talent yarn. These materials make sure of the comfort and make the interior last long.
The cheek pads are also made with these materials and those are comfortable enough. Not to mention the interior is totally removable and washable, like any other helmets out there. And these are developed exclusively with the help of pro rally riders.
Another key feature and specialty of this helmet is the A-Head fitting. It allows you to adjust the angle and height of the helmet interior. So, basically, you can tune the interior however you want, and people who have a hard time finding the right fit will be on cloud nine.
The micro-adjustment pads allow lowering or increase the inner shell shape. You can also angle the helmet onward or back according to your need. And you'll also find four shell sizes of this Supertech M10 helmet.
So, folks who have bad luck finding the right size, you don't have to dwell on it anymore, you can make it fit you. So, if you are looking for a low profile helmet you can definitely choose this one. 
Lightweight
Carbon Fiber Shell Constructed
Innovative E-2 MIPS
Easy Release Peak
A-Head Adjustment System
Great Ventilation
E-Ject Ready
Well, with these features and protection you can say that this Supertech M10 can easily enter the list of Best Dirt Bike Helmet. And surprisingly it doesn't cost you that much as was expected of a helmet with this many features.
So, the goal of Alpinestars was to make a helmet with the highest performance and protection possible. And I think they did a great job here, It has a superb ventilation structure, carbon fiber composite shell. And other safety features like the new MIPS E-2 mechanism, no wonder it made it to our Best Motorcycle Helmets 2021 list.
If you are looking for something like this, you might also like some other helmets. Such as Bell Moto-9 Flex, Arai VX-Pro4, Shoei VFX Evo, or Arai XD-4 helmet.
Hope you get the full idea about this Alpinestars Supertech M10 helmet. And also find the desired helmet you are looking for. Good Day!!