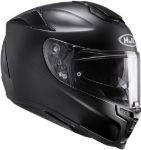 HJC is a South Korean helmet manufacturing company that's been out in the market for quite some time. Producing lots and lots of convenient and pocket-friendly helmets over the past few decades. And still, it's providing the motorcycle lovers decent safety while confirming absolute comfort.
The RPHA 70 ST is one of those cool and safe full-face helmets that offer good-quality features while not causing a heavy burden on the pocket. By the way, the RPHA has a meaning, Revolutionary Performance Helmet Advanced, sounds pretty lit. Like its name, this RPHA 70 ST is an aggressive badass looking top of line helmet from HJC.
Not only the looks, but this sports-touring helmet also got some cool and useful features. So, sit tight, I'm not gonna cut to the chase here, gonna break down every detail about this helmet.
"You create opportunities by performing, not complaining." – Muriel Siebert. Let's see how the HJC RPHA 70 ST performs.
HJC RPHA 70 ST Helmet Review
This helmet has a badass vibe in it, totally goes with any kind of ride. And like a sport-tour helmet, it perfectly blends with any motorcycle and riding style. From swift commutes to countryside tour or cross-country tour.
Not only that, it's an extremely lightweight and compact helmet thanks to its premium shell construction. And surprisingly it's a quiet helmet, the aerodynamics, and the ventilation system reduces the noise level drastically.
The ventilation of this helmet itself is MotoGP level and it's called Advanced Channeling Ventilation System or ACS in short. This ACS along with aerodynamics is benefited from the race helmet designing experience from HJC. As a result, you can get greater performance from this HJC helmet.
The vent structure consists of a 3 positioned top-vent (open, close, and halfway), which can be easily operated with gloves on. The chin vent and the bottom vent let the air frequently come into the helmet. And these can be controlled with easy to operate switches (the switch of the bottom vent being inside).
On the backside, there are multiple rear vents two of them are active operatable vents, and the other two being always open. This unique vent structure allows the air to effectively pass through the helmet. And when you usually open all the vents of a helmet, there's supposed to be lots of noises. But surprisingly this 70 ST helmet is surprisingly quiet enough.
The shell of the RPHA 70 ST is made with PIM+ or Premium Integrated Matrix plus to be specific. It's Carbon fiber and Carbon-Glass Mix fabric that is advanced shock absorption. And also makes this helmet light weighted and compact; gotta say it's remarkably light. Also, there's a full carbon made version of this helmet that's called RPHA 70 Carbon.
Another safety feature of this helmet is the emergency quick-release cheek pads. These cheek pads are specially made to help the emergency staff to remove the helmet securely and quickly.
As for the certifications, this helmet got DOT and ECE certifications. And a 3-Star out of 5 in the SHARP safety test. It's not the best score to have but it'll keep you safe just fine if you get the perfect fitting one.
Another important thing to watch out for is the visor of a helmet. This helmet comes with a visor that HJC calls HJ-26 ST Visor. It's a clear polycarbonate face shield and the visibility is good enough. There's a center clip on the bottom edge of the visor that helps to open or close it.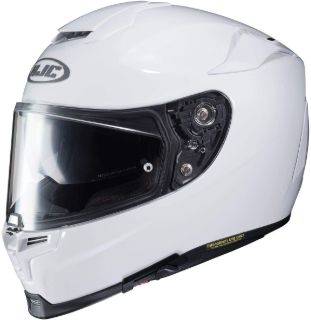 And the dual lock lift tab flex system works pretty well, perfect for the race track. Also, you can lift and lock the visor halfway and make it useful for a low-speed tour, quick commute, or something like that.
The visor is a 2D Flat one and it has a tear-off post on it, you can also buy those individually. However, this helmet doesn't come with a Pinlock insert, but it has its own anti-fog insert. And this seems to work just fine, but don't expect it to be as good as the Pinlock ones.
The Integrated Sunshield called HJ-L1 also works well. Its bottom-positioned or jaw-lined operation system comes in handy and it's smoother and super easy to operate. The SV control system is actually done with a cable, that makes it a premium upgrade to this helmet.
Another thing is the Rapid-Fire Shield Replacement System is really easy to do. Just flip the visor all the way up, press the removal button and the shield pops out, piece of cake.
The 3D construction inner shape and air channeling system is awesome, helps the ventilation, and makes it quieter. The inner construction is made of Multi Cool Polygiene anti-bacterial fabric. It's an advanced moisture-wicking and fast-drying environment inside the helmet.
The cheek pads as well as the interior is easily detachable and washable. Just pull the snaps inside and it should come out without breaking a sweat. The Emergency Cheek Pads removal seemed pretty convenient, just like other premium helmets. There's a red strap at the bottom of the pads that EMT (emergency medic team) can pull to get the helmet and pads out if needed.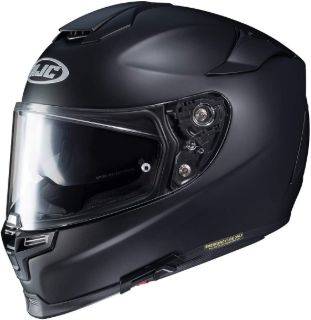 The upper side of the cheek pads are actually thinner and it's to make some room for any kind of eyewear or sunglasses. And there are the air pockets that cover up the holes or space created for a com device. These pockets eventually reduce lots of noise and help the helmet be a little quieter.
Of course, fitting is an extremely important thing to watch out for while purchasing a helmet. If you already have knowledge about this then this should be no big deal to find out what size fits you. But in case you are new to this, take your time and find out your head shape and size first and I hope choosing the right one will be a whole lot easier.
So, for this HJC RPHA 70 ST helmet, it got inner size from 2XS (52-53cm) TO 2XL (62-63cm). And there are three shell sizes available out there for this helmet. For the inner shape, the helmet has an Intermediate Oval shape and that's the typical head shape for most people.
Not to mention you'll get a classic Double D ring fastener with this HJC helmet.
Premium Integrated Matrix Plus Shell Construction
Innovative Ventilation Structure
Tool-Less Quick-Release Removal Shield System
Better Aerodynamic Narrow Shape.
Bottom-Line Operated Sun Shield
Ventilation Friendly Inner Shape
Emergency Cheek Pads Release
The bottom chin vent couldn't be less useful
A 3-Star SHARP Rating
Overall, the HJC RPHA 70 ST is an modest-looking, well-ventilated helmet. The aerodynamic shape is also improved from the previous helmets from HJC. It's a well-modified helmet also you don't have to break the bank for this helmet.
Gotta mention that it's mostly admired for the quietness of this helmet. And the comfort of wearing this helmet doesn't disappoint. While we are talking about this, you can also check out some of the other helmets around this budget. Like Bell Qualifier DLX MIPS, Shoei RF-SR, or HJC RPHA 11 Pro maybe.
So, the residence of Bikeland, hope you find the perfect companion for your motorcycle. And remember to always wear a helmet whenever you hit the road, have a great time!!