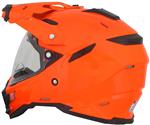 The FX-41 DS helmet from AFX is an aggressive-looking budget dual-sport helmet. It's an upgrade from its predecessor the FX-39 DS. But the FX-41 has much more of an aggressive look, a better ventilation system, and many more updated features.
However, it's not like this updated helmet replaces the FX-39 helmet. It's more like two different helmets for different conditions maybe. And both of the helmets come in a very reasonable price range.
AFX FX-41 DS Helmet Review is a helmet that you can definitely take on an adventure riding scenario or a tour. And as a dual-sport helmet, it also gives you the option to convert it into a Motocross helmet. That's the thing about these helmets, it gives you versatility. Sometimes even the best motorcycle helmets might not be as handy as these.
Every helmet belongs to a category after all, and this particular AFX FX-41 DS helmet goes to the ADV. It's equipped with a bunch of cool and useful features and you won't have to break the bank to get it. So, let's get started with unrevealing all the positives and negatives of this FX-41 DS helmet.
"If you think adventure is dangerous, try routine. It's lethal!" – Paulo Coelho
AFX FX-41 DS Helmet Review
Well, the shape of this helmet is fairly aggressive and it looks good enough. One thing you'll notice is the bottom of this helmet isn't flat. It's curved a little bit. And that is to get a better fit for the motocross neck brace, which you might wear on an Off-road or Enduro ride.
And the peak, it's adjustable and removable. You'll usually see most of the budget dual-sport helmet with a fixed peak but this one comes with an adjustable feature. You can adjust the peak up to 40mm, which is just fine.
Another thing is that the screws of the peak aren't attached to the face shield. It's also unique in an adventure helmet and it'll eventually allow quick face shield removal. And there are side covers included, which will help with the aerodynamics of the helmet when you remove the peak.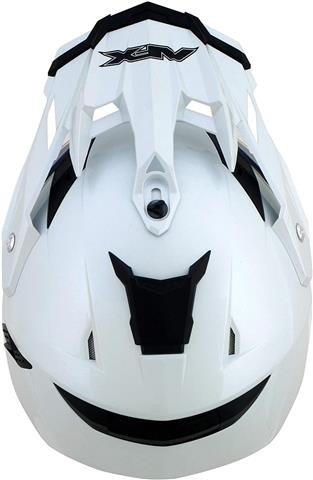 For the ventilation, AFX did a really good job making this helmet more suitable for a hot day. The air fluently comes from the front intake vents and passes through the rear exhaust vents. Ventilation is actually important for any motocross or adventure helmet. Because you are more likely to wear the helmet for a long time and nothing beats a cool and comfortable helmet during a long ride.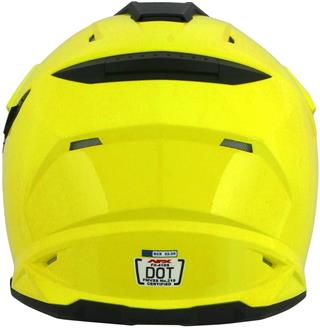 This helmet got 17 points of ventilation, which is like I said well-ventilated. And it drastically enhanced from the previous version. There are aggressive-looking vents on the chin area and also the side. These intakes a huge amount of airflow directly on your face and these can be easily controlled.
The top and the forehead vents also help the ventilation process and you can open and close it with the help of a slider. The same goes for the spoiler exhaust vent and the rear vents here are passive ones. Overall, all these ten exhausts and seven intakes keep the inside of the helmet cool. That is definitely gonna help you get through a hot adventure day.
However, one of the annoying downsides of this AFX helmet is the noise level. I mean it's loud, usually, budget ADV or motocross helmets are loud as a default (yes, there are exceptions). But if you want to ride at speed wearing this helmet, you might want to put on your earplugs.
Safety is one thing that you shouldn't overlook at all, the last thing you want is to have an unsafe helmet over your head if you happen to be in a crash. 
So, watch out for the safety standards of a helmet if you are gonna spend your money on safety equipment that's supposed to save your life.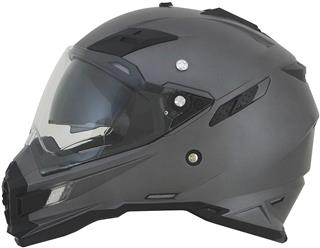 And for this helmet, this one is equipped with a complex poly-alloy shell. Of course, it's might not be as safe as the ones with fiberglass or carbon made shell helmets. But it's good enough according to the price at least, and this helmet is also lightweight (3.69 lbs. for the large size), thanks to the same build material.
As goes for the safety standards, this AFX FX-41 DS Helmet is DOT and ECE 22.05 approved. That means it's completely legal to wear this helmet on the streets of the United States and Europe.
You'll get a Microlock quick release chin strap mechanism with this helmet. It's super easy to operate and safe as well. However, if you don't like this, you can always turn this into a Double-D ring strap with some simple steps.
Visibility is another key feature that you have to check out while buying a budget helmet. Usually, a large viewport provides a better field of view to the rider, and a dual-sport helmet clearly has an upper hand here. The viewports of dual-sport helmets are wider than your typical full-face helmets in order to fit the goggles. And the same goes for this FX-41 DS helmet, its huge viewport will help you not only in off-road riding but also on the street riding.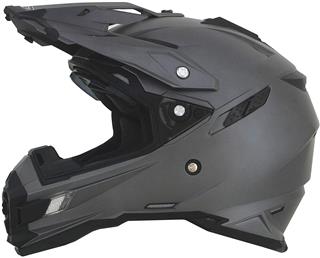 One thing you might notice in the budget dual-sport helmet visors. That is there's a ridge at the bottom of the visor of these helmets. And this is to make the face shield more optically correct and reduce visual distortion created because of the shape of the helmet. And this helmet is no different, it comes with an anti-scratch, UV, and resistant compound-curved visor.
And the face shield removal is a quick-release screw mechanism. And the face shield and the peak is connected with different individual screws. It's something you don't usually see in an everyday budget ADV helmet and that's cool. You'll find 4 tinted shields available for this helmet, you got some options there.
Another thing an adventure helmet should have is the inner sun visor. And this helmet got one, an integrated Smoked flip-down sun visor. It's not as great as the one you might find in some of the other more higher-end helmets though, but it also not too shabby. The switch (slide lever) for the inner SV is on the left side of the helmet, which seemed just fine. However, the drop-down mechanism is reportedly complained about by the users of the helmet, so keep an eye here.
It doesn't matter if it's a dual-sport helmet or a track helmet, the interior of a helmet needs to be comfortable. A rider will be more likely to be more satisfied with a comfortable budget helmet than an uncomfortable expensive one.
And as a budget helmet, it appears that the AFX did a good job here making this helmet more comfortable for the adventurous riders out there. The inner liners and the cheek pads of this helmet are made of anti-bacterial and hypoallergenic nylon. Like most of the other regular helmets, you can detach most of the liner and cheek pads, and put it for a wash.
You'll find speaker pockets in the helmet, which should fit most of the com units, I think. And overall, if you get the right size for you, this helmet should be comfortable enough for you, as a competitive range helmet at least.
Like I mentioned earlier, a fit helmet will be more comfortable than an unfit helmet. So of course, you should take your time to select the size of the helmet. If you already know your head shape and size, way to go! And if you don't, take a minute and measure your head size first, it will help drastically.
For this FX-41 DS helmet, it comes in 2 shell sizes and 4 EPS sizes, which is a great feature to find in a budget helmet. So, you have a bunch of choices here and there are the cheek pads and additional paddings in case you need any adjustments.
And as for the inner shape, it's an Intermediate Oval shape but it's more like something between round oval and intermediate oval. However, it's gonna fit you just fine if you have an intermediate oval head shape, like the majority of the riders out there.
Tinted integrated sun visor
Great value for the money for the features
Adjustable and removable peak
Well-managed ventilation
Two shell sizes
4 EPS liner sizes
Loud noise level
Not so good aerodynamics
Drop-down sun visor malfunction reported
Overall, I'll say this helmet is a nice budget helmet packed with a bunch of cool and useful features. You'll rarely find other budget helmets with these many features as this FX-41 DS. It got an adjustable peak, inner sun visor great ventilation structure, all for a really competitive price.
However, this helmet reportedly got some complaints though. Such as not so good build quality, not so responsive customer care support, and stuff like that. Other than that, if you are looking for a helmet with loads of features while not costing you a pretty penny, this helmet might be the one.
While we are at it, you also might take a look at some of the other helmets like this one. Such as Arai XD-4, Bell MX-9 Adventure MIPS, or Scorpion EXO AT-950.
Good Day!!