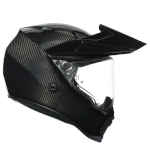 Every helmet is a gangsta until the real gangster arrives, or should I say this AGV AX9 helmet arrives. This helmet sure is a top of the line adventure helmet from the Italian company. If you want a reliable helmet for your adventure touring and quality is the main thing for you, then this helmet is worth checking out. No wonder this AGV helmet made it to our best budget dual-sport helmet lineup. 
The AGV AX9 is a top-quality adventure helmet, and it's an update of the previous AX8 DS EVO. This is a helmet that you can use as a dirt bike helmet and also as an everyday use street helmet without any problem. As a helmet from AGV, which is known for producing quality helmets over the years, this one won't disappoint you as well. And this AX9 gives you the quality performance of the Best Motorcycle Helmet both on the street and off-road ride.
And as a premium helmet, this AGV AX9 helmet comes with a bunch of features that will keep you comfortable and safe at the same time. So, let's find out what this dual-sport helmet offers you to make your adventure tour marvelous.
'Then one day, when you least expect it, the great adventure finds you.' – Ewan Mcgregor
It's an adventure helmet, and this AX9 looks just like a dual-sport helmet should look, and it's a premium one on top of that. So, you'll get both good looks and top-notch performance from this helmet. 
And the peak, it's one of the things that is upgraded from the previous AX8, and it's for the good. The peak visor is now bigger, more sturdy, it'll give you more stability on the road, even at high speed.
The peak removal mechanism has also been changed, now there are panels on both sides of the peak. You can easily pop those out and remove the peak if you want and turn the helmet into a street profile.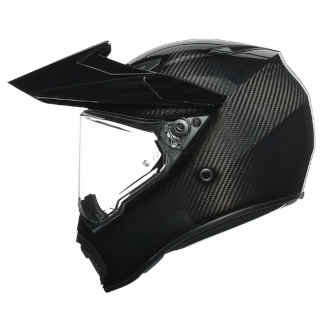 And about the make or the overall structure of the helmet, it's more of a street helmet based. The helmet is functional with the goggles on, that's alright, but bigger goggles might give you a hard time here. The helmet is perfect for those adventure trips with more on-road riding and less off-roading.
A well-ventilated helmet, a thing that you need to confirm when spending your money on a dual-sport helmet. Because on an adventure tour you are supposed to keep wearing the helmet for a long time. Also, you'll need air to pass through the helmet to get a cool interior on an adventure tour.
And this premium helmet performs well enough here, the ventilation structure of this helmet is pretty decent. You'll get 3 front intake vents and 2 exhaust vents on this AX9 helmet. Although there are other premium helmets like the Arai XD4 that might have more vents or opening than this one. But this AGV AX9 also won't disappoint you for sure.
Another thing that changed or upgraded from the previous AX8 is the chin vent. The chin guard on the chin vent of this helmet is completely detachable without tools. You can remove that to let extra air directly on your face, and you can also control the chin vent from inside.
Well, what's the point of wearing a helmet that doesn't protect your head when it needs to do. So, you should always prefer safety-certified helmets over the flashy cheap ones.
For this AGV AX9 helmet, it's indeed a safe helmet. This helmet is both ECE and DOT rated, which tells you the story about the safety level of this helmet.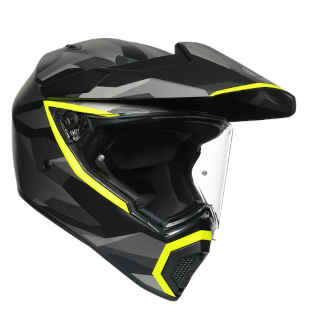 The shell of this helmet is made of a Carbon-Aramid-Fiberglass combination material. That's the same material you'll see in the other premium helmet from AGV, the Corsa R. This shell is safe enough, however, this AX9 helmet has a full carbon shell variation that'll cost you a few extra bucks.
And as far goas for the EPS liner, this helmet comes with 4 layered EPS liner, as expected from AGV. This is a very effective safety measurement and the air channel through the liner is also impressive. And to sum up the overall safety of this AX9 helmet, it's a pretty good deal.
Visibility is one important thing because when you are on a long trip or even on a short commute, visual distortion can cause a major incident. And you don't want that for sure.
And for these adventure or dual-sport helmets, the view-port is bigger than the day-to-day low profile full-face helmets. This one also got a bigger viewpoint, but as I mentioned earlier, this helmet is made based on street profile than off-roading.
So, the view-port on this one isn't that big, something you might see on other helmets like the Bell MX-9. However, it shouldn't give you a hard time here as smaller goggles should fit right into the port.
And for the face shield itself, it has a bit of a different design than you might see on a typical budget dual-sport helmet. It's scratch resistant, multi-step opening mechanism included. One thing you'll notice about this opening mechanism is you can open the shield with both hands. That's kind of awesome because you can operate face shield opening with either of your hand.
Another thing impressive about this helmet is it comes with a Max-Vision Pinlock insert lens included out of the box. These Pinlock inserts work like a charm when it comes to preventing fogging up. So, you'll get a pretty decent face shield here, with this AGV AX9 helmet.
Well, interior, this is where these AGV helmets truly shine. Not only this helmet some of the other AGV helmets also have premium quality interior, take the AGV K3 SV for an example. This AX9 even has some premium built-in materials, something you might see in the Pista GP R.
The crown pads of this helmet are made of Shalimar fabric, which is really soft and great for superior comfort.
And the cheek pads are made with Ritmo fabric and that works very effectively keeping the interior dry and comfortable.
The neck roll, on the other hand, is made of Nabuk and Shalimar fabric and this is also water-resistant. Not to mention, you can remove the interior and put it for a wash, no surprise here.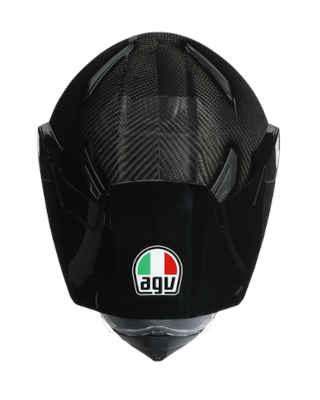 The interior is actually eyewear-friendly, no worries for the dudes with glasses. Also, there are speaker pockets for any communication unit. So you can install your com unit in this helmet without much hassle. Overall, this helmet is a pretty decent and comfortable one and a premium one too.
Fitting matters, you might find yourself wearing an uncomfortable helmet. Even an expensive helmet like this one might give you a hard time if it doesn't fit properly. So, take your time here, find a helmet that fits you better.
For this AGV AX9 dual-sport helmet, it comes from 2XS (51-52 cm) to 3XL (65-66 cm). And you'll get it in 3 shell sizes and 4 EPS liner sizes, and the inner shape of this helmet is an Intermediate Oval.
Adjustable sturdy peak
Premium quality
Well-designed ventilation structure
Pinlock insert included
Eyewear-friendly
Decent interior materials
Speaker cutout pockets
This AGV AX9 is a premium dual-sport or adventure helmet that gives you superior performance wherever you go. It's a helmet that is worth the money if you prioritize quantity over price.
Yes, it's a bit expensive than some of the other helmets you'll find on our best budget dual-sport helmet list. But it's a helmet that'll give you a lot of features, and you are getting the best out of your money here.
Although there are some other competitors around this price point. That gives you features and quality somewhat the same as this one. Take the Arai XD4, Shoei Hornet X2 for example.
So, all the adventure-loving rides out there, keep adventuring and be safe.