The K6 is a versatile helmet from the Italian giant helmet manufacturing company AGV. We are going to analyise more details of its features, pros, cons etc on this agv k6 helmet review.
This helmet is both comfortable and safe for almost any kind of road you might take. And also, it perfectly syncs with any kind of riding style, looks awesome! This K6 helmet is developed with the help of MotoGP level technologies. 
These drastically improve the helmet's aerodynamics and overall performance. Same as the premium level Pista GP RR or Corsa R, however, these have a better aerodynamic shape and better build materials. Also, those two costs much more than the K6. We select this one as one of the best helmet of 2023.
However, this K6 might be not the same as those but it'll give you lots of decent quality features while confirming your comfort and safety. But, if you are looking for a small size  full face motorcycle helmet, you can check our other post on low profile helmet. And if you are looking for a usual size, you are on the right page. So, let's jump right onto the AGV K6 helmet review and spill the beans with you.
Lucinda Williams said, "The perfect man? A poet on a motorcycle."
And a perfect motorcycle rider? The one with a helmet on. So, don't forget to wear a helmet whenever you hit the road.
Like the premium helmets mentioned earlier, this K6 helmet also has a stable aerodynamic shape. It slashes through the air while maintaining absolute stability at any speed. This aerodynamic profile lets this helmet perform well on the track and also on a countryside tour.
The helmet is designed to be light-weighted, even lighter than the Corsa R, which is a huge plus point for this helmet. And it'll save you from huge neck pain that might cause because of a long ride, it got lots of positive feedback thanks to the lightweight.
Also, the ventilation of this helmet, it's awesome, will perfectly keep you cool in hot weather. It has 5 huge air vents that give superior airflow and you can control the vent and flow according to the weather.
The upper vent intakes a large amount of airflow and you can completely control the vents wearing gloves. Along with the 5 intake vents (3 upper vents, 2 chin vents), there are also 2 exhaust vents. And those are always open vents, which ensure continuous airflow within the helmet.
For safety, this helmet is equipped with the finest carbon-aramid fiber shell, which is both safe and light. That is the same as the Corsa R and it's safe enough. And the five-layer EPS liner and the shell confirm the safety of the user as much as any MotoGP level helmet.
The manufacturer has no doubt about the safety of this helmet, they assume that it's 48% safer than ECE safety standards. And of course, the lightweight of this helmet is something impressive. The design of this helmet along with some of the other AGV helmets is designed to lower the risk of collar bone injury.
This helmet guarantees the absolute safety of the rider, you get exactly what you are spending your money on.
Also, this K6 helmet is DOT and ECE certified, so you can freely ride wearing this helmet on the roads of the U.S and Europe.
This helmet comes equipped with an about 4mm thick Optical class 1 clear visor, here Optical class 1 means the highest optical visibility. Also, the 100% Max Vision Pinlock 120 confirms a complete fog-free environment. And it's the highest level of Pinlock actually, so you don't have to worry about fogging up.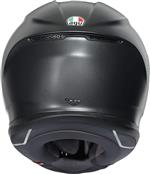 The helmet has a wide field of view, a 190° horizontal vision, and an 85° vertical vision. It gives you an advantage on the road, lets you see what's around without moving your head. Also, the visor has 5 levels of opening and a Micro-lock system that keeps the shield in its place even at high speed.
And you'll get a Removable breath guard with the helmet that'll help prevent fogging up drastically. Also, no worries if you wear glasses during your ride, it's an Eyewear friendly helmet. As I mentioned before, this helmet is super light, and the advanced shield pivot helps with that, decreases both weight and size.
AGV confirmed that this helmet meets and fulfills the extreme conditions of any race track. The materials are not only superb sweat-absorbent but also highly breathable and tough. Perfect for any weather conditions, heavy rain or intense heat, fits in all.
This helmet is indeed comfortable, I mean its interior is made with extremely breathable Ritmo fabric, which is sturdier in nature. And Soft Shalimar fabric, confirms the best comfort of the users, also the faux leather or eco-leather makes the interior last long. The interior absorbs the moisture and sweats super quick and this is what they call 2 Dry treatment.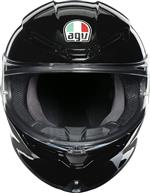 The clothing also provides Sanitizing treatment, which gives antibacterial protection. And the outer part of the interior is waterproof and seemed sturdy enough.
Also, you'll get comfortable and easy fitting cheek pads, which are made with both Ritmo fabric and Shalimar fabric. There's a cheek pads safety release system that'll help the medical personal to remove the helmet quickly if you went through an accident.
As I always say, fitting is so important when you are choosing a helmet, wearing an unfit or oversize helmet can be dangerous. So, try to prioritize your helmet fitting over the designs.
For this K6 helmet, it got internal size from XS (53-54 cm) to XXL (63-64 cm). And you can choose from 4 shell sizes, also, the EPS liner comes in 4 sizes. So, you have a bunch of options to choose from if you want the perfect helmet fitting helmet. Not to mention the internal shape of the helmet is Intermediate Oval, which is the average helmet shape available on the market.
A comfortable and sturdy interior
Relatably quite
Super light-weight
Carbon-aramid made shell
Superior Ventilation
Included Pinlock 120 lens
4mm thick Optical class 1 face shield
Fogging issue when you put the Pinlock shield away
The shield and vent switch might be difficult to control
Well, this is a fine multipurpose helmet here, the K6 fits for road trips, track racing, or even adventurer riding. This is a well-made helmet from AGV you gotta admit. No wonder this helmet made it into our best motorcycle helmet list.
This is one great helmet with some of AGV's awesome features and people love it for this same reason. You can also check out some other helmets at the same price range and category. Such as Shoei RF-1200, Shoei GT Air 2, HJC RPHA 11 Pro, or BELL Star DLX MIPS.
So, if you want a helmet that you can comfortably use in any weather or condition, this AGV K6 might be the perfect helmet for you.