Supermoto is a relatively new motorcycle sport. It is an offshoot of motocross, dirt bike racing, and road racing for bikes with tires that are more suited to the street than the track. This makes it popular with riders who want to do some cross-type riding but don't want to buy two sets of gear or have two sets of bikes.
The best Supermoto helmets are typically designed for this type of use. They're lightweight, provide good ventilation and offer good protection.
It's essential to wear the best-suited gear for this type of race, but it might be challenging to know which helmet will work for you. So here are three high-quality helmets that'll give you better performance and protection in this versatile sport.
Let's take a deeper look at these multipurpose helmets. And there's also a detailed buying guide about Supermoto helmets and what you should expect from these types of helmets.
EPS-liner padding chin bar
Dual-sport option available
Velocity-flow quality ventilation structure
Durable and Cozy moisture-wicking inner liner
MIPS technology or Multi-Directional Impact Protection System included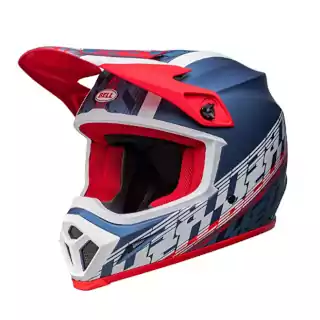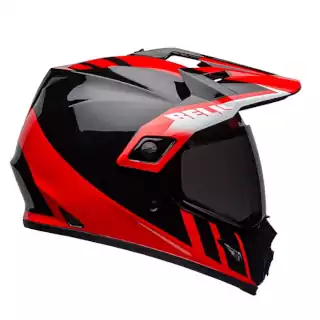 Helmet Shape: Intermediate Oval
Helmet Weight: 3.74 lbs.
Shell Construction: Lightweight polycarbonate shell
Sizes: XS (53-54 cm) to 3XL (65-66 cm)
Safety Standards: DOT and ECE approved
The Bell MX9 is an excellent choice for Supermoto as this helmet is available in both off-road and dual-sport versions. You can use this helmet on the off-road trails, and you'll also have the face shield if you choose the dual-sport version.
And as an off-road helmet, the styling perfectly goes with the Supermotos. Not only that, this one comes in a wide range of graphics options, and those look fantastic!
Apart from the styling, the helmet's safety doesn't fall short, as expected from Bell. The shell you got here is a Polycarbonate shell, which is good enough as the helmet doesn't cost a massive amount of money. And there is also MIPS technology, an energy management system that protects your head from the rotational force.
And as you might also ride on the plain street on a Supermoto, wind noise might be an issue. The off-road and the dual-sport helmet will grab the wind as long as there's a peak visor. But a pair of good-quality earplugs will solve that.
Super lightweight
Custom-fit EPS liner
Premium quality inner liner
Customizable vent stoppers
Neck brace compatible shell profile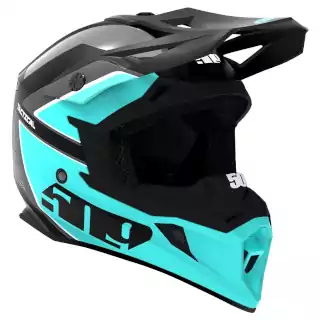 Helmet Shape: Oval
Helmet Weight: 2.5 lbs.
Shell Construction: Polycarbonate shell
Sizes: XS (53-54 cm) to 2XL (63-64 cm)
Safety Standards: DOT and ECE approved
This one, the 509 Tactical Helmet, is a snowmobile helmet, but it still can be used on the Supermoto. Apart from the fabulous aggressive look of this brain bucket, the weight is extremely light. And that is what makes this helmet so good for the Supermoto races.
Just like I said, the shape and the styling of the helmet are both fantastic. The body of this lid completely goes with the Supermoto shape. And for the graphics, it comes in some of the most excellent graphics designs, in my opinion, to be honest.
Apart from that, the 2.5 pounds weight is no joke; this might be one of the lightest helmets of this kind. And yet, the Polycarbonate shell is both ECE and DOT approved. And the Pro series inner liner from 509 is comfortable enough.
So you can count on this 509 Tactical Helmet as the perfect partner for your Supermoto.
Rubberized nose guard
Adjustable top peak visor
Great value for the money
Multi-colored graphics choices
Ventilation structure with multiple vents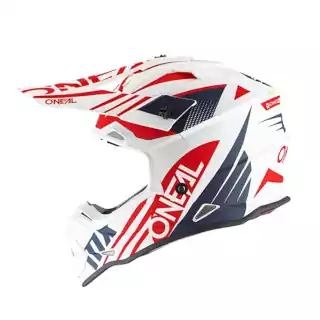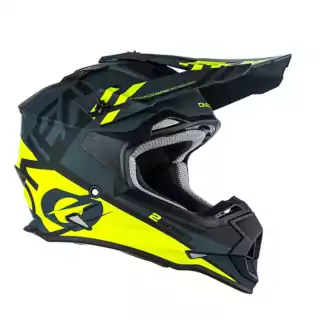 Helmet Shape: Oval
Helmet Weight: 3.20 lbs (approx.)
Shell Construction: ABS material shell.
Helmet Sizes: XS (53-54 cm) to 2XL (65-66 cm)
Safety Standards: DOT and ECE 22-05certified
Another excellent off-road helmet, the O'Neal 2 Series. This is a fantastic helmet that gives you reliable off-roading features and comes at a very reasonable price. As you'll be riding on multiple conditions, including off-road and street, you can also check out the O'Neal Sierra 2 helmet. A dual-sport helmet comes with a face shield on it, which makes things easier on the streets.
O'Neal helmets also have excellent and aggressive looks on them, and this one is no different. The shape and the graphics option of this lid look fantastic and suitable for what you are looking for. And for the shell, you get an ABS shell that comes with DOT and ECE approval. And the weight of this lid is also impressive, just 1450 grams on an ABS helmet, good enough.
So, you can undoubtedly go for this O'Neal 2Series off-road helmet. Or, if you can also go for the dual-sport version, the O'Neal Sierra 2 helmet.
Best Supermoto Helmet Buying Guide
A Supermoto is an exciting ride as you ride both on rough off-road and the straight street. And for a helmet to accompany you on that journey, it needs to have a few unique features. And, of course, what you should look for in a helmet primarily depends on what you need and want. So, first, find out what you want in your helmet, and the selection process will get a lot easier.
It's debatable which kind of helmet is the best for a Supermoto. Most people usually go with a dirt bike helmet and goggles or a dual-sport helmet.
| Key Features | Off-Road Helmet | Dual-Sport Helmet | Full-Face Helmet |
| --- | --- | --- | --- |
| | Looks great with Supermoto | Looks great with Supermoto | Might not be the best looking for Supermoto |
| | | | |
| | | Not required but goggles-friendly | |
| | | | |
| | | | |
| | | | |
| | | | |
| | | | |
| | | | |
| Communication unit friendly | | Yes (but depends on the model) | Yes (but depends on the model) |
| | Off-roading, acrobatics, enduro | Adventure, touring, day-to-day use, dirt biking | Streets, racing, track use, day-to-day use, commute |
The features and performance of a helmet depend on its quality. But here's what you should expect for each type of helmet on your Supermoto.
Off-road helmet: This is the most popular option for the Supermoto as you can just put on your dirt bike helmet. As there's a peak on the top, you'll face more airlift while riding on the streets. You might also feel riding at a much higher speed than you actually are riding. Wind noise will be rough at speed, don't forget to take the earplugs with you and put them on.
Dual-sport helmet: A dual-sport helmet is basically a mix between a dirt bike helmet and a full-face helmet. What that means is you'll get a face shield and also a peak visor in this. The peak and the face shield both are removable in most cases, and you can turn them into an off-road or a street helmet by doing that. You can also ride with a face shield and peak on. That'll block the sunlight as well as the dirt and pebble coming from the front. For the airlift and noise level, you'll feel the drag and high noise as long as the peak is on. Like I've mentioned earlier, put on the earplugs for noise cancelation.
Full-face helmet: This is by far the most popular helmet type on this planet earth, don't know about it beyond that! Jokes apart, the aerodynamics and the smooth performance you'll get from this type of helmet are way better than the others mentioned. And this is also going to be the quietest helmet as there are less drag and airlift. However, there's no peak, meaning no shade from the sun, and you will not get the air breeze on your face. And as for the styling, the off-road or dual-sport helmet might be a better option than the full-face one.
Supermoto is a type of racing that combines different skill sets from other types of racing to create an exciting and challenging sport. The best helmets for this type of use are typically lightweight, provide good ventilation and offer good protection.
This is the perfect option for any rider who enjoys the adrenaline rush that comes with riding on two wheels. The fitting helmet can make all the difference in how they feel after their ride. We've put together some features you should look for when getting a brain bucket for your Supermoto. So that you have an idea about what to expect or not before making your purchase decision!