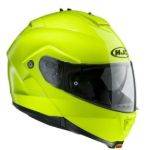 The IS-MAX 2 helmet from HJC is a sport-touring or more touring based modular helmet. It's a budget modular helmet that has some cool and appraisable features. It's an upgraded version of the previous IS-MAX helmet and HJC did a great job here. Enriched this helmet with efficient features while maintaining a competitive budget range.
It's a kind of helmet that you might use for a daily commute or even touring. The aerodynamics of this helmet isn't half bad. On top of that, the helmet comes equipped with a drop-down sun visor. Not to mention the flip-up or modular feature is quite useful, allows you to talk or eat without taking off the helmet.
So, the HJC IS-MAX 2 is great for the value modular helmet I'll say. Also, it got some cool features that'll make you love to have the helmet without breaking the bank. Let's jump into the thorough review of this modular helmet without further commotion!
HJC IS-MAX II Helmet Review
Like I said a while ago, it's a modular helmet, which means you can flip up the chin bar of the helmet. And do whatever you prefer to do; as you can talk with someone, have a little finger food break. Or even use this helmet as a ¾ helmet, allowing more airflow on your face. The sun visor will make the experience even better. If you are shifting from open-face to a full-face helmet, this might help you to adjust.
One of the many things that improved from the previous version of the helmet is the aerodynamics. It's aerodynamically improved and it actually feels steady enough even at high-speed. The shell structure is not too round or not too narrow, it's somewhere between those shapes. And it's a sweet shape that goes pretty well with the modular mechanism.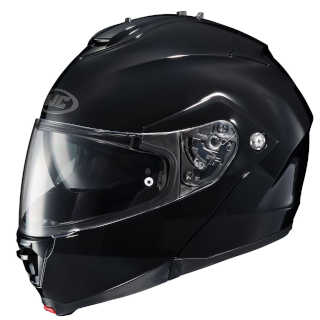 Also, they improved is the chin bar locking system, it's now a metallic locking mechanism and it's better than the previous plastic one. Another addition to the new helmet is there's no door for the Bluetooth device on the side of the helmet. And it increased the sturdiness of the helmet and made it more compact. Now, if you want to use the Bluetooth com device, you gotta attach one that fits underneath the shell.
The ventilation structure is also improved, now you have a super easy to control chin vent. And an upper forehead vent, which is controlled by a slider, it's easily controllable with gloves on. And on the back, there are four passive always open vents, and they work pretty well. Along with the HJC's ACS or Advanced Channeling System, keeps the inner environment cool.
This IS-MAX 2 helmet actually performed pretty well in the safety department. It comes with an Advanced Polycarbonate Composite Shell, which may not seem so good but it performed quite well.
Also, the flip-up chin bar that we have here is made of polycarbonate material. The chin bar and overall, the helmet is light weighted and it fits properly, which confirms great comfort. Thanks to the updated CAD technology comes with this helmet.
For the safety standards, It got the DOT and ECE certification and surprisingly the helmet performed really well in the SHARP safety test. It got a 4-Star out of 5 here, that's really good for a polycarbonate made shell helmet. On the top that it's a modular helmet, and another amazing thing is, the chin guard of this helmet was always locked every time they tested the helmet. That's something rare for a modular helmet, considering the price of course. So, you can feel safe wearing this helmet, it'll keep you safe enough.
Visibility is another important thing for a helmet, it's so annoying and dangerous if you do not have enough visibility on the road. And for this one, it comes with an optically clear Pinlock ready shield called HJ-17. The Pinlock insert pins looked updated and much better from the previous version of the helmet.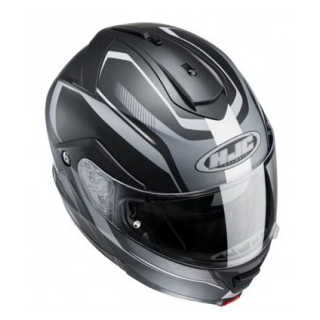 And HJC claims that this visor is supposed to give 95% ultraviolet protection to the users. The gasket that seals the visor to the helmet is improved from the previous version and it works just fine. No worries when it comes to changing the shield, its QuickSlide Tool-less Shield Changing System takes care of that. And it's super easy to do that, the chin bar and shield itself can be easily slid with only one hand.
The locking mechanism is also simple, you just have to press one button to unlock it, without breaking a sweat. When it comes to the chin bar, I would highly recommend buying an additional chin curtain. It'll block the airflow from the bottom of the helmet and make it a bit quieter. And the chin curtain will make it a little more comfortable and safer.
Also, the HJ-V5 One-touch Integrated SunVisor is also cool, it's smoke-tinted and 3-staged changeable. And the SV locking system also seems to work pretty well, the control switch is right at the top of the helmet. I don't know about you guys but I personally think it looks a little odd, especially when you try to drop down or slid up the SV while riding.
To be honest, a helmet is as good as its comforts, you don't want to ruin your day wearing an uncomfortable helmet. So, it's not a bad thing to be a Lil bit picky about comfort when it comes to choosing a helmet.
And this helmet is comfortable enough, considering the price at least. Like most of the budget helmet out there this HJC helmet also got an anti-microbial and moisture-wicking fabric interior. It's detachable, washable; nothing special here but if you find the perfect size that fits you, it's gonna be much better.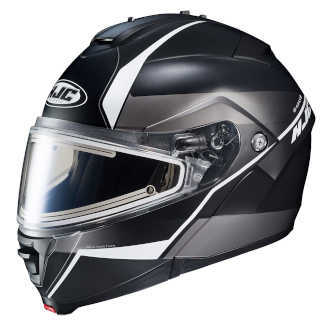 For the cheek pads, the neck roll is now attached to it, which is a nice upgrade from the older version. The cheek pads of this helmet are the same as the liner, removable and washable. And these are interchangeable; thanks to the glasses-groove, shouldn't bother any glasses users.
Fitting is also important when it comes to choosing a helmet, frankly speaking, the helmet fits better, will be more comfortable. So, don't hesitate to spend a bit more time choosing the right fitting.
And surprisingly this IS-MAX 2 helmet comes in up to 5XL sizes. Yes, from 2XS (51-52 cm) all the way to 5XL (69-70 cm). So, you shouldn't have too much pain choosing the right one. Remember to find out your head shape first (in cm or inches whichever you like) and look at the size chart of this helmet. The inner shape of this helmet is Intermediate Oval, which is the average shape out there.
Also, the chin curtain is not included with the helmet, but there are two small snaps on the inner surface of the chin bar. So, for better comfort, noise cancelation and safety be sure to get the additional chin curtain available on the market.
4-Star SHARP rating
Single-button chin bar release
Tool-less Shield Replacement mechanism
Pinlock-ready face shield
Light-weighted
Size range up to 5XL
Not so well-designed sun visor mechanism
Interior material could be better
Not so great visor included (might fog up easily)
Gotta say this helmet has some really useful features and when you look at the price tag, it's really awesome. It's convenient for sport-touring or commuting. The modular feature makes it easier for those who find it a pain to remove the helmet every time they want to talk with someone or so.
Also, it's much updated from the previous version of the helmet, change top to bottom you might say. And the features added to the upgraded HJC IS-MAX 2 helmet are indeed praiseworthy. No wonder it made it to our best motorcycle helmet for its great value for the money features.
While we are at it, you might also take a look at some of the other helmets with kinda same features and price tag. Such as Scorpion EXO-AT950, Scorpion R420 Helmet, or AGV K1.
Overall, the HJC IS-MAX 2 is a good budget-friendly modular helmet and you can give it a go if the helmet meets your needs.
Happy riding!!