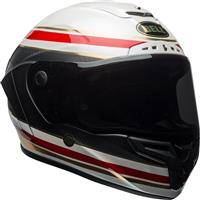 A sports helmet that has the best of both, comfortable and safe, the Race Star Sector is a high-quality helmet from Bell's Star helmet series.
This helmet was evolved over the years adding updated features and still the process continues. It has proved it's capability through the acid test on the track and road over the years, no surprise the helmet is still popular.
One of the exclusive selling points of this Race Star helmet is its carbon shell and Flex impact liner. And the Virus® mesh liner also keeps it ahead in the run when competing with other helmet brands. The Race Star helmet has some cool features that make it unique from the other helmets, let's go deeper and find out ourselves.
Bell Race Star Sector Helmet Reviews
The Bell Star series comes with 2 exclusive profiles that were designed for different kinds of riding. The Raceview profile of this helmet was specifically improved a compact position for track use. On the other hand, the Streetview profile uses a more straight or touring position.
Not to mention it's field-tested and upgraded with the help of pro riders on the race track. Also, the aerodynamics of this helmet has been well-tuned with innovative riding simulations as well as in a wind tunnel.
This helmet, the Race Star from Bell pushes through the limits of the helmet revolution and continuous the racing legacy of the company. Like the company's motive says,
"Bell exists to inspire and enable the next generation of boundary breakers."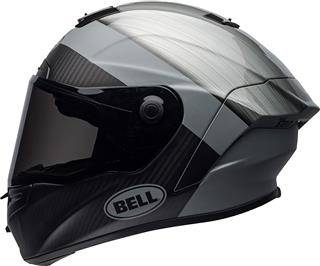 As one of the top helmet manufacturing companies, Bell's helmets provided safety to countless riders over the years. This one is no different, both the shell and the lining of this helmet are good enough to earn your trust.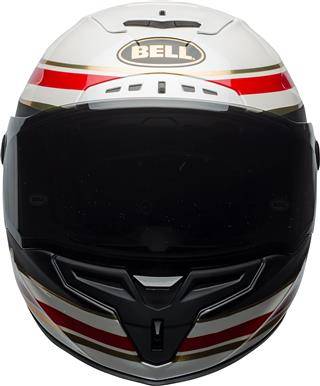 The shell, the first layer that guards your head against the outside is made of 3K Carbon technology. That ensures complete protection despite being light-weighted. Like killing two birds with one stone, light and safe.
Another revolutionary upgrade of this helmet is its Flex impact liner. It was designed to drain the energy from the impact area. These liners are made of three exclusive ingredients at different concentrations. To absorb high, mid, and low energy impacts, whichever applies. And the advanced impact liner works extremely fine to drain or spread the impacts across the range of crash.
Don't forget about the MIPS (multi-directional impact protection system) technology. It's a slip-plane system that was designed to decrease the rotational forces from a certain impact.
Oh! Another important thing, it's completely legal to wear while riding on the road. Cause it meets or surpasses DOT and Snell M2015 approvals.
One thing that has the same importance as safety is the visibility of a helmet. This helmet gives you a crystal-clear view that is both horizontally and vertically wider than a typical full-face helmet. Bell named this the Panovision viewport and it has a wide opening and large visor to confirm wide range visibility.
Another thing, it's an Eyewear Compatible helmet. That means you can comfortably ride wearing your prescription glasses or whichever you want. There are eyewear arm pockets intertwined into the inner liner. Those take care of the extra pressure or uncomfortable feeling of wearing the helmet with glasses on.
The most vital characteristic of a 'top-quality' helmet is it the motorcycle rider must feel comfortable wearing it. If a helmet distracts you on the road it might be dangerous and that helmet is anything but a decent helmet. And an unfit helmet will get on your nerves over time, you can mark my words.
However, Bell really put some effort into this and you can see the results, the Virus® CoolJade™ Power Mesh Liner. It was designed to endure the roughness under extreme conditions. It protects you from the heat, stickiness, and stuff also takes care of the sweat and smell that might would make you uncomfortable over time.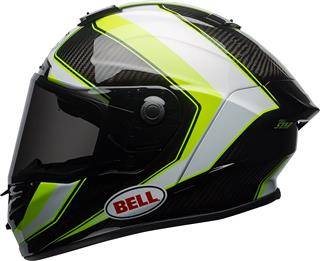 Another impressive thing about this helmet is its Magnefusion™ Magnetic Cheek Pads. These are super easy to remove and easily washable. This unique feature indeed comes handy when the rescuer tries to remove your helmet in case of an impact.
An unfit helmet might be unsafe, so it's important to pick the right one that fits your head perfectly. But let me inform you in advance that the sizes of the Bell Race Star a little smaller than the usual ones. So pick the larger one if you happen to be in the middle of two helmet sizes.
For the internal shape, it's an Intermediate Oval helmet. And it's not the lightest helmet out there but it's light enough to save you from the neck pain after a long ride, It's only 3.9lbs. It comes with 5 shell sizes and 6 EPS sizes that allow you to get the perfect fitting one.
Not to mention, the Race Star comes with a Zippered helmet bag that'll keep the helmet protected when not in use.
Virus® CoolJade™ Power Mesh Liner
Panovision Viewport
Flex Impact Liner
Magnefusion™ Magnetic Cheek Pads
Bell's hi-tech wind tunnel-tested aerodynamics
Field-tested
Upgraded with pro riders opinion on the track
3K Carbon Shell
Includes Zippered helmet bag
6 EPS sizes
5 shell sizes
Meets or else exceeds DOT and  Snell M2015 approval
Cheek pads might be too large
Your ears might be folded when you put it on
No middle open point visor
No speaker cutouts
This Bell Race Star helmet is indeed a goody, goody gumdrop overall. It provides a great field of vision, top-notch protection with carbon shell, comfortable interior. What's not to like? it got what it needs to be a perfect helmet.
I'm not saying it's the greatest in the universe, but it's definitely worth your bucks if you find the right size.
That's all folks, "It's your road others can ride it with you but no one can ride it for you." At the end of the day, it's your call.