So, you are finally planning to buy a Shoei full-face helmet. But which one to go for; there are two good options out there, right?
Either way, everyone wants to make sure that getting a premium helmet like this is worth every penny. To be honest, both helmets are pretty good with decent quality and performance. However, there are a few differences between them that sets these helmets apart. It actually depends on your preference for what feature you want over another. If you can find that out, the rest is quite easy. Let's find out, Shoei RF 1400 vs GT Air 2, which one is the best for you!
Shoei RF-1400 vs Shoei GT Air 2
If you want a helmet that you can take to the racing track and also can use as a daily driver, the RF-1400 is for you. On the other hand, if you want the convenience of a built-in sun visor and built-in intercom design, go for the GT Air 2. At the end of the day, it comes down to what you want out of a helmet and you should go for the one that meets your requirements.
I made a list and chart for how these helmets perform as well as a detailed chart for side-by-side comparison for you. Make sure you check it out below to get the full idea about which one is the best Shoei helmet.
Features and performance comparison
Here is a simple chart of which one of these Shoei helmets wins at what features-
| Features | Shoei GT Air 2 | Shoei RF-1400 | Winner |
| --- | --- | --- | --- |
| | | | |
| | | | |
| | | | |
| | | | |
| | | | |
| | | | |
| | | | |
| | | | |
| | | | |
| | | | |
| | | | |
| | | | |
The Shoei RF-1400 is a premium helmet with really good features and performance. It's the updated version of the RF1200, which was also a great helmet of its own. And Shoei thought Nah, we're gonna make it better!
The RF1400 produces 6% less lift and 4% less drag compared to the previous version, and that's cool! This helmet is good for track/race, commuting, and even touring.
However, from the convenience perspective, the GT Air 2 kinda gets ahead. Because the RF1400 lacks an inner sun shield and built-in intercom structure.
Reasons to buy RF1400 over GT Air 2
Aerodynamic structure
Less wind noise
Wider field of view
Got Snell M2020D and DOT certifications
Great ventilation
Five shell sizes
Quick face shield replacement
Reasons to avoid RF1400 for GT Air 2
No built-in sun visor
Smaller speaker outlet
Not an intercom-friendly design (you can use intercom though)
Suitable for: Racing, Commuting, Day-to-day ride, Touring
The GT Air 2 is an interesting helmet. It's one of the very few motorcycle helmets available that has a built-in intercom structure within the design. This helmet is designed to fit in the Sena SRL and SRL 2 intercom sets. 
This helmet and the intercom are designed in a way that the intercom becomes part of the helmet. You won't even see the intercom from outside, it goes at the bottom of the helmet. The speaker pockets are bigger in this helmet when compared to the RF1400. The helmet comes with a built-in sun visor and this is also a huge plus point. What makes this Shoei helmet worth buying is the convenience of commuting and touring. Also, there's a modular version of this helmet, the Shoei Neotec 2. You can also check out that one.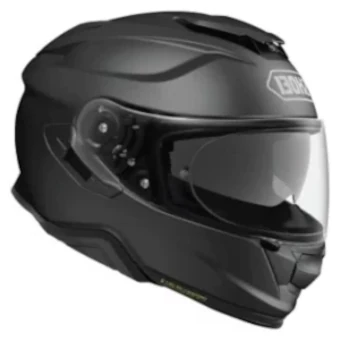 Reasons to buy GT Air 2 over RF1400
Built-in intercom structure
Built-in sun visor
Model-specific Bluetooth intercom available
Great for touring
Great for commuting
Innovative ratchet chin strap
Reasons to avoid GT Air 2 for RF1400
Some SRL intercom units have issues
You also have to buy the intercom set (not so budget-friendly helmet and intercom combined)
Chin strap can be hard to operate
Suitable for: Commuting, Touring, Day-to-day use
Detailed Specification Side by Side
| Specs | Shoei RF-1400 | Shoei GT Air 2 |
| --- | --- | --- |
| | | |
| | Layers of Fiberglass with organic and high-performance fibers | Layers of Fiberglass and organic fibers and resin |
| | | |
| | | |
| Emergency Quick Release System (E.Q.R.S) | | |
| | | |
| | | |
| | | CNS-1 Shield (Slightly curved) |
| | | |
| | | Built-in QSV-2 internal sun visor |
| | | |
| | Removable, washable Max Dry materials | Removable, washable Max Dry materials |
| | | |
| | | |
| | | |
| | | |
| | | |
| | | |
Shoei RF-1400 and GT Air 2 are both amazing full-face helmets. These have a few differences in performance and design. One is good for noise reduction and aerodynamics. On the other hand one comes with additional features such as a built-in sun visor and intercom-ready design. Which one you should pick depends on what features and outcomes you want out of your Shoei helmet. Find that out from our detailed specs and features list, and it'll be a whole lot easier for you.