How to Wear Goggles with Motorcycle Helmet?
When riding an off-road motorcycle or dirt bike, goggles are a must-have. They guard your eyes against the flying debris and avoid eye injuries if you happen to be in an accident.
Not only do they protect your face, but they also give you enough air to breathe that you might not get with a closed visor. So yes, it might get a bit hard to breathe during the jumps and whips if you wear a helmet with the face-shield closed.
Another use of goggles is with a half helmet or an open-face helmet. But either way, wearing goggles with a motorcycle helmet can be tricky sometimes. And I'm going to help you out there with the tips and tricks about how to wear goggles with a motorcycle helmet.
Safety professionals often advise motorcyclists to wear goggles along with their helmets. And when it comes to choosing one, there are many types of goggles, each with its own purpose. Some are used for simple eye protection, while others are designed to be worn over eyeglasses; similar to glasses-friendly helmets.
The decision about what type of goggles to use is mainly based on how comfortable you are wearing them. Suppose you have never worn goggles before; it's best to try on a few different types of goggles before purchasing any. If you have worn goggles in the past, multiple factors could influence your comfort level.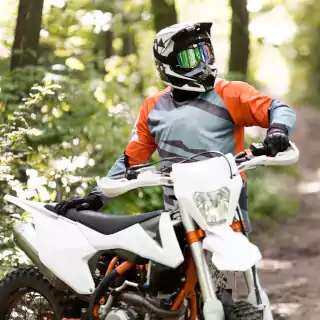 These include the type of eyewear you are wearing, the size of the frame, and whether or not you have any vision problems. The two most important features of goggles are comfort and style. What type of motorcycle goggles you wear depends on what you do wearing them and how you plan to wear them. If you are thinking of touring, you can check out our touring helmet selection.
Goggles with a Dirt Bike Helmet
Let's face it; if you own a dirt bike, chances are you have been to a race or two. You may have even worn a helmet for your ride! In the sport of motorcycle racing, goggles are not only an option but an essential piece of gear for racers. If you wear a motorcycle helmet and want to wear goggles, too, there are some easy ways to do it.
First of all, make sure the goggles you have fit the helmet you have. To do that, select your goggles according to your helmet.
Many dirt bike helmet manufacturers also produce goggles as a set; getting that will be the best. If not, try to get goggles that are the same size or smaller than the viewport of your helmet.
Another option you have to wear goggles is to wear oversized motorcycle helmets. This might make the goggles fit a bit better. But does that mean the helmet has to be too oversized that the helmet waggles around on the air or by the movement of dirt biking? Not necessarily. The viewport of the helmet needs to be large enough so that it can hold the goggles; that's it!
If you are googling about goggles, you might be interested in the dirt biking world. In that case, check out our 'Best Dirt Bike Helmets' post to find out what's the best you can get in this category.
Goggles with an Open-face Helmet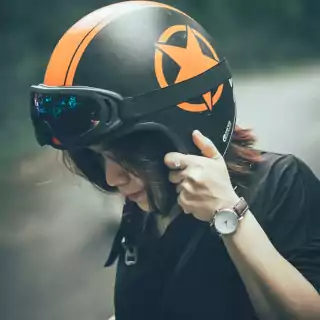 Goggles are not only for motocross helmets; some riders like to wear goggles with an open-face helmet. If you want a vintage look wearing a motorcycle helmet, this can be an amazing option. These Vintage-style Motorcycle Goggles look insane!
Also, a pair of goggles can be a great solution to not wearing a face shield on an open-face helmet without getting the wind and dirt in your eyes.
Even goggles' Fit Over Glasses' goggles allow you to wear your prescribed glasses under the goggles. The one from Pacific Coast works great for this.
As for the strap or belt of the goggles, you can put it outside or inside of the helmet. It totally depends on your comfort and the helmet model you have. For an open-face helmet, try out both ways and find out what works for you and what you feel comfortable with. But wearing it from the outside or over the helmet will be easier to put on and take off.
Goggles with a Full-face Helmet
To wear goggles on with a full-face helmet, you either have to remove the face shield or open the face shield and put the goggles on. However, it might not be as easy as it looks to find a pair of goggles that actually fits your full-face helmet. In that case, try to find a bit smaller ones that fit that helmet.
Another thing is full-face helmets usually come with a face shield lock or security feature. It keeps the face shield closed when you ride at speed. So there might be no space for the goggles strap to fit in. In other words, you might not be able to fully close the face shield of a full-face helmet wearing goggles.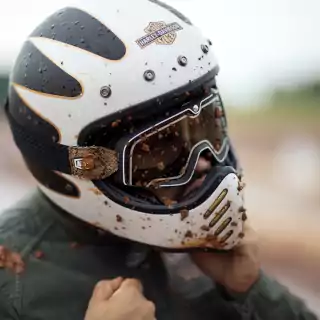 On the other hand, some adventure helmets come with a feature that allows you to close the face shield with the goggles on. But unfortunately, there's a gap between the face shield and the helmet. And the practical way for wearing a pair of goggles with a full-face helmet will be wearing it over the helmet.
Wearing goggles with a full face helmet is also a pretty stylish option and some riders love it. The vintage looking goggles looks fantastic with something like the Bell Bullitt Helmet. That's one of the top picks in our 'Best Low Profile Full-face Helmet' post, be sure to check that out for details about the Bell helmet along with some of the other cool ones.
Now let's see the comparison between goggles and face shields. They both have their own use for their unique cases.
For face shield, riding an off-road bike with a face shield closed might get a bit suffocating. This is because you will constantly be breathing within the air pocket of the helmet while doing dirt biking. Also, you won't be getting enough airflow on your face. So, wear a dirt bike helmet with goggles while doing off-roading.
On the other hand, if you wear goggles on the streets without a face shield, things might get a bit harder. You can do it for sure, but that might not be the most effective way. The air will create drag and talk about the wind noise, better wear earplugs. So, it's better to have a face shield on when you are riding on the streets.
Some tips for wearing goggles with a motorbike helmet
Get a good pair (you can see a huge difference in quality if you increase the budget for a few bucks)
You get what you pay for (budget goggles might not be the finest in quality)
Looking after the lens (taking care of the lens can make it last way longer)
Never wipe it with anything but a soft cloth (it's the small wipes with the gloves that makes the scratches)
Use warm soapy water to clean the lens (the good-old simple trick will go the job)
Use exhaust air to clear the water from the lenses (this works like magic)
Use exhaust air to defog the lens (you can also use this to deal with fogging of the goggles)
Take care of the antifog coating (the chemical coating on the lens can be damaged if not cleaned carefully)
Please don't put the goggles on the chin bar (it might create fogging on the lens while you breathe)
Put it backward so that the belt is under the peak and the goggles are at the backside (the better way)
Change lenses regularly (things get older and need to be replaced, you'll be surprised with the result)
Lens changing (pull the forehead and the nose area, remove the old lens, insert the new lens, press the forehead and nose area to seal it, done!)
In conclusion, goggles are an easy, inexpensive way to protect your eyes when dirt biking or riding off-road. With many goggles available in the market, it is easy for anyone to find their perfect pair to fit any budget.
Make sure you buy goggles that fit comfortably under your helmet. There are goggles with elastic straps that can secure them without headaches or discomfort that may occur with other models. Hope this helped you with how to put goggles on the helmet.
Have a good day!!