Whether you are a weekend warrior or have a daily riding routine, one feeling you might find in common. The awkward and frustrating feeling of 'Where on earth will I put my passenger helmet?'. I know we all have experienced a similar situation at some point (or frequently) in our riding career.
However, there's something you can do about that, about carry a motorcycle helmet for your passengers. You might already come up with a temporary idea and looking for a better and permanent solution.
If that's your case, you've found the right page; we've researched briefly about this topic. And here we are going to tell you about that, about how to carry a passenger helmet on a motorcycle, so Stay Tuned!
How to Carry a Passenger Helmet on a Motorcycle - Five effective ways
1. Helmet Luggage Rope Bungee Cord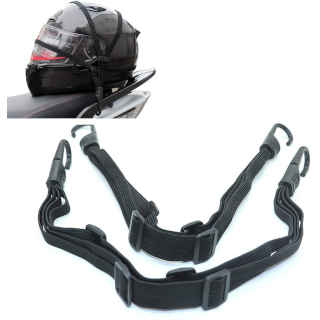 Out of all the helmet-carrying methods or tricks out there, I think this one is the most convenient and straightforward. All you need is a strap made to attach smaller luggage like clothing, bags, and, most importantly, a head-bucket.
These usually come in many forms and sizes, and the build materials vary. But most of the time, the strap is made of elastic and durable cord. 
You can easily find those in motorcycle accessory stores, hardware stores, or Amazon. So, a luggage strap can be the ultimate solution for your helmet-carrying hassle. Just check out the strap and hook build quality while getting one, and you'll be fine.
2. Motorcycle Tail Bag/Container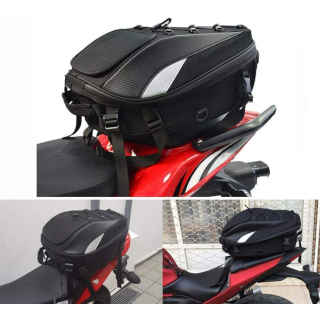 I get that you want to carry a passenger helmet with you but don't want to keep the lid hanging outside the motorcycle. Or you want a storage unit that can contain some stuff and, of course, the head protector.
If that's the case, a helmet tail bag or container can be the perfect solution for you. There are so many versions and types of motorcycle tail bags available, and they do a great job!
You'll find cloth, plastic, or even steel tail containers on the market; pick one that suits you and fills your requirements.
3. Helmets Cargo Luggage Net
A Cargo Luggage Net is also another simple solution similar to the Helmet Luggage Rope Bungee Cord. You can just put the net under the back seat or any corner of the motorcycle and bring it outside when needed.
And if I say it, it's just a net with some hooks attached to it. Yet it's so effective that you won't even have to worry about carrying any unexpected luggage or passenger lid.
As for the quality of the cargo net, it depends on the product materials and the manufacturer. Watch out for the net and hook quality; most of the time, the net is elastic and decently strong. You'll find them at any motorcycle accessories shop or online; pick whichever you think is the best for you.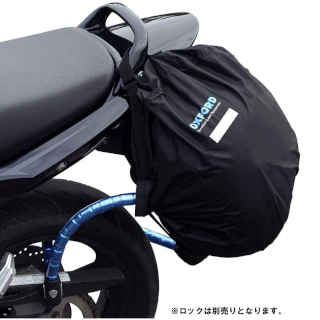 A helmet bag is another way you can carry your lid without much trouble. The thing is exactly what it sounds like, and you carry your head bucket with a bag.
There are tons of helmet-carrying bags available. Some are simple thin polyester bags, and you'll also find premium ones that go all the way up to leather and more.
Most of the time, it's a weatherproof bag that will protect your head bucket from rain and dust. There's also a locker included with some of the lid bags, and they are called Lid Locker. You can also get one of those to carry your lid.
5. Motorcycle Helmet Holder with Backpack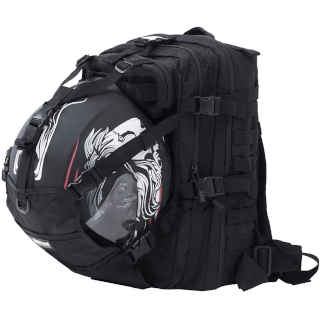 So, we've talked about helmet holders or straps, and we also mentioned head bucket bags. What if can have the benefits of both, a backpack with straps or net to hold your head bucket.
It's not uncommon for riders who often have to carry more than one lid. You attach straps or net over your backpack that holds the lid. There are even backpacks that are made with extra straps attached to them to hold the safety equipment.
6. Bonus Tips: On Integrated Hooks
Here is a bonus tips from Far Reach Engineering. You can hang your extra pillion helmet on hooks underneath the Rear seat. Check out this video for a live demo!
Carrying a passenger helmet can be quite a hassle if you are unsure what to do or how to handle them. Sometimes you might find it so confusing that you might want to leave the passenger lid and go without one.
However, there are some simple yet effective fixes to this issue; it can be easily solved with these simple gadgets mentioned above. In addition, you can choose any of the following solutions, which will help you carry your helmet without much trouble.