Nolan N87 helmet, an upgraded version of the N86, the N87 is a great innovative value-for-the-money helmet. It's a great middle-range full-face helmet with some very useful features and doesn't cost an arm and a leg.
This helmet has a bunch of excellent features that make this a great choice for a budget helmet. Especially the latest visor and sun visor design, which features a tilting mechanism, and that's quite interesting.
Overall, this helmet from Nolan is perfect for everyday use or so, and it rocks the top of the middle-range helmet list. And here, let's start uncovering more about this helmet.
This N87 helmet looks similar to your typical helmet out there, but that isn't half bad. The vents and the wide viewpoint come pretty handy for this helmet. Both the helmet shell and the ventilation are designed and tested with the help of Air-booster Technology.
The ventilation structure consists of 3 intake vents, one large chin vent, and two crown or forehead vents. And for letting the air out of this N87 helmet, a bunch of exhaust vents is located in the back spoiler.
Depending on the weather, you can also control the vents; a large slider for the chin vent and both the crown vents have been switched to manage them. These sure do their job well; they let the air flow in the helmet and direct it through the liner. And that makes the helmet's internal cool and keeps you cool in the process.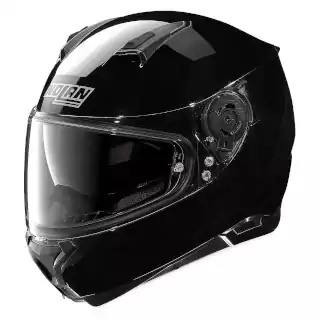 Another innovative feature of this helmet is the ESS or Emergency Stop Signal, a brake light device you can add to the rear. What it does is that the LED red lights turn on and off automatically when you brake or encounter a sudden stop. And this ESS mechanism is pretty much appreciated by users and motorbike enthusiasts.
Well, the job of a helmet is to protect your head; it's why this equipment was made in the first place. Hypothetically if you happen to be in a crash or somehow hit your head while riding, the last thing you want does not to have a helmet on your head. So, it's important to wear a helmet whenever you ride your motorcycle.
And this N87 is a helmet that you can trust to protect your head on the road. It's both DOT and ECE 22.05 approved, which means it's completely legal to ride a motorcycle wearing this helmet in the US and Europe. What's more, this helmet hit an average SHARP score of 4-star out of 5, which is pretty impressive for a helmet in this budget.
The outer layer of the helmet or the shell is made of Polycarbonate material; it's like a dime a dozen for Budget helmets. Well, you can't hope for a carbon-made shell in this budget, but the shell of this N87 is not half bad, as you can see from the SHARP score above.
The ESS Cartridge device that was mentioned earlier also works pretty well as safety equipment. Although it works as a brake indicator, you can also use it as a flashing fog light, which is awesome.
Overall, this Nolan N87 helmet works as reliable and has pretty decent safety gear.
This helmet has a wide viewport with an ultrawide visor that gives impressive visibility. It's actually a huge advantage for this helmet because you can easily see what's on your right or left side without moving your head. And this large field of vision will be a lot helpful when you ride at high speed. Also, the Quick release shield mechanism is another convenient feature of this helmet.
The N87 comes with a clear face shield which is a Pinlock-ready visor. And it's quite effective against fogging up, and there's also a Pinlock insert lens included, which is great. The visor also has a silicone-sealed shape that keeps the visor attached to the helmet and doesn't let the air or water get into the helmet.
And the helmet features a built-in Sun Visor that has a VPS Sunscreen, which protects you from ultraviolet 400 rays. The sun visor is nicely shaped and isn't oversized, itching on your nose like some other sun visors.
This helmet is comfortable enough, I mean, it's not the best out there, but it's also not too shabby. The inner of this helmet is made of Clima Comfort padding or liner, which has been upgraded recently. And the padding is a dual-density micro-perforated fabric build that's comfortable enough. The interior, along with the cheek pads, is removable and washable.
No worries if you ride wearing glasses, the helmet has an Eyewear Adaptive system designed for eyewear or glasses users.
This H87 helmet is a Bluetooth compatible helmet. It's suitable for N-com Bluetooth from Nolan and also supports B5, B1.4, B5L, and RCS MCS communication systems. There's a Microlock2 dual lever holding system, which is awesome.
Getting the right size is crucial when you are buying a helmet. You can't afford to get destructed on the road, a destructed driver or rider most likely make mistakes on the road, and that might be dangerous. So it would be best if you prioritized your safety and comfort when it comes to choosing a helmet.
And this N87 helmet comes with two shell sizes, and the inner size starts from 2XS (53 cm) and goes all the way to 3XL (65 cm). So while choosing the right size, take your time and find out the perfect helmet that fits you properly.
Two shell sizes
Ultrawide face shield
Includes Pinlock insert lens
DOT and ECE 22.05 approved
Washable interior and cheek pads
AirBooster Ventilation technology
N-com Bluetooth communication ready
Ultraviolet 400 protective VPS inner Sun Visor
Dual-density micro-perforated fabric build Clima Comfort liner
A bit noisy
Not the Best for High-Temperature Weather
Well, this Nolan N87 is an awesome full-face helmet that rocks the mid-range helmet list along with the Icon AirFlite and the AGV K3 SV. It got some cool features and also it's both comfortable and safe. Not every budget helmet has a 4-star SHARP test score, so it's clear that it'll surely protect your head on the road.
Also, the Ultrawide face shield and the wide viewport are another plus point for the helmet. Another excellent and unique thing about this helmet is the Emergency Stop Signal or the ESS additional device of this helmet.
Overall, this is an awesome helmet that gives you some excellent features and also, you don't gotta break the bank for it. So, if this Nolan N87 helmet meets your expectation, you can give it a go.