A 3/4 or open-face helmet is one of the most popular types of motorcycle helmet. A DOT-certified open-face motorcycle helmet gives you decent protection. Unfortunately, it's not considered the best choice when it comes to safety and protection. Let's find out more about 3/4 or open-face motorcycle helmets.
What is a 3/4 Motorcycle helmet?
A 3/4 motorcycle helmet, also called an open-face helmet, covers the rider's head and ears while the jaw area remains exposed. Sometimes a 3/4 helmet comes with a face shield but retro-style open-face helmets often come without a face shield. So, in short, the helmet that doesn't have a chin area but covers your ear is a 3/4 motorcycle helmet.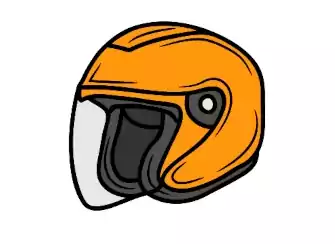 An open-face helmet truly shines when you are commuting or use it as a daily driver. It's easier to put on, easier to take off and it's super convenient. There are even different styles of open-face helmets. Such as the retro-style Bell Custom 500 and the modern and commuting-friendly LS2 Verso.
A DOT-certified 3/4 helmet is safe enough to ride on the streets. Wearing a 3/4 helmet while riding a motorcycle is way safer than wearing nothing. However, this is not the safest type of motorcycle helmet as your chin and jaw area remain unprotected. On the other hand, a full-face helmet is considered the safest type of helmet as it covers your whole head.
What are the types of motorcycle helmets?
There are indeed different types of motorcycle helmets, each with different features and specs. And different people like different styles of helmets. Some love open-face helmets while some are comfortable with a full-face. Here are some of the motorcycle helmet types out there-
Full-face helmet: A full-face helmet covers your whole head and your eye is protected with a face shield.
Modular helmet: A modular helmet is a full-face helmet but you can lift up the chin bar to make it a ¾. It's a convertible.
Dual-sport helmet: A dual-sport or adventure helmet is a mix of an off-road and a full-face helmet. You can use this helmet on the streets as well as off-road trails.
Off-road helmet: This is the dirt bike helmet, it's made to deal with off-roading conditions.
Open-face helmet: Open-face or 3/4 helmets are mostly used for commuting. This might not be the safest helmet, but it sure is convenient.
Half helmet: Half helmets or half shell helmets are the lightest types of motorcycle helmets. It only covers the top of your head but it sure gives you tons of air to breathe.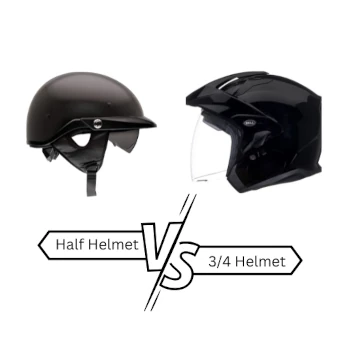 When it comes to motorcycle helmet safety, full-face helmets are the safest out there for sure. However, what about between a half helmet and a 3/4 helmet?
A 3/4 or open-face helmet wins here, as it covers more area of your head. And an open-face helmet often comes with more features than a half helmet. For example, half helmets don't come with a face shield while many open-face helmets have both a face shield and a sun visor. So, if you are looking for a helmet other than a full-face, you should go for the open-face, such as the Bell Mag 9.
A 3/4 motorcycle helmet is a type of motorcycle helmet that covers your head and ears while the chin area is not covered. Many riders absolutely love this type of helmet because you can freely feel the air on your face and it gives you a sense of freedom. This might not be the safest helmet out there but it's better than not wearing a helmet while riding a motorcycle. Also, check out how is a motorcycle helmet made.