The O'Neal Sierra 2 is definitely an aggressive-looking dual-sport helmet. It is also one of the dual-sport helmets that sell the most. And this helmet surely got a sweet and affordable price tag on it.
It's a dual-sport helmet or adventure helmet, you might say. Basically, these are the type of helmets you can take to both off-road trails; and use as a full-face street helmet without much hassle. And as their name suggests, adventure helmet, these helmets are the best thing after sliced bread for a two-wheel adventure tour. This Sierra 2 helmet is the same way, and it's so cost-efficient!
As an ADV helmet or any quality motorcycle helmet should be, this helmet is both safe and reasonably comfortable. And there is much more to talk about, so let's spill the beans with you in this ONeal Sierra II helmet review.
O'Neal Sierra II Helmet Review
This helmet's design is pretty much what you'd expect from an adventure helmet. Peak on the top, wide viewport, narrow chin area suitable for Motocross riding with goggles on. And also with a face shield attached so that you can use it as a street helmet.
It's an aggressive-looking helmet like I said earlier, and it looks cool. The helmet's aerodynamics won't be as good as a street helmet, but it's not that bad. Unfortunately, the peak here isn't adjustable, but you can remove it by unscrewing some screws.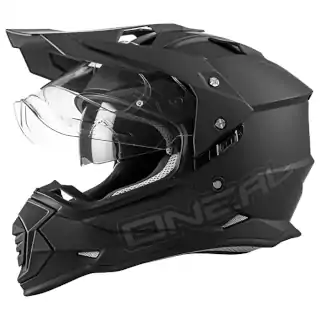 As goes for the ventilation of this helmet, it's okay. It's not gonna be as well ventilated as a motocross helmet, but for an adventure helmet, I think it's good enough. You'll get chin vents at the chin area and 2 top intakes vents at the top. And there are two exhaust vents to pass the air through the helmet.
And it's a dual-sport helmet, so the noise level of the helmet will be loud on speed, so keep that in mind while buying any ADV helmet.
Well, safety is the main reason you bother to wear the helmet over your head. And you should always pick a good helmet to keep your head safe on the road and whenever you ride.
This O'Neal helmet comes equipped with an ABS or Acrylonitrile Butadiene Styrene shell. That might not be as strong as the carbon or fiberglass-made helmets like the Arai XD4, but it's not that shabby. And considering the price of this helmet, it's good enough for a budget adventure helmet.
And as for the safety certifications, this O'Neal Sierra 2 helmet got DOT and ECE 22.05 approval. So that proves that this helmet is safe and legal to wear on the streets of the US and Europe. Also, the fastener you get with this helmet is a standard padded Double-D ring chin strap, which is the most common chin strap. But you can always get the quick release one and simply attach it with your helmet.
One thing that might potentially ruin your day is the visibility through the face shield, it's definitely not the best out there. This is because the shape of these dual-sport helmets is kind of narrow from the front. And this is the reason the face shields of these helmets are not as roundish as the ones of full-face helmets. Even some of the other higher-end adventure helmets like Klim Krios have unique technologies to take care of that.
However, we are talking about helmets under $200 here; this much is okay. On the budget adventure helmet, you'll notice a ridge kind of shape at the bottom of the shield. This unique shape helps to reduce visual distortion. And it goes for this helmet along with some of the best budget dual sport helmets on the market.
Built-in sun visor is another nice feature to look for in a dual-sport model, it's a must for some people. And this O'Neal Sierra 2 helmet got one as well. This helmet comes with a smoke-tinted integrated sun visor, and it works just fine. However, you shouldn't expect the drop-down slider of this helmet to be as smooth as the premium Nexx X. WED2 and so. I guess that's your budget helmet; you can't get everything top-notch when you have a limited budget.
The comfort liner of this helmet is decent enough; you can't really expect something like Shoei RF-1400 out of this helmet anyway. It's a budget helmet, after all, but when you look at the price, it's good enough.
The interior of this helmet is made of moisture-wicking fabric materials, and it's good for a hot day tour. And the interior is air channeled through the EPS and comfort lining. It allows the air to pass through the helmet and keeps the interior of the helmet cool and suitable for a long ride.
Not to mention, the interior of this Sierra 2 helmet is completely detachable, and you can wash it without a doubt.
Like any other feature of a helmet, you should also pay attention to the fitting of your helmet. Trust me; an unfit helmet is all you need to ruin your mood for the rest of the day. And it's a safety issue, too; it doesn't matter if you buy a low-profile full-face helmet or a motocross helmet; always check out the fitting of the lid.
This particular O'Neal helmet comes in XS to 2XL sizes, and two shell sizes are available for this helmet. And for the inner shape of this helmet, it's more like a shape between Intermediate Oval and Round Oval, or you might say Neutral Oval. However, it will fit most people out there with an Intermediate Oval Head shape.
Sturdy Peak
Padded chin strap
Inner Sun Shield included
Great value for the money
Aggressive and impressive looks
Suitable for both Dirt and Street riding
High noise level at a speed
The size chart might be confusing
The Sun visor slider might be hard to operate
Well, this is a dual-sport helmet on a budget. The O'Neal Sierra II is something that you can surely invest your money on. It got some really cool and useful features that might help you on your adventure tour. And you are getting it at a really reasonable price, and that's great.
If you are looking for quality over the price, then there are other better options like AGV AX9 or Shoei Hornet X2. For those on a budget, this Sierra 2 helmet is an excellent option. Of course, you might also like some of the other budget dual-sport helmets, such as Bell MX-9 Adventure MIPS or AFX FX-41 DS.
Overall, this Sierra II helmet is a great value for the money, and hopefully, it will help you with your adventurous tour if you get it.