Some people like modular helmets, some go for full-face ones, and some of us prefer the half helmets.
Speaking of half helmets, not too many half helmets come with an Intercom unit pre-installed out of the box. But this Sena Cavalry helmet sure does, because this is a Sena helmet, of course!
Key Takeaway
The Sena Cavalry is a Bluetooth-integrated half-helmet that might be one of the best in its category. The Bluetooth device used in this helmet is also a quality product, it's Bluetooth 4.1 version. No extra hassle of installing a com unit, just put it on, connect and enjoy. You are getting a decent quality half helmet that comes at a reasonable price. Check out the latest price of the Sena Cavalry Helmet.
You might already know Sena, it's famous for producing Bluetooth intercoms and Bluetooth helmets over the years. When you put together all these in one helmet, then you get the Sena Cavalry helmet.
Sena Cavalry Helmet Review
Manufacturer: Sena
Helmet type: Half helmet
Inner shape: Intermediate oval
Helmet weight: 2.107 lbs (approx.)
Shell material: Composite fiberglass
Interior materials: Removable and washable interior
Bluetooth version: Bluetooth 4.1
Safety certificates: DOT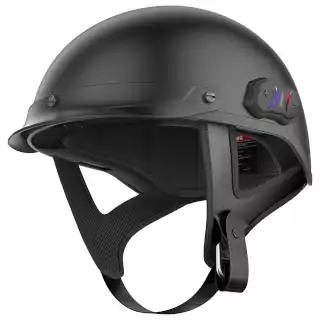 Well, this one is a half helmet and these are the most compact kind of road-legal or DOT-certified helmets you'll find. That means if you usually don't like to wear a helmet over your head but have to pick one because of safety, this is the one for you.
But if you ask how safe these half helmets are, that's a whole new topic, and we'll explain that as well in the safety measurement section.
These helmets look like kind of German-style helmets and these are highly popular among chopper riders. I bet you saw people cruising down the road on a Harley Davidson with these helmets over their heads. And this Cavalry helmet is also awesome, it has a removable peak visor mounted at the front of the helmet.
The speakers are pre-installed already inside the helmet. They are positioned just over the ears and they are strong enough so that you can hear the audio while riding the motorcycle. But if you ride at speed, I'm afraid you won't get anything but wind noise and that goes for all the half-helmets. The mic is at the front side of the helmet, just under the peak visor.
Well, as you can see from its name, this helmet is from Sena, which is a Bluetooth intercom and helmet manufacturing company. And you've guessed right, it comes with a Sena Bluetooth device integrated out of the box.
The intercom unit that comes with the helmet is pretty good, it's a Bluetooth 4.1 version device. No wonder this Bluetooth helmet costs a bit more than most the half-shells. And as for the updated version of Bluetooth, you'll get all the Bluetooth features.
Such as voice activation commands, and easy connection to android or IOS. You'll of course configure the speakers and mic, and listen to music while cruising down the road, enjoying the ride. The noise-canceling mic actually works, and it's awesome, now you can talk to your riding buddy without wind noise getting in the way.
Another impressive thing about this Sena helmet is the Sena Utility app available for both Android and IOS. You can control the settings and configure the device as you please. Also, there are a bunch of audio profiles available you can pick your favorite one from there, the hands-free profile works pretty well.
Of course, you'll get a rider-to-rider communication feature, it supports up to 4 riders. And this Bluetooth helmet has half a mile or 900 meters working range. The battery backup is also quite impressive you'll get 10 hours of talk time and 13 days of standby time on this Sena Cavalry helmet.
Some people really like that airflow on their face and might feel suffocating when wearing a full-face helmet. I appreciate that you like the cool breeze on your face while riding your motorcycle, and so do I.
But the thing is, it's not safe to do that, you might many tragic motorcycle accidents that happen. And people were often injured because they didn't have a helmet on their heads. And here comes the half helmets, although, they don't protect your chin area at least something is better than nothing.
So, the most popular question is, are the half-helmets safe?
Well, a DOT-rated half-helmet will protect the upper area of your head but as you can see your chin area got uncovered. This isn't the safest helmet, but a good-quality helmet whether it's a half-helmet or a full-face; will protect your head, more or less.
And the same goes for this Sena Cavalry helmet we are talking about. As I mentioned earlier, this is a DOT-certified helmet and this helmet comes with a Fiberglass composite shell and a half shell. That's also the same shell material as the premium Sena Momentum INC Pro helmet, the one with a camera.
And the fastening mechanism on this helmet is a Nylon D-ring strap, which was nice and comfortable. The upper straps of the helmet are nicely padded and have a nice touch in them, feels good.
The interior of a helmet also matters because this is the material that usually touches your skin when you wear a helmet. The interior material used in this helmet is nice and comfortable, it's moisture-wicking and of course, you can remove it and put it for a wash.
The interesting fact about this helmet is the speakers and the mic is already installed inside the helmet. And you don't have to break a sweat here, just put this helmet on and go for a ride. You'll get 2 earpads and 2 ear plates out of the box with this helmet. Those work great as a cover on your ear when you ride at speed, it prevents wind noise a bit and makes the intercom more efficient. And as for the sizing of this Sena Cavalry helmet, it comes in an Intermediate Oval shape. If you get the right size, you'll have a great time with this helmet. Here are the sizing measurements
| Size | Measurements (centimeters) |
| --- | --- |
| | |
| | |
| | |
| | |
| | |
| | |
If you are looking for a quality half helmet that already has a preinstalled Bluetooth unit, this Sena Cavalry helmet is for you. This half helmet will be perfect for you if you want the freedom of a half helmet while enjoying the Bluetooth feature. The Sena-developed Bluetooth features such as the noise canceling mic, and long-range connectivity are quite useful. Also, the battery backup of this Bluetooth helmet is quite impressive. You can surely get this helmet if you want a Bluetooth half helmet.
This is a half helmet, so it doesn't have superior protection quality like a full-face one. You'll have your chin, jaw, and ear unprotected. Also, this helmet doesn't have a feature many other half helmets have, and that is an internal drop-down sun visor. If you have a tight budget, this Sena helmet might be a bit out of the budget. In that case, you can go for the Bell Pit Boss helmet, which is also a great half helmet.
The Sena Cavalry half-helmet is a helmet for people who love to wear half-helmets and want a pre-installed intercom unit with it. It's a beautifully made helmet, the 4.1 Bluetooth device, built-in speakers, and mic work great.
Even without the Bluetooth device, this helmet is a good choice. Because not too many half-helmets come with a fiberglass composite shell. Most of them have a polycarbonate shell and the quality is just fine. But not this Cavalry helmet, it's a quality helmet, and when you look at the price and the quality it offers, it's fair enough.
So, if you are looking for a Bluetooth half-helmet with excellent quality, this Sena helmet is of course a good choice. Have a good day!