If you are thinking about giving the Bluetooth helmet a try without tearing apart its guts, this one will get your attention for sure.
Key Takeaway
The Sena Outrush R is a Bluetooth-integrated entry-level modular helmet. It's a helmet with a bunch of Bluetooth features and also at a very affordable price tag. As a budget option, it might not give you the most premium features but it does have some handy features with convenient quality. It's a smart choice if you are new to Bluetooth helmets; and yes, you don't need to buy a com device, it's already pre-installed.
The Sena Outrush R is a very popular modular helmet and it also comes with Bluetooth, a mic, and speakers pre-installed. Even the older version, the Outrush helmet is quite viable with Bluetooth 3.0 technology and is roughly 40-50 dollars cheaper. So, it's a recommended helmet in both the modular and Bluetooth helmet categories.
Version: Bluetooth 5.0
Connectivity: Up to 900 meters (0.6 miles) in open terrain
Battery Type: Lithium Polymer Battery
Battery Talk Time: up to 12 hours
Battery Charging Time: 2.5 hours

Electronics Certificates: CE, FCC, IC
This helmet is from Sena, which is basically an Intercom device manufacturing company. And now they are also producing helmets that come with Bluetooth integrated. And this one here, the Outrush R is an entry-level modular helmet  and it does indeed come with Bluetooth pre-installed.
This is a modular helmet, which means you can flip up the chin bar of this helmet. It'll give you the ability to make this helmet a ¾ helmet or an open-face one. And you'll be able to enjoy some cool features such as having a quick chat with a fellow rider or even having a quick bite without taking off the helmet.
The modular mechanism of this helmet is easy enough, there's a switch on the chin bar that locks or opens the process. And it's actually aerodynamically designed, its smooth and sleek design almost looks like the Sena Momentum pro. That's a full-face helmet with a heavier price tag of course.
This is a Bluetooth-integrated helmet on our Best Bluetooth Helmet list, of course, we are gonna talk about that. Unlike the Momentum or the premium Momentum PRO (the one with a camera). This modular helmet comes with a Bluetooth 5.0 version device installed.
Obviously, this Outrush R helmet is way cheaper than that premium helmet I mentioned, it's a budget option after all. There are also some great features such as FM radio, rider-to-rider communication, listening to music, and voice prompts.
The battery used in this helmet is a Lithium Polymer Battery, which takes about 2.5 hours to get fully charged. And will give you a battery talk time backup of about up to 12 hours, which isn't half bad.
The intercom or two-way communication works within half a mile or 900 meters on open terrain. Unfortunately, you'll be missing the feature of intercom with multiple riders at the same time, I guess that's what you get out of a cut-price. But it's fair and square if you look at the price and the features this helmet provides.
No matter what type of helmet you like to wear, ventilation is a crucial feature to check out, especially for dual-sport helmets. Even if this Outrush R helmet is not an adventure helmet, you still need at least a decent ventilation structure.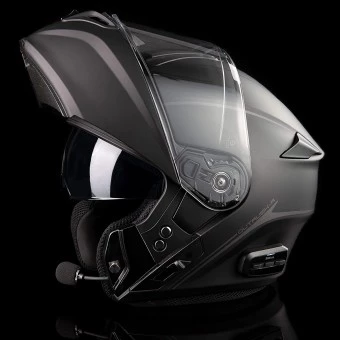 The ventilation structure for this helmet didn't seem to be that great. It has only chin vents and a top vent for intakes and two rear exhaust vents. These vents might not seem too good but they'll do the job somehow. But you can check out the HJC C91 if you want a budget modular option with a better ventilation structure.
However, this Sena helmet does come with a chin curtain and breath deflector. And these help with preventing fog up and with the aerodynamics of the helmet.
The main worry you might have while getting a budget helmet might be whether this helmet is safe or not. It's totally normal to worry about your own safety, and you should be. Because the only effective shield between you and a severe injury might be this very helmet over your head. A helmet you wear on the road should be at least DOT-certified or something equivalent to this.
This Sena Outrush R is indeed a DOT-rated helmet. The shell of this modular helmet is made of Polycarbonate ABS material. That's not the best shell material out there but it'll do the job just fine.
This helmet comes with a reinforced chin strap, and it's a quick-release one. Overall, this might not provide as safe as some of the premium ones like the Arai Corsair X Helmet. But this Outrush R helmet does indeed a good job considering the affordable price point.
A decent helmet requires a decent face shield and this helmet also has one. It's a scratch-resistant, UV-protective clear plastic face shield.
It's also fog resistant, however, there is Pinlock ready shield available. And you might already know that Pinlock insert lenses work like a charm when it comes to fog resistance. The shield-changing mechanism is super easy, it comes with a quick-release mechanism.
There's also an internal sun visor available for this Bluetooth helmet, this helmet indeed is stuffed with features. It's a smocked sun visor and the switch for the SV is located on the left-hand side of the helmet.
However, it has the problem that most budget sun visor helmets have. The drop-down process isn't that smooth, it might cause you some trouble. But the Torc T14B did a great job here I have to say.
The Interior is where a helmet really goes through a real test because it's actually the part that touches your skin. The inner material has to be enough comfortable that you can ride your motorcycle comfortably.
The inner material used in this helmet is a breathable mesh fabric; easy to clean. It lets the air pass through the liner and makes the inside of the helmet cool. It is also moisture-wicking and of course, you can remove it and clean the helmet.
Not to mention, it's a Bluetooth-integrated helmet, so you don't need to tear apart the helmet to fit any speakers or mic. It's already pre-installed out of the box for you, that's why it's called a Bluetooth helmet.
It also has something called Advanced Noise Control, which is a noise-canceling feature. Don't let your hope too high, it's not the quietest helmet out there, but it's also not the loudest modular for sure.
As I mentioned earlier, the interior of the helmet matters and so does the fitting. Because there's a snowball's chance in hell you'll enjoy the ride with an unfit helmet. So, try to find out what helmet size goes with you and then proceed with the selection process.
However, for this Outrush R helmet, there is not too much to choose from. The inner shape of this helmet might say something between Intermediate Oval and Neutral Oval. It's not that long from the front and back, more of a roundish shape.
| Size | Measurements (centimeters) |
| --- | --- |
| | |
| | |
| | |
| | |
| | |
The Sena Outrush R is a pretty solid Bluetooth modular helmet in the budget it comes. The fact that it comes with a preinstalled mic, speakers, and Bluetooth device, saves you the hassle of installing that yourself. Also, the Bluetooth features you are going to get are from Sena, a Bluetooth device company. So, you are getting a pretty good Bluetooth service that's for sure. This helmet is good for so many categories including modular helmets, and Bluetooth helmets, and you can go for it for sure.
This is a budget helmet that offers you a bunch of good features. So, as you can guess, the overall quality of this Outrush R might not be as good as a premium helmet. Especially in the comfort and ventilation department, this helmet clearly lacks a bit. Also, this helmet is going to be a bit louder than an average full-face helmet. If you want a quality Bluetooth helmet, you can check out the Shoei Neotec 2 helmet, that's a premium quality Bluetooth helmet.
A good budget Bluetooth-integrated helmet is really a hard find. And if you like the modular mechanism then the choice becomes more difficult. Because not every Bluetooth helmet comes with a Bluetooth device pre-installed and not every helmet is safe enough.
However, this Outrush R modular helmet from Sena actually did a great job as an entry-level Bluetooth helmet. It also has an integrated sun visor inside of the helmet and the face shield itself is good enough.
Overall, if you are looking for a modular Bluetooth-integrated helmet within a tight budget. Then this Outrush R helmet might be just the one you are searching for.
Good Day!