A helmet is probably the most expensive riding equipment you own other than the motorcycle itself. And leaving it out there only to get stolen might be a real bummer. But, on the other hand, you might find other people staring at you if you carry a helmet around.
You might be confused and hoping to find some ninja technique to keep your helmet safe without getting uncomfortable. Well, there are indeed some obvious and unique ways to do that. More or less, you'll end up with two things,
Take it with you
Leave it with the motorcycle
So, what you are going to do with your motorcycle helmet when parked mostly depends on the situation and your preference. Let's check out some practical ways you can save your helmet without showing off.
Taking the helmet with you while away from the bike is one of the most preferred solutions for most veteran riders. And here're some popular ways to do that.
Carry it with you (literally!)
It's not uncommon to see motorcycle riders carrying around their helmets in a public place like a restaurant. It's more convenient to keep it with you if you are gone for only an hour or so. You can keep the helmet beside you, the next empty seat, or on the table. If there's a coat hanger, the helmet will fit there perfectly. Carrying your helmet with you will from
Getting stolen
The rain, dust, and mud
Getting damaged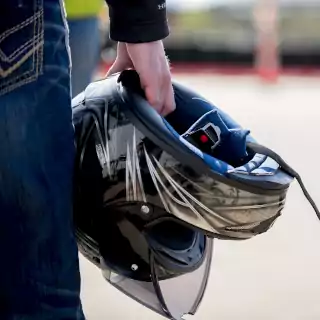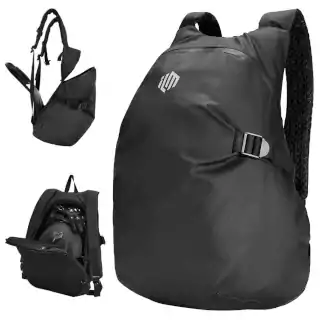 Many helmets come with a bag that you can store and carry around. You can use one of those or any bag that does the job. Then, after your ride, just take off your helmet and place it in the bag. Take the bag with you, easy, convenient, and no one knows.
A carrying bag also saves your helmet from any unwanted drops while carrying it. It also protects it from weather, insects (those little things can get inside your helmet and make a mess). Imagine putting on your helmet and finding a whole spider in it; God bless you!
What's more convenient than carrying it around in your hand is putting it inside a helmet carrying bag. There are many options available on the market today, but what caught my eye the most is the ILM Motorcycle Helmet Backpack. It has large storage capacity, it's waterproof and this thing looks damn cool! check out the ILM Motorcycle Helmet Backpack on Amazon today!
Helmet Holder with a Backpack
We often need to ride with a backpack to carry our stuff. And some backpacks come with a feature that allows you to attack the helmet with it. So you can grab one of those backpacks and carry around your helmet and other stuff with you, two birds in one stone.
As a bonus point, you can use this backpack for other ordinary stuff, like carrying a basketball or something similar. You can even keep your groceries in there; yeah, that's an excellent DIY solution. You'll find some bags in this category on online stores like Amazon. The Seibertron Waterproof Backpack is recommended
The Seibertron Backpack is recommended because it's Waterproof and works for this specific condition. We chose this particular model for its trematodes Waterproof facility, what will save your precious items from rain & snow! You can give it a try! Check out this link to know current price of Seibertron Backpack on Amazon.
Leave it with The Motorcycle
Leaving the helmet with the motorcycle is also an option, especially if you can not carry around the helmet where you are going. Or even you can leave it if you are not in a mood to carry the helmet around. In any case, you have to either lock it or place it in a side or tail container to keep it safe. Or you can leave your helmet if you know there's no risk. Anyway, here are some ways you can leave your helmet with the motorcycle when parked.
Leave it with the Motorcycle Unlocked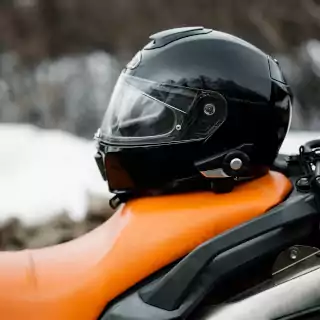 You can leave your helmet on your motorbike unlocked; do the social experiment of honesty. But that thing cost a load of money; leaving a $600 helmet out in the open, unlocked, might not be the best idea. However, if you are familiar with the area or confident that no one will steal or damage your helmet, you can put it just there.
Leaving a helmet unlocked for a short amount of time is reasonable if you can keep an eye on it while you are gone. But it comes with risks.
This one is the most reasonable thing you can do if you don't want to carry the helmet with you. Locking the helmet with the bike makes it safe from getting stolen or potentially dropped. However, a person with not-so-good intentions might mess up the helmet while trying to get it. Or, if it's a cable or normal strap lock, all it needs is the right tool.
At least something is better than nothing; you can use a good quality cable lock or a gun lock to secure the helmet with the bike. A gun lock is preferable as it's just about the right size if you lock your helmet within the visor viewport.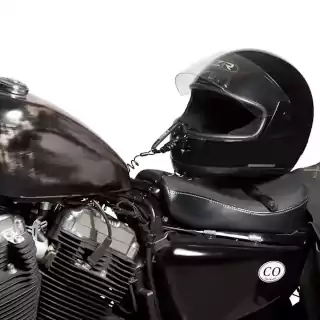 When it comes to locking the helmet with the motorcycle, you should select something secure and reliable. The BigPantha Motorcycle Helmet Lock & Cable is what I personally recommend. It's not too expensive, and does the job, what's more you can easily keep it with the bike or even in your backpack or pocket. Here's the best deal for the BigPantha Motorcycle Helmet Lock & Cable on Amazon, check that out.
Keep it in a Tail bag/container
Keeping the helmet in a tail bag or container is also another good and convenient option. It not only keeps your helmet safe, but it also protects it from the weather, rain, or dust. And the extra space is a bonus to carry other stuff.
It's a nice and effective update to your bike if you usually travel long distances. A tail bag or container should have a locking system or option with it. If not, get one that you can secure with a lock, and don't forget to lock the bag while you are off.
You should keep in mind some additional tips if you are not sure where to keep your helmet when the motorcycle is parked.
It's all about personal preference
A helmet is worth a few hundred bucks, so you should keep it safe
Locking it might not give complete safety
A theft attempt might damage the helmet
Insects might get inside the helmet
Rain or dust might ruin the interior
Many shops or service places will keep the helmet if requested
Carrying a helmet might be attention-grabbing, but it's better than getting stolen
FAQ (Frequently Asked Questions)
Leaving a helmet on a motorcycle unlocked might not be the best idea unless it's a safe place of you can keep an eye on it. You can either lock the helmet with the bike or carry it to secure it. Carrying it with you is more preferred by most veteran riders, and it's more effective.
You can wear a helmet in a store unless there's some sort of facial recognition system in the store. And if you are okay with people staring at you from time to time, it seems perfectly okay. However, taking off the helmet and carrying it with your hand might be a better idea.
You can hang your helmet on the motorcycle-looking glass through the visor viewpoint or side pegs. You can also use the hooks attached to the handlebars or the side of the motorcycle. Hanging a helmet using the straps might not be the best idea as it can cause damage. Hanging it on the looking glass is preferred.
Figuring out what to do with the helmet while the motorcycle is parked might get a bit tricky. In that situation, you might not want to carry around the helmet with you all the time; on the other hand, you don't want to lose it. Unfortunately, 100% safety while not carrying it around might not be possible.
However, you can take a few steps to secure the helmet as much as possible or carry it with you conveniently. Of course, either of them comes with its own advantages and disadvantages, but with these, the safety of your helmet is much secure. Hope you have your doubts answered, have a good day!